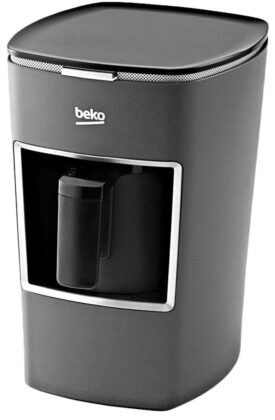 The best Turkish coffee machine in the UAE can be purchased 2022
Table of contents
The best Turkish coffee machine in UAE allows you to switch up your morning drink and experience coffee like never before. Millions of people around the world prefer a cup of coffee to start their day, whether it's from a pot, an instant bag, or their local Starbucks. So why not give your morning a powerful shot of Turkish heritage.
Turkish coffee is not only a traditional drink that has its roots in Turkish culture since 1540. Delicately brewed coffee often excites the senses and is even used as an indicator during marriage proposals in the old days.
As you can imagine, the old-fashioned method has two steps that you must follow in case you are planning to make hot drinks.
The best Turkish coffee machine in the UAE
Arzum Oka Mini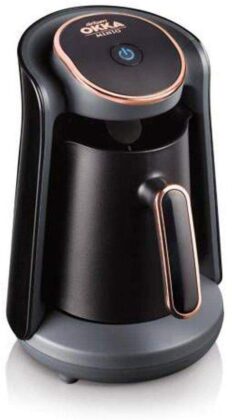 the color: The coffee maker is available in a dazzling black colour.
Type: The pot is an electric pot that does not need to be placed on a stove. You can add coffee, sugar and water by hand.
Watts: device Arzum Okka Minio is a device with a power of 480 watt .
Capacity: It can make up to 4 cups of coffee at a time. It even comes with its own spoon to measure the amount of coffee needed in each batch.
Features: The device features cooking recognition, signals you by sound when the coffee is ready, and has an automatic shut-off feature. It also has an overheating and boil-dry safety system to protect your appliance and your home.
Beko coffee machine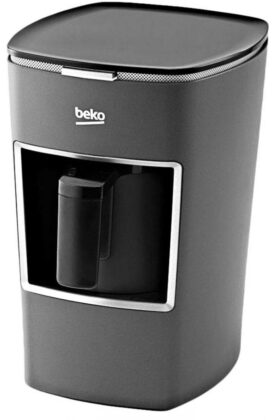 the color: The coffee machine is available in one gray and black color.
Type: The pot is an electric pot that does not need to be placed on a stove. You can add coffee, sugar and water by hand.
Watts: The machine consumes 670 watts of power.
Capacity: The machine can serve 3 cups of coffee at once.
Features: It has an illuminated brewing section. Provides extravagant coffee with minimal effort. It even has an energy saving function and is easy on your wallet.
Fakir . machine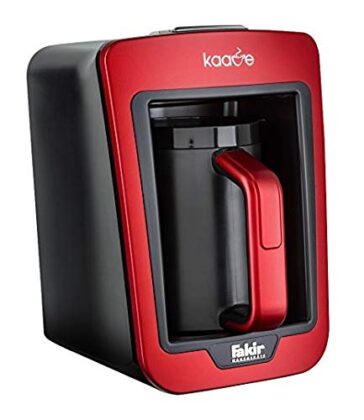 the color: Fakir Turkish coffee maker comes with a quirky design in three different colours. You can choose from red, brown and turquoise according to your taste and kitchen decor.
Type: The pot is an electric pot that does not need to be placed on a stove. You can add coffee, sugar and water by hand.
whats: This model from Fekir consumes 735 watts of power.
Capacity: It has a brewing capacity that allows you to make up to 4 cups of coffee in one sitting. It's great for families eating breakfast together or enjoying a hot cup while reading your favorite book in the evening.
Features:It has an elegant design and a handle that provides a comfortable grip. Moreover, it offers a great deal of simplicity of operation which makes the device very easy to use.
---
How is Turkish coffee prepared?
Here is the traditional way to prepare Turkish coffee at home. It may take some proper practice so you don't get frustrated if you don't succeed at first.
First get some cold filtered water, Turkish coffee beans of your choice and sugar with a wide bottom bowl.
The bowl is usually made of copper and called "cezve" in Turkey, which is intended for brewing coffee. You can also use a jug which is an equally effective jug/jug.
Measure out half a cup of water using the cup you intend to serve the coffee in. Do this for each cup based on the number of people drinking coffee.
After that add sugar to the water, don't wait to add sugar at the end. This is a common mistake that many make.
After adding the water and sugar to the "cezve," place it on the stove over a medium-high flame until the water heats up. Ideally, this should not take more than 3-4 minutes.
Now add 1 tablespoon of coffee to every 3 ounces/88 ml of water. You can play with the quantity a bit to suit your preference.
The coffee grounds will begin to rise to the surface, at which point you resist the urge to stir it. This is the dark foam that Turkish coffee is famous for.
When the coffee begins to boil, pour half of the coffee into the cups.
Let the rest of the drink simmer for 20-30 seconds before filling the cups.
Now you can go out and buy a "cezve" or "ibrik" which is the pot needed to brew coffee and then learn the subtle art over and over until you perfect the technique. On the other hand, you can simply bring the best Turkish coffee machine back to the UAE and add comfort in the morning.
So do yourself a favor and get yourself the best Turkish coffee machine in the UAE. Here are some options to consider before buying a machine.
---
What is the difference between Turkish coffee and espresso?
While both drinks can send drooping eyelids back into your skull, there are some differences. If I were to only pick a major difference between the two, it would be "grounding process" When it comes to the difference in brewing methods, the main feature is the number of pieces a single bean has in the ground. And of course, your choice of beans is just as important. For espresso, the coffee beans are ground into about 3000 pieces.
On the other hand, in Turkish coffee, a single bean can be ground into up to 45,000 molecules. Moreover, as mentioned above, Turkish coffee was discovered in 1540, while espresso coffee came in 1884. With Turkish coffee you can cut short your trips to the local barista before work, save money and develop a new taste for Turkish coffee (m sure it won't take A long time).
---
What coffee beans are used to make Turkish coffee?
Turkish coffee beans cannot claim as important as the method of producing a unique flavour. You can use arabica beans as a favorite but robusta's blend works well too. As described above, the beans need high-quality grounding. 45,000 molecules per pill is something the human eye can't comprehend. Many grinders will have a Turkish grinding setup, if not, your machine will definitely be. The fact that coffee is unfiltered ensures that you get its maximum health benefits.
---
Other Turkish Coffee Recipes
Here are some alternative Turkish coffee recipes that you can try if you don't enjoy a super strong dark cup of coffee. The recipes below make two cups of coffee.
Turkish coffee with milk
Make sure the liquids are cold I put 3 ounces of water And the 3 ounces of milk In the coffee machine.
Then, depending on the strength of the coffee you want, add 2 to 3 tablespoons of Turkish coffee.
Now, put a little Sugar according to your taste.
Make the mixture up to frothy point and make sure It does not boil.
Take it out of the machine and let the foam subside.
Then put it back in the machine and let it sit again (yes, don't skip this step even though it seems redundant.
You are ready to serve the drink in cups.
Wait about 30-45 seconds to allow the grounds to settle and enjoy. As you get closer to the bottom, it's time to put it away or else you'll be drinking coffee.
Turkish coffee with Chocolate syrup
The process of making Turkish coffee with chocolate syrup is not entirely different. But don't top it with syrup at the end or it will ruin the taste.
First, add about 6 ounces of cold water to your machine.
Add 1½ or 2 tablespoons of Turkish coffee and ½ to 1 tablespoon of Chocolate syrup . You can play with the proportions in case you want it sweeter.
Don't add sugar unless you want hot chocolate with a coffee flavor.
Let the mixture come to foam without boiling.
Now remove the coffee from the machine and let the foam settle.
Once it's settled, put it back in the machine and let it froth again.
It's almost time, serve in your cups
Wait about 30-45 seconds to allow the sweets to settle and you are ready to drink, just don't burn yourself.
Turkish coffee with vanilla extract
Well, you've probably guessed it by now, you need to change one step back.
Add 6 ounces of water to make sure it's cold.
Add 2-3 tablespoons of Turkish coffee and 2-3 drops of vanilla extract as per your preference.
However, here you can add some sugar because vanilla extract does not contain any of its own sugar.
Bring the mixture to a frothy point. Do not let the water completely boil.
Turn your machine over and remove your coffee to allow the foam to subside.
Now bring it back to the frothy point again.
Serve the coffee carefully in your cups
Before taking a sip, wait about 30-45 seconds to allow the grounds to settle, this will save you from getting burned.
---
Frequently Asked Questions About Turkish Coffee Machine
How long does it take to make Turkish coffee with the machine?
It takes about 3-4 minutes for your coffee to be ready according to your preference.
Does a Turkish coffee machine need a capsule?
Yeah. Although most coffee machines come with their own capsule. In rare cases due to damage or wear, you can purchase one independently.
How to clean a Turkish coffee machine?
Cleaning a Turkish coffee machine is fairly simple, you'll want to separate the container and wash it in warm water. Use only mild dish soap and dish soap.
Does the Turkish coffee machine prevent boiling?
Yes! The above mentioned Turkish coffee machines come with a designed safety feature. When the water reaches the maximum temperature and the sound indicator rings, the machines themselves shut down. This means that even if you're not near your device, the house and your cup of coffee are safe.
Is Turkish coffee part of the cultural heritage?
It may surprise you, but the special preparation and preparation techniques used to prepare an extravagant Turkish cup did not go unnoticed. UNESCO inscribed the operation on the List of Intangible Cultural Heritage in 2013 as a result.
Can a cup of Turkish coffee predict my future?
Reading a cup of Turkish coffee is a common wealth revealing practice. The readings are based on the shapes of the ground coffee in the bottom of the cup. This is usually interpreted in terms of past, present and future drinkers.
Do I need specific beans for a Turkish coffee machine?
No, the cereal you choose should depend on your choice and personal taste. However, it is common to see people choosing Arabica coffee beans.
With the best Turkish coffee machine in the UAE, you can enjoy this exotic hot drink without the tedious brewing process. Moreover, you can present it to your friends and family at the next gathering. Turkish coffee machines are neat little mini appliances which means they won't take up much space in the kitchen.