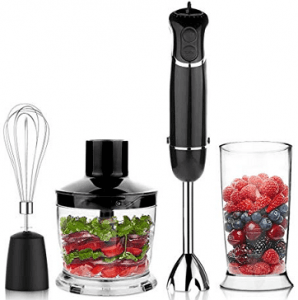 The best hand blender in the UAE can be purchased in 2022
Table of contents
The hand mixer enables you to mix a variety of spices without switching utensils. Simply put the blender in the bowl and twist it. Less mess, less fuss and less cleaning. That's not all, the hand blender is much lighter than conventional blenders and more compact.
Whether you're making puree for your gravy ingredient or blending nuts for some baklava, a hand blender makes your step easier. There are a number of attachments and accessories that you can purchase to complement the blender. Hand blenders work best with finer foods.
It's easy to make a blueberry smoothie to start your day or a good pre-dinner soup with a hand blender. Hand mixers come with wires and even cordless. However, cordless hand blenders lack very little power. They still make great additions to your kitchen as they take up little space and are easy to maneuver.
The best hand blender in UAE you can buy
Braun Multiquick hand blender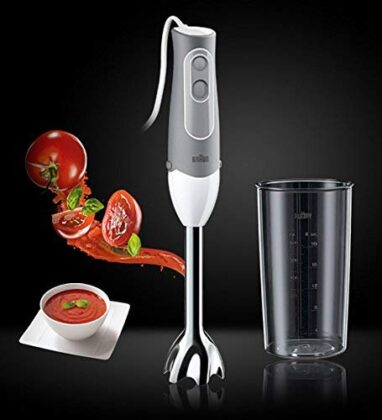 elegant design This elegantly designed hand blender from German manufacturer Braun comes in pure white and stronger gray.
Multipurpose function Mash vegetables or puree and mix baby food, this blender makes it simple.
Simple and easy to use : The blender is designed with innovative functions to easily chop, mince or crush ingredients with the push of a button.
stainless steel blades Bell-shaped mixing shaft provides precise rotation complemented by highly-hardened stainless steel blades giving you the best result.
Turbo Boost Mode : In addition, the blender offers a turbo boost mode made for blending tougher ingredients like nuts and ice.
Saachi 4 in 1 Hand Blender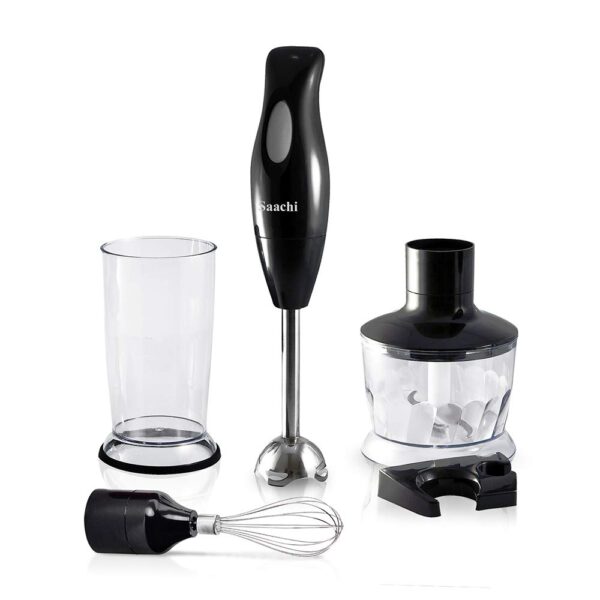 multi-purpose : Cooking a large variety in your home? The Saachi 4-in-1 Multi-Purpose Blender comes with a chopper with spring-loaded blades.
Flour : Use it to chop greens or finely chop anything. With the whisk attachment, cakes and goodies have the perfect rise.
Removable attachments : Since you can remove the attachments, you don't have to worry about the onion smell seeping into the dough. Bonus, you can wash it all over at the end without interrupting the flow of preparation.
Compact and lightweight : This Saachi device weighs 1.3 kg Only, it is small in size and does not tire your arm even when you use it for a long time.
Rotate the image to enlarge
Philips hand blender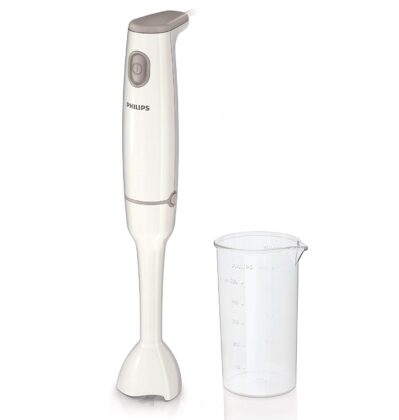 high energy This hand blender comes with a powerful motor 550 watts This allows him to blend everything from soup to cuts of meat.
Dishwasher safe The plasticizer has gained popularity not only for its ease of use but also for being dishwasher safe.
Shorter wire for ease of use : With 1.25 m long wire You don't have to wrestle with wires while you work.
ProMix Technology : The blender hosts this technology allowing for faster blending over a more uniform scale.
easy operation : Features a two-button release system, adding convenience to remove the blending bar for cleaning.
Environmentally Certified : If you are tired of food security, you must know that the blender has passed its environmental certification proving its safety and standards Chemical Free .
Philips hand blender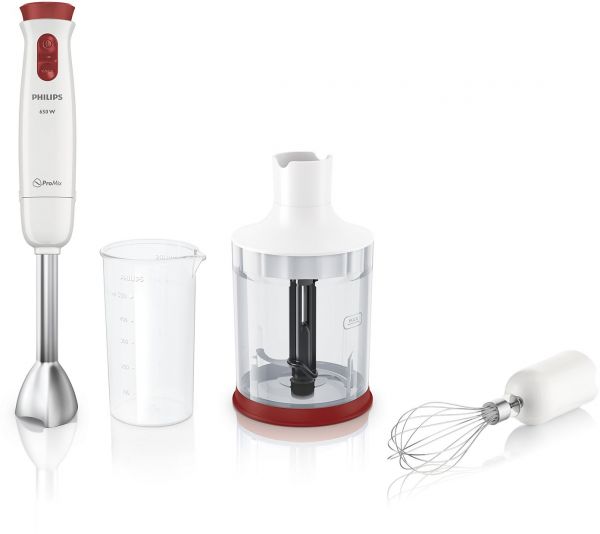 splash guard : If blending is part of an everyday affair, this hand blender from Philips makes life simple. The splash guard ensures that your kitchen walls are not coated with tomato puree.
Convenience to use : The soft-touch grip and ergonomic button placement ensure that you don't tire yourself out on a regular basis.
No bad smell : It comes with an XL chopper and separate whisk attachments so that unpleasant odors don't seep into your delicious desserts.
Turbo button for very solid components : Use the turbo button for an extra punch and break those toughest annoying ingredients.
texture consistency : The triangular shape of the mixer improves the flow and contributes to the consistency of the nutrients. The device is easy to clean which makes it ideal for everyday use.
Kenwood hand blender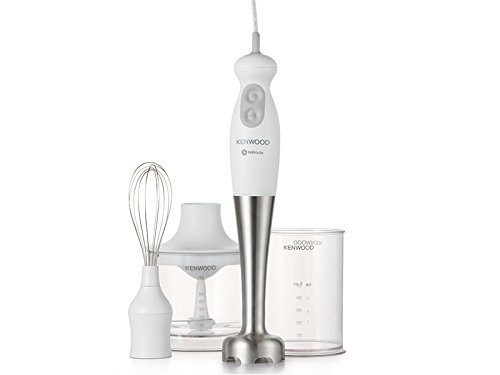 High power and light weight : Tired of spending long hours blending foods? This Kenwood hand mixer comes with power 450W Engine only weight 1.06kg .
stainless steel blades Its light weight contributes to the smooth plastic body and stainless steel blades.
multi speed function . : The device comes with 0.5 . cup Liter, chopper, and stainless steel whisk that you can use in conjunction with multiple speeds.
14 functions to suit your cooking needs In addition, the hand blender offers 14 different functions that cover a wide range of cooking needs.
ease of Storage : The slim design means you can easily store the appliance in a cupboard or on the kitchen counter.
Things to consider when buying a hand blender
Instead of jumping for the first visible blender, take a moment to assess frequency of use and special needs. Base your decision on the following points.
power and speed
If the majority of uses involve baking or pastry products, you can choose a mixer with relatively low power and speed. Whipped cream, cheese sauce, flour mixtures, pancake mixture, and stir-fries along the same line require uniform speeds. Something about 200 watts or higher should suffice. For thicker, heavier foods, you'll need a high-powered blender. About 400W-800W mark can meet all domestic mixing needs. Mixers with higher power provide more stability and control and, therefore, require a higher price.
Choose one with both high speed and low speed settings to meet different usage needs. The powerful speeds help you shred ingredients in no time. Slow speeds allow you to work at a constant pace that complex elements require.
Frame, design and building materials
Hand mixers come in different frames ranging from plastic to metal. Blades are made of stainless steel or alloy. If you are not a fan of gadgets, it is best to stick to trusted brands. It not only offers better product quality and results, but also comes in elegant and stylish designs. Make sure the design is comfortable to hold when choosing the size and color of the hand blender. Look for one with a rubber grip for better grip and stability. You can also find one that allows you to hang it on your kitchen wall.
Feathers and attachments
If you conjure up a variety of aromatherapy syringes in your kitchen, then pay attention to the blades and accessories. They are useful for achieving better results when it comes to different needs such as blending, chopping, emulsifying and whisking. Look for hand blenders with strong, durable, and large, circumferential blades. Look for blades that aren't raised much to blend small amounts, this also prevents spray.
price
If you use a hand mixer occasionally to bake a cake or make some dessert, don't invest in a high-powered machine. Instead, get a more economical option around 200W-400W of power while ensuring it's from a trustworthy brand.