The best electric water boiler in the UAE for 2022
Table of contents
Electric kettles are considered one of the simplest electric kitchen appliances to date. Today, offices and hotel rooms have electric boilers placed because it is very convenient. The best electric kettle in UAE can meet your hot beverage needs instantly. The best electric boilers are made using the latest technology and offer ease of operation. The electric kettle is ideal for people who live in PG, singles and even in your kitchen at home. The kettle can help you heat water for some tea, soup or coffee in an hour of your convenience.
I understand that buying a new electric kitchen appliance may not be as simple as it seems. Straight from the different offerings to choose from plus find one that fits your kitchen décor. But don't worry, with this guide you can bring the right electric kettle in UAE. One that fits your taste, requirements, and budget.
The best electric water boiler in UAE, worth buying
Tefal electric kettle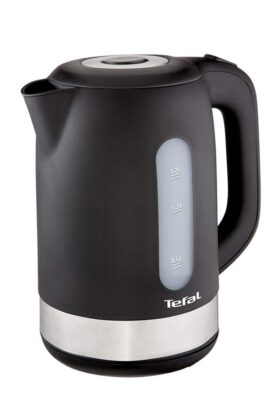 Concealed heating element: The Tefal 2400W Electric Kettle is the one to have if you want to heat water quickly and effortlessly. The water inside the kettle reaches boiling temperature quickly and will be ready to use in just a few minutes. Made possible with the concealed heating element. This also ensures that the interior of the jug can be easily cleaned.
Affordable Capacity: Whether it's about making a cup of coffee or tea for yourself, this 1.7L capacity gives you enough room to heat up water in no time. Even if you invite two friends, it is still an ideal option. Less time heating water and preparing drinks and more time to spend with friends or family. It is available for around AED 100, and therefore at an affordable price.
WL Removable anti-calc : Thanks to this removable filter scale. Now you can keep the water you drink clean and safe. Simply remove and wash the filter as often as you like to ensure clean water at all times. Put it back on and enjoy your favorite beverage after you've finished washing the filter.
Russell Hobbs electric kettle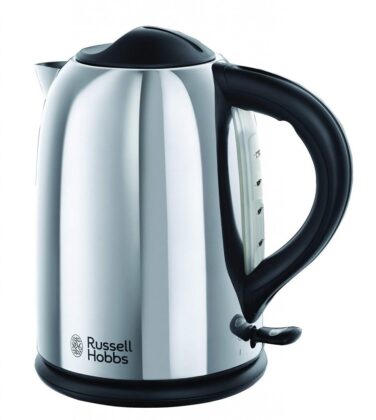 Rapid Boiling Zone Feature: You can now boil only the amount of water you need. There is a clever little gadget inside this kettle that indicates 1, 2, or 3 cups. It boils one cup of water in just 45 seconds, so you can enjoy your favorite coffee in an instant.
360-degree base with built-in cord storage: The 360 ​​degree base makes it ideal for both left and right users to use the kettle with ease. Built-in cord storage is a neat and tidy solution for your kitchen worktop, and hides any excess cord in the base.
Perfect Pour Spout: All thanks to the design of this kettle. Pour in one fine stream to prevent boiling water from spilling or splashing. Therefore, it will not spill onto your hands or work surfaces and will not drip when you start pouring the water.
price: This piece is available at an economical price of 110 AED.
Philips stainless steel kettle
Intelligent operation: This Philips kettle has been meticulously designed and features an automatic shut-off feature to add to your safety. It turns off automatically when the water is ready. Also, when you lift from the base and when there is little water.
filter and price small network : The fine mesh filter on the spout captures any small particles of lime, ensuring a clear cup. The kitchen appliance is available at approximately AED 169.
Ease of use: It has an innovatively designed lid with a wide opening that allows for easy pouring. The indicator light indicates that the boiler is on so you can start using it.
elegant design: This Philips kettle looks distinct with its elegant and glossy design. It would be a perfect addition to your kitchen countertop. The anti-slip feet allow for a firm grip on the work surface.
Black & Decker Kettle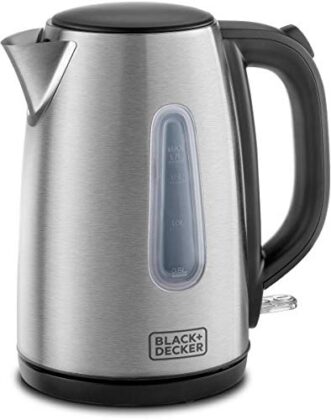 Boil Dry Protection: On This feature protects the kettle from any damage when it has little or no water. This may cause the boiler base to burn.
Affordable stainless steel material: This Black and Decker kettle has a stainless steel construction which makes it rust-resistant, sturdy and durable. The product is available for approximately AED 100 and is value for money.
Automatic power cut off: This device has this special feature to cut off the power once the temperature is reached. This feature makes the kettle safe to use and energy efficient.
Bosch . Stainless Steel Water Kettle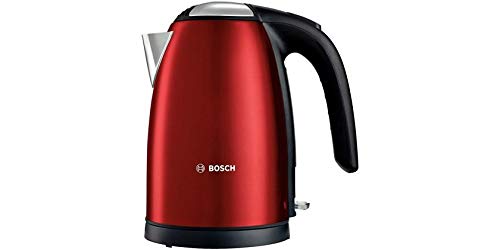 Aesthetics: This elegantly designed red electric kettle adds to the look of your kitchen.
High power at an affordable price: Perfect only for a quick cup of coffee or tea, as it is equipped with a power of 2500-3000 watts. This high wattage allows water to boil quickly. The sparkling kettle comes in at around AED 340.
large capacity: You can easily measure the number of cups you make up to 7 portions, as it has a large capacity of 1.7 liters.
Durable and long lasting: You can use this kettle over and over again without deteriorating the condition. The brand's products are known to be durable and long lasting.
---
Tips for choosing the right boiler
boiling speed
While buying an electric kettle in UAE, the most important feature to look for is the speed of boiling water. This feature determines the quality of the boiler. Buying an electric kettle is an easy way to have your morning tea or coffee. Boiling speed is the main factor to consider. A number of the best brands of electric kettles in the UAE tend to boil water quickly within 3 to 4 minutes, while some may take 5 to 10 minutes. Wasting time and energy isn't ideal for anyone dealing with a busy schedule.
Energy consumption
Always note how much energy the electric kettle consumes. Some electric kettles consume very little energy but work great. You can make tea, prepare pasta as well as boil eggs in a good electric kettle easily. Researching the power output can help you to buy the best electric kettle in UAE at a relatively cheap price.
Size and weight
Size and weight make up the next important characteristics to look for in an electric kettle. When it comes to looking at size, there are two main things to look out for. They are the capacity and space of the kitchen counter. Capacity detection will help you know how much water can be stored at a given time by itself. The higher the capacity, the more water you can heat in one sitting. Some people prefer to buy a smaller boiler with a lower capacity, such as the one seen in a hotel room. However, if you have a larger family with 3 or more people, a larger boiler would be a better choice.
In general, we fit our kitchens with various appliances. Counter space is the next thing that appears in the photo while buying an electric kettle. Desirable electric kettle does not require a lot of space that can compactly fit near a gas stove or microwave. So always note the size, capacity, and space you need to keep while buying one.
the noise
Mostly, electric kettles are silent compared to other kitchen appliances. They just beep to indicate that the water has boiled. There are some electric kettles that make other beeps at regular intervals to indicate this. However, some may find this disturbing. Choose one without making excessive noises or noises.
the design
Electric kettle in UAE has the most amazing features and looks that are the best to look for. These boilers are designed to put function over function. Some of the best electric kettles look equal to their performance. The appearance of the electric kettle may not be an important factor for some, but for others, it may definitely be an important feature to look for. The entire choice is yours.
Let's check out some of the best electric kettle options for you to choose from. I have shortlisted options to bring an electric kettle in UAE that will suit your needs. When preparing this list, I took into account the overall performance, price and convenience that an electric kettle should offer.
In fact, getting the best electric kettle in UAE does not save your time but it makes life a lot easier. Have a cup of herbal green tea, coffee, or immediately boiled water for a soup. A good electric kettle will serve you and your guests in no time. If you're looking to speed up your morning breakfasts, consider buying a toaster. In a few minutes, you can toast with your morning cup. With a little research and luck, you can bring along the best electric kettle in UAE as well as other appliances to match your requirements.