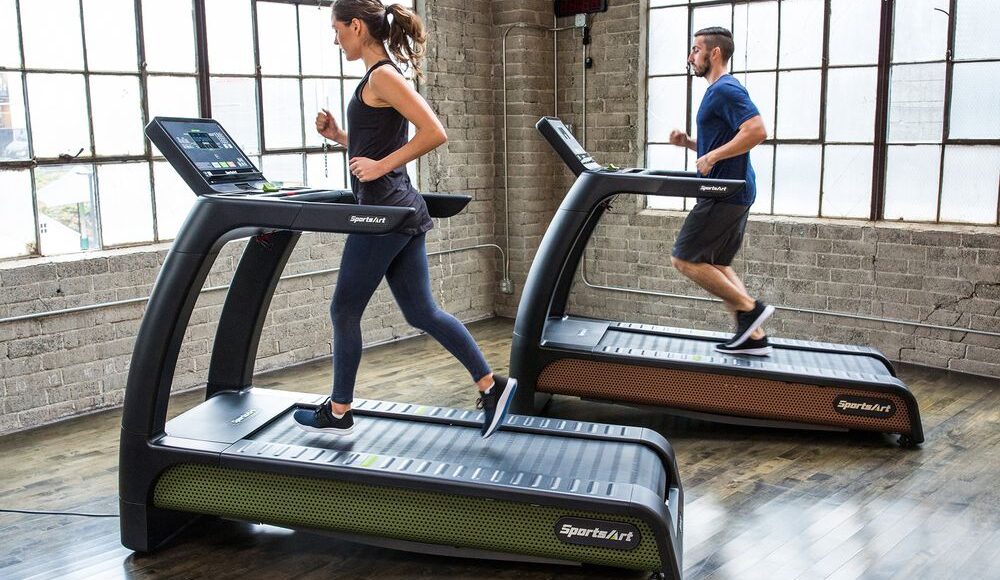 جدول المحتويات
There are so many reasons why you would want to consider buying the best high-end treadmill in UAE. The list is endless, forefront among them are longer life, better resale value, the joy of using a machine that feels great and doesn't creak and crack as you use it. Apart from these reasons are the higher speeds and inclines, the ability to do HIIT (High-intensity interval training) effectively, and the extra motivation that comes with tailored programs available. If you're considering the best high-end treadmill in UAE for yourself or your loved ones, then you're in the right place. We are providing you with a comprehensive buying guide below so you can make the best choice with your hard-earned money.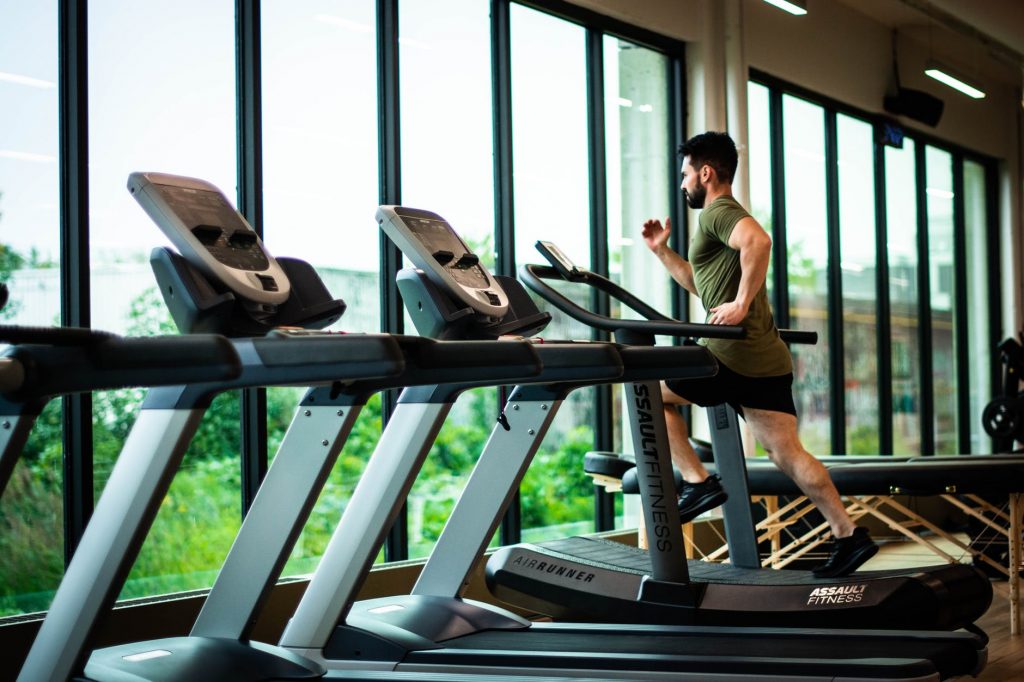 What Specifications to Look for in a High-End Treadmill?
A good treadmill is expensive but is a great investment in the long run. With the added benefit that you can visit your home gym anytime you like. You don't have to worry again about excuses and obstacles that can get in the way. Browsing through various websites, all assuring top-notch quality can be confusing. Let us cut through the noise. If you are considering the best high-end treadmill in UAE then these are the specifications to look out for.
High-End Treadmill Key Specifications:
Belt Size: ​The minimum size must be at least 152 cm long and 50 cm wide for running which you benefit in high-end treadmills.
Cushioning: ​On high-end treadmills, you will obtain a system that reduces the pressure on your knees by at least 48% in comparison to running on the road.
Incline: ​A normal treadmill will incline up to 15% but some high-end treadmills are capable of a super incline going up to 30-40% for a serious calorie burn workout. ​
Maximum Weight Rating: ​This is key, high-end treadmills will be able to handle people that are 120 kgs and more without any hassle.
Speed: When you compare a high-end treadmill to a normal treadmill, the top speed of the high-end treadmill is more than a normal treadmill. It is faster by 10 km/h or more than that.
Pro Tip: A high-end treadmill will equip a CHP Motor (continuous horsepower) unlike just HP (horsepower) in a normal treadmill. And you will obtain a motor that is 2.5+ horsepower.
Are you in Search of the Best High-End Treadmill in UAE?
Let us review some of the top-notch, high-quality treadmill options available in the UAE which can help you achieve your fitness goals at home by helping you lose weight, eliminate belly fat and burn all those extra calories.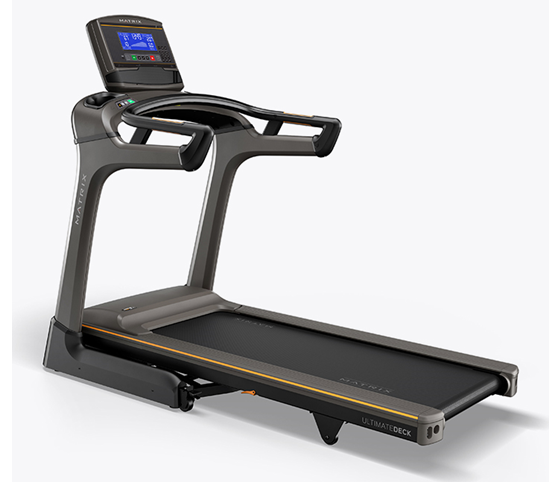 TF-30 is a high-quality treadmill from Matrix. It saves space without compromising on quality. Matrix folding treadmills rank top amongst the best in the market thus making it one of the best high-end treadmill options in UAE. TF-30 is highly recommended for any walker and is ideal for runners. Its folding frame with hydraulic assist makes the Matrix TF30 easy to store between workouts.
Pros:-
Folding- ​Easily foldable. The folded dimensions are 41.1″ long x 35.8″ wide. Unfolded, the machine's footprint is 76.6″ long x 35.8″ wide.
High Speed- ​Top Speed is 12.5 mph, industry standard for a runner's treadmill.
Track Length- ​It measures 55″ long by 20″ wide. Ideal for those people who want to walk on the treadmill and those with short running strides.
Custom Consoles- ​Option of choosing from​​ three appealing consoles. Each console has a different number of preset workouts with ViaFit data tracking, reading racks, wireless heart rate receivers, and water bottle holders.
Virtual Active-​ Get authentic soundtracks and high definition views from the treadmill touchscreen. XER and XIR consoles have Three Virtual Active programs and others can be purchased as well.
Speakers- ​Connect your MP3s or utilize the speakers with built-in apps such as Netflix, YouTube and Hulu.
Motor- 3.25 CHP motor.
Data Tracking- ​ViaFit app is included with all Matrix home treadmills.
Transport​- It has four transport wheels attached to it.
Cushioning- ​TF-30 Deck has a fine balance of firmness and impact absorption to prevent fatigue.
Wireless Telemetry- ​It supports wireless heart rate monitoring which is more convenient and accurate, especially at higher training speeds.
Incline- ​It can incline up to 15 per cent which helps boost your metabolism and tone your muscles.
Cons:-
Heavy- ​The Matrix TF30 weighs around 128 kg. It can be difficult to move despite four transport wheels.
Extra Cost- ​Passport Players (the home virtual trainer on-demand program from Matrix) are required to connect to home televisions, which are sold separately.
Key Specifications:
Motor Power
3.25 HP continuous-duty DC Johnson Drive™ System
Incline
0% – 15%
Speed Range
0.8 – 20 Kph
Running Area
50 x 140 cm
Cushioning System
Ultimate Deck™ System
Console Display
8.5″ Extra-wide blue LCD
Connectivity
ViaFit Connectivity
Entertainment
Passport Ready, ViaFit
Integrated Features
Water bottle holder, water bottle pockets, heart rate grips,
4-wheel transport system
 
Max. User Weight Capacity
158 Kg
Dimensions
195 x 90 x 157 cm
Folded Dimensions
106 X 90X 181 cm
Product Weight
128 Kg
Power Requirements
20V AC power, Dedicated 15A circuit
Workouts/Programs
Calorie, Intervals, Manual, Rolling Hills, Sprint 8, Target Heart Rate (speed based)
Frame Type
Folding
Price: You can purchase the Matrix TF30 treadmill for an estimated cost of Dhs. 11,970.00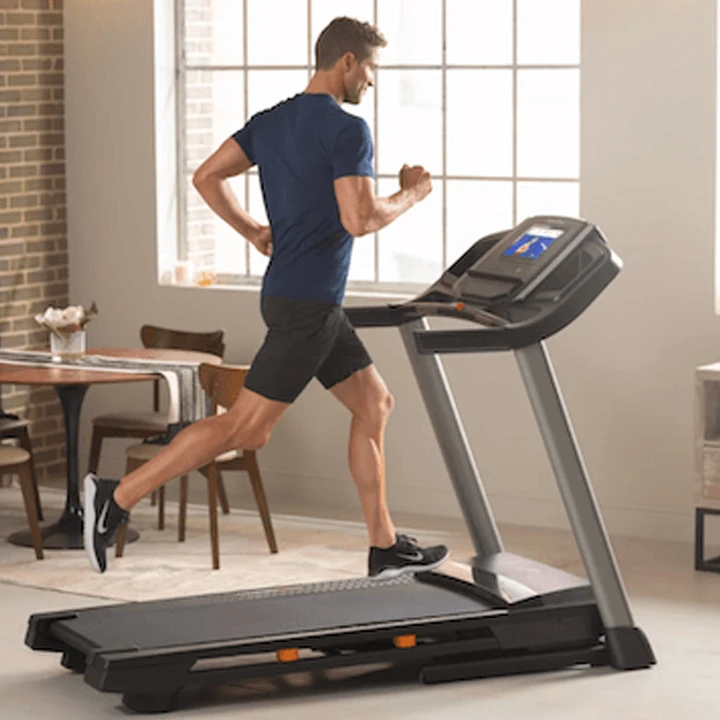 T 6.5 Si is the most affordable treadmill from Nordic with some great features. You benefit all these features without sacrificing on quality. It is a fine option for all those individuals who want to start working out at home. In the latest version of T 6.5 Si, you benefit 10-inch High definition touchscreens, 2 in-built speakers and Bluetooth connectivity along with workout programs.
Pros:-
FlexSelect Cushioning- ​This is a shock-absorption system with the option to turn the cushioning on or off.
Program Variety-​ T 6.5 Si offers more programmed workouts than alternative treadmills belonging to its class.
Folding Design- ​You can fold it in one step, no need for heavy lifting or bending.
Cons:-
Running Deck- ​The running deck is compact, usually a concern for taller runners.
Speed and Incline- ​If you need a treadmill to run or for interval training, speed and incline offering are not ideal with this treadmill.
Key Specifications:
| | |
| --- | --- |
| Motor | 2.6 HP |
| Incline | 0-10% |
| Running Area | 20″ X 55″ |
| Folding | Yes |
| Top Speed | 10 MPH |
| Weight Capacity | 300 LBS |
| Dimensions | 67.5″ L x 36″ W x 73″ H |
| Built-in Programs | 20 |
Price: Bring home the NordicTrack T 6.5 Si Treadmill for a price of around Dhs. 8,995.00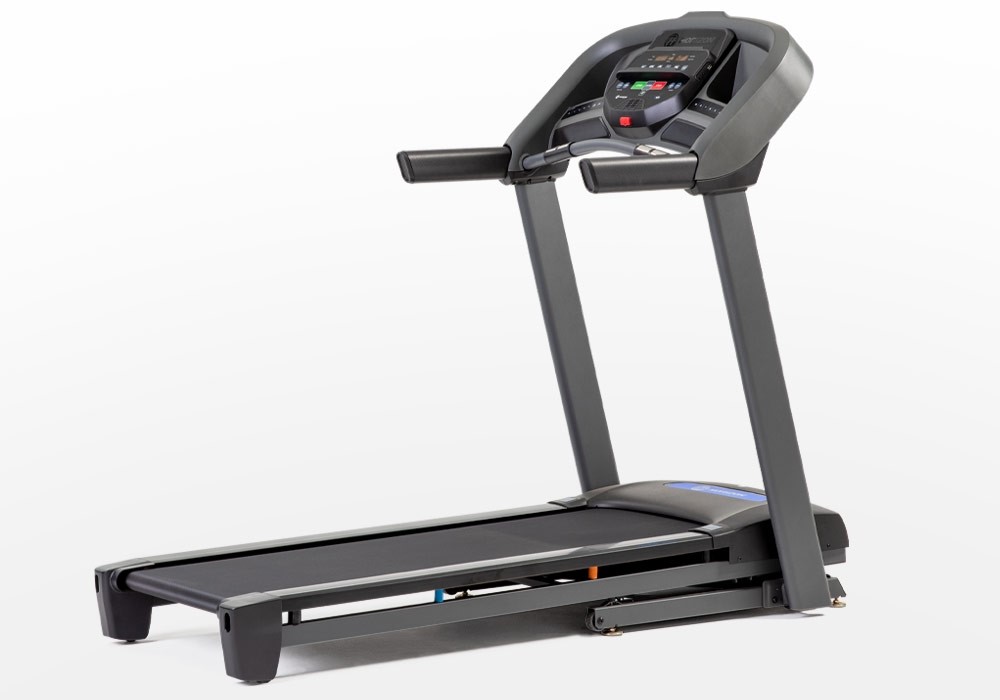 Horizon T101 is one of the bestselling models to be sold globally. It is pocket friendly and perfect for those who prefer light to moderate workouts or walking. This treadmill can be stored easily due to its compact and foldable design. Few of its top features are: incline, a Bluetooth speaker system, and 9 built-in workout programming options.
Pros:-
Audio- ​During workouts, listen to podcasts or stream music with its Bluetooth speaker system.
Exercise Programs- ​It offers 30 workout programs, enough to keep you challenged. These include time, distance, calorie targets as well as manual, interval, and weight-loss workouts.
Heart Rate Monitoring- ​Easily monitor your pulse with T101's dual-grip monitoring system.
Stability- ​T101 can support weight up to 138 kg, unlike its competitors in the same price bracket.
Console- ​T101 offers user-friendly and good-looking consoles.
Portability-​Easy to store and transport.
Cons:-
Track- ​It has a short track, therefore this could be an issue for tall people.
Cushioning- ​T101 offers so-so cushioning.
Motor- ​2.5 HP motor is not ideal for hardcore runners.
Key Specifications:
Frame Type
Feather Light Folding
Running Area
20″ x 55″
Cushioning
3-Zone Variable Response Cushioning
Drive Motor
2.5 Continuous-Duty Horsepower
Belt
1.4mm, Silicone
Deck Thickness
0.7″
Roller Size
46mm/42mm Tapered
Speed Range
0.5 – 10 mph/ 16 Kmh
Incline Range
0–10%
Extras
Audio In/Out Jack, Bluetooth Speakers, Energy Saver Mode,
Fan, Tablet Rack, Water Bottle Holder
Weight
165 lbs.
Assembled Dimensions (L x W x H)
70″ x 34″ x 55″
Folded Dimensions (L x W x H)
46″ x 34″ x 61″
Max. User Weight
300 lbs/136 KGs
Bluetooth Enabled
Yes
Speakers
Yes
USB Port
Yes
Display
Three LED Windows
Programs
40 Programs, Calories, Distance, Manual, Time, Weight loss
Workout Feedback
Calories, Distance, Heart Rate, Incline, Speed, Time
Price: The Horizon T101 treadmill will cost you around Dhs. 3,746.00  
ProForm Power 995i is a treadmill that is ideal for runners. A desirable fitness machine with 60″ track that includes incline and ProShox cushioning. You can fold this treadmill vertically between workouts, to save floor space. It can accommodate any type of treadmill workout be it-walking, jogging, speed training, interval training, or endurance runs and therefore, makes it to the list of the best high-end treadmill in UAE.
Pros:-
Setup- ​You can easily assemble it yourself, no need to pay additional assembly charges.
Workout Programs- ​It offers in-built 30 workout programs. Every program is designed by a certified personal trainer. It automatically adjusts the speed, incline, and resistance of the 995i.
Power Incline- ​Deck incline up to 15%, which in turn can help in toning muscles, burn calories faster, relieves pressure on joints.
Heart Rate Monitor- ​Built-in pulse monitors in handlebars to monitor your heart rate.
Capable Motor-​The 3.0 CHP motor can easily support the daily exercise for an entire family.
Audio- ​It offers smartphone-compatible audio port along with 2 speakers that can keep you entertained during workouts.
Space Saving- ​You can vertically fold the treadmill with EasyLift technology and spare several feet of floor space​.
Warranty- ​1-year warranty for treadmill and lifetime warranty on the frame and motor.
Track- ​You can stretch out into a full running stride. ProShox cushioning is great for your joints as it reduces impact by 28% compared to running on asphalt.
Cons:-
No Chest Strap-​​ You need to hold on to the grips at all times if you want to continue monitoring your heart rate stats.
Key Specifications:
| | |
| --- | --- |
| Motor | 3.0 HP |
| Incline | 0 to 15% |
| Running Area | 50 x 152 CM |
| Folding | Yes |
| Top Speed | 19 KMH |
| Weight Capacity | 350 LBS |
| Dimensions | 205 L x 93 W x 170 H CM |
| Built-in Programs | 30 |
Price: Bring home the power packed ProForm Power 995i Treadmill for an estimated cost of Dhs. 3,200.00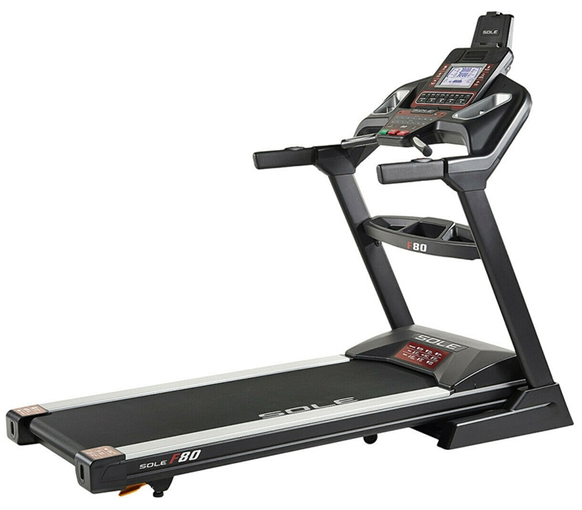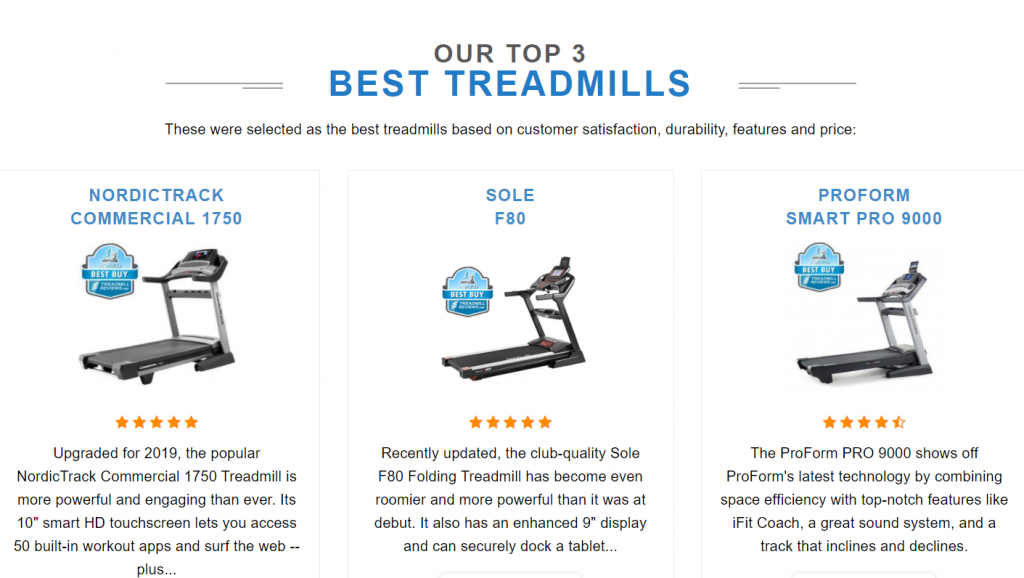 The Sole Fitness F80 is an overall award-winning treadmill and is one of the bestsellers of mid-range treadmills. In fact, as you can see, it is the award-winning treadmill from the very trusted site, treadmillreviews.net, therefore, you wouldn't be disappointed by this purchase. It is sturdier, well-built and is perfect for an individual who needs it for long-distance running, interval training, hill training and demands more out their machine.
Pros:-
High-Power Motor- ​The F80's 3.5 HP motor is perfect for any gruelling workout ranging from long-distance running to interval training and hill training.
Folding Capabilities- ​Automatically folds, just flick the switch. It is a perfect fit for your small home gym since it is easy to fold, thus saving space.
Top Quality Parts-​ Sole F80 has commercial grade parts that can easily last for years to come. It offers superb shock absorption capabilities which contribute to extra comfort, allowing you to enjoy running and walking for a longer duration.
Smooth Track Design- ​It offers a sizeable deck, making it easier for larger runners to have more space while running.
Reversible Deck- ​You can flip the deck when one side wears out, this provides the longevity to your machine.
Preset Workouts- ​10 workout programs. F80 console allows storage up to two different user profiles. You can switch back and forth the machine and still keep track of your stats.
Cushioning- ​Its Cushion Flex Whisper Deck reduces joint impact up to 40% compared to road running.
Display- ​Featuring a 9-inch LCD screen. Enjoy your run while streaming your Netflix, or while reading or listening to music. Moreover, you can also sync your favourite fitness apps.
Cons:-
Workout Variety- ​It offers a limited workout program. This means that it doesn't provide you with the option to download new workout programs.
Side Rails-​ Sole F80 has short handrails. This could be an issue for those who prefer long side rails.
Key Specifications:
| | |
| --- | --- |
| Motor Power | 3.5 CHP |
| Incline | 0 – 15 Levels |
| Speed Range | 0.5 – 12 mph |
| Running Area | 22″ X 60″ |
| Workouts/Programs | 6 Workout Programs |
| Console Display | 9.0″ LCD White Back-lit |
| Entertainment | MP3 input, built-in speakers |
| Heart Rate Measurement | Yes |
| Integrated Features | Cooling fans and speed and incline controls on the armrests |
| Max. User Weight Capacity | 176 Kg |
Price: Purchase the Sole F80 treadmill today for a price of around Dhs. 6,450.00.
Journey Towards Losing Weight and Staying Healthy
So, there you have it, the best high-end treadmills in the market for you to purchase in UAE for home use. Make your choice as soon as possible so you can get started to the healthier, fitter, and slimmer you. Ensure you keep your requirements and budget in mind while making your purchase. The best high-end treadmill in UAE is your best friend and companion in your journey towards staying fit and healthy by helping you lose weight, cut down belly fat, and burn all those calories.
You may also want to check out some more top-notch treadmill options in UAE.
Also, Read…
Best Treadmill Brands in UAE
And, Best Treadmills For…