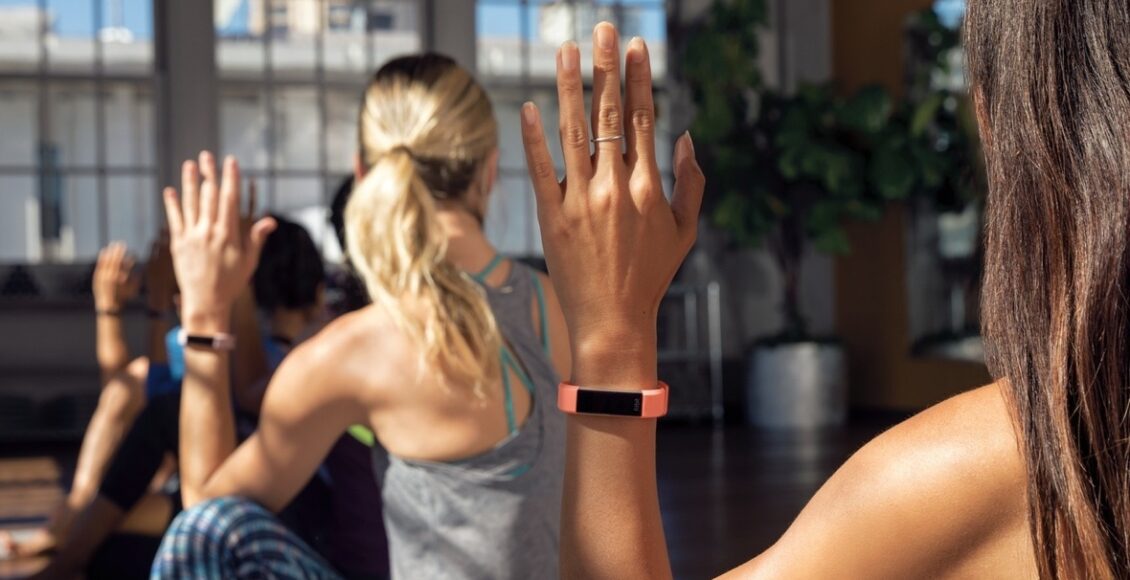 جدول المحتويات
Choosing fitness and health over everything is the way to live recently. And what better way to help you with that with the best fitness bands in Saudi Arabia. All those eating plans and workouts can leave you confused whether you are losing calories. In this times, these fitness bands will help you without any doubt. Bands like Huawei, Xiaomi, Fitbit and more have your back.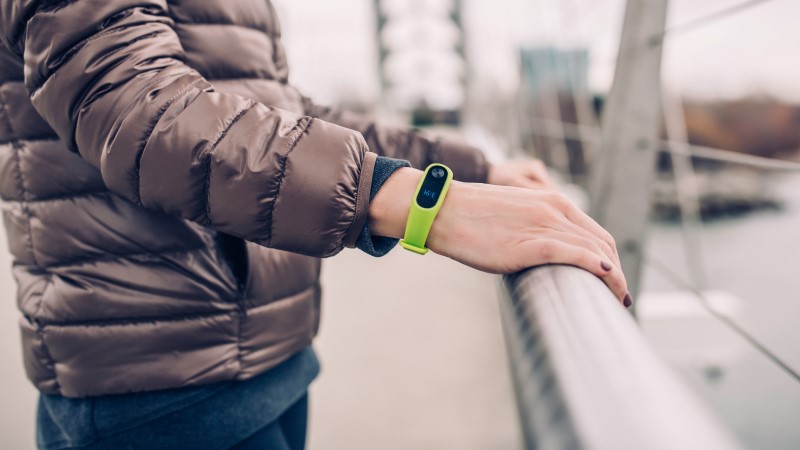 Uses of the Best Fitness Bands in Saudi Arabia
Now do not be mistaken getting a fitness band doesn't assure you that you will be fit. But it does keep a track of your progress and movement during the time you wear it. Serving you as an easy method to measure your daily activity. This way you can be aware of your activity and motivate yourself to do better each day. Besides that, the best fitness bands in Saudi Arabia keeps tabs on your other health-related activities. Like checking your heart rate and pressure, monitoring your sleeping habits, the activities you perform and the calories you burn in the process.
Furthermore, after keeping a track on your day to day activities and the lifestyle it provides you with a full report on your activities. Moreover, some top brands let you check your reminders and notifications right on your wrist. Which is a good additional feature to go with as you need not check your phone and miss any notification in the bargain. With that being said take a look at some of the best fitness bands available in the Saudi Arabia markets at the moment.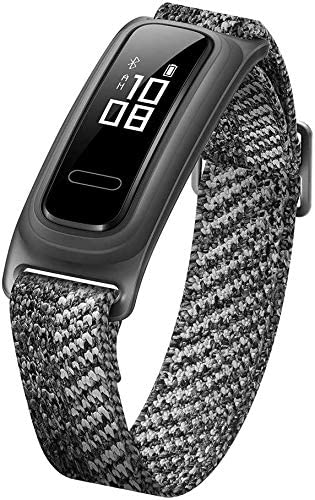 Multi-Usage: Not only can you wear this fitness band on to your hand like any other but the innovative detaching feature allows you to separate the band and the dial for you to clip it to your shoes as well.
Water- Resistant: The water-resistant feature ensures that a little water cannot interrupt your parade this time. Since it can resist up to 50 meters of water making it suitable to wear even while surfing and swimming.
Battery: The included charging cradle charges your tracker at a lightning-fast speed which can last you for up to 14 days even with uninterrupted usage. Besides that, the tracker has a 21 days standby time for when you do not use it. All this is possible because of its large 77mAh of battery.
Fitness Tracking: Tracking every step you take with its 6-axis motion sensors. Which can record your foot strike patterns, ground contact time, landing impact accurately each time.
Design: The design of this band is sleek and stylish and assures you that it's made out of purely eco-friendly material. Thus ensures your durability and style for a long time.
Everyday Assistant: With features which can find your phone, set reminders and update you with your notifications. Makes this watch nothing lesser than an assistant. Besides that, it even monitors your sleep routine. Providing you with the much-needed stats at the end of each day.
Basketball Mode: When you clip on the fitness band to your shoe, it records your running stats, your vertical jump data, height, hang time, speed and much more. Moreover, providing you data on how you can up your techniques for the next game.
Price: Available for around SAR 120.
Model: XMSH07HM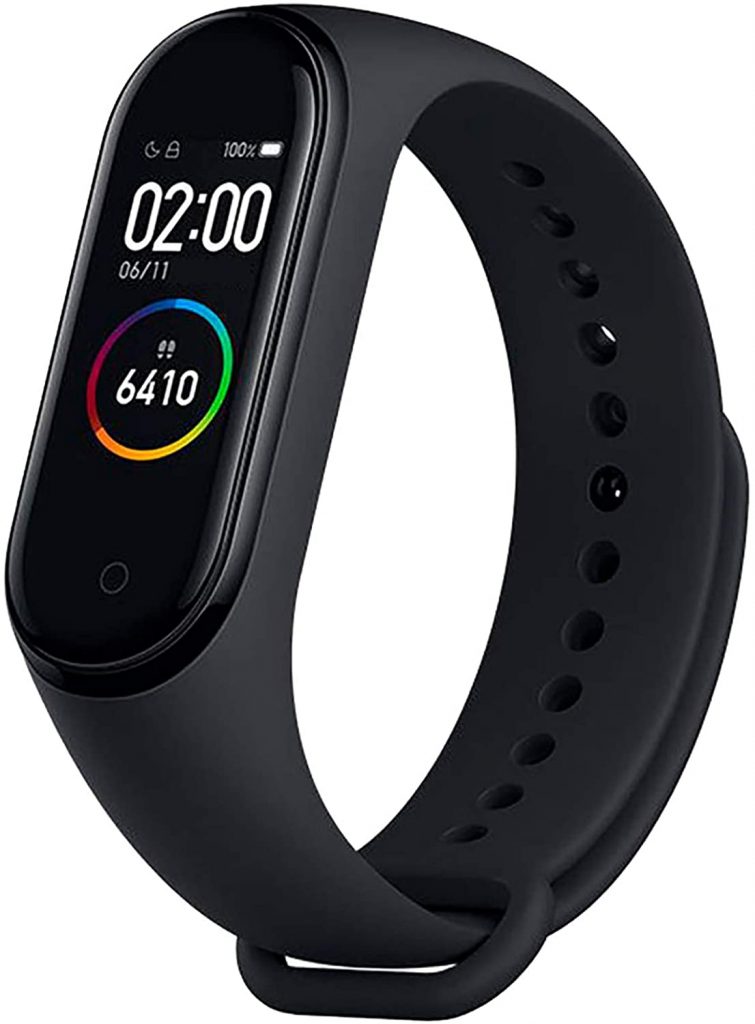 Water-Resistance: Built to resist water up to 5 meters. And is specially designed for swimming as it detects your strokes and pace. Besides that, it even recognizes 5 different swim styles.
Battery: Under normal circumstances, the battery life of this watch lasts up to 20 days when fully charged But this would depend on your usage as well.
Display: Featuring a smart fully coloured AMOLED touch display, ensures you to view notification as well right on your wrist. Without having to pull out your phone every now and then.
Health Monitoring: The speciality of this band is that it tracks your heart rate at all times including when you go to sleep. Furthermore, alerting you when you have a higher heart rate. Besides this, it even gives you reminders when you've been idle for too long. Thus, promoting you to be active.
Sleep Monitor: Starting your day with a good night's sleep sets the mood right through the rest of the day. Therefore to ensure this the fitness band tracks your sleep routine and access how long and deep or light is your sleep. Furthermore, providing you with insights on how to improve your sleep. Moreover, to help you start your day on the right foot you have the vibrating alarm on your band to wake you up.
Price: Get this fitness band for the approximate price of SAR 90.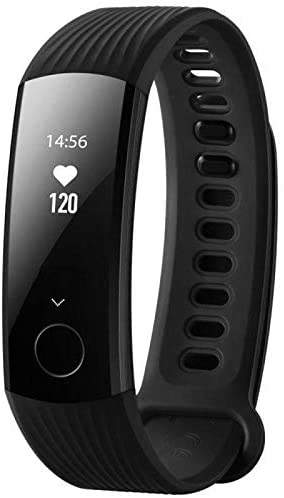 Display: The OLED display makes sure you have everything in one place. Right from your heart rate, distance, pace and the time.
Battery: Using the third-generation high-performance battery ensures your smartwatch has 80% of power consumption. Enough to last you for days together, up to 30 day to be specific. Depending on its usage.
Water-Resistance: With the custom swim mode you can wear the band in 50 meters of water. And ensuring that the watch tracks your activity, updating you with the calories burned, swim time, etc.
Pulse Monitor: With a flick of your wrist you can check your heart pulse since it tracks your heart rate 24/7. Thus, giving you a clear picture of your health status. Furthermore, you can keep a track of which heart rate zone you are in. This accuracy is possible with the M4 core technology.
Sleep Tracker: Lab tested to be proven true the sleep tracker ensures to check your sleep and categories it is light, deep, and REM sleep, as well as wake-ups time. This holds firm even during the day for your power naps.
Assistance: Your personal assistant at your finger tips as it notifies you with your social media updates, calls and even allows you to answer and dismiss them easily.
Price: This Huawei Honor band will cost you around SAR 130.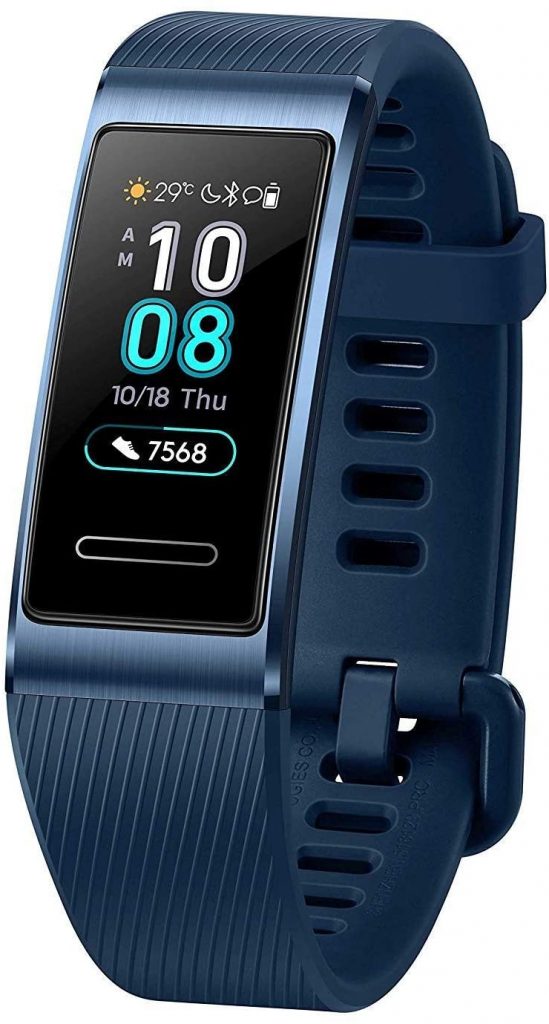 Display: Showcasing an AMOLED Touchscreen 0.95″ colourful display. The touchscreen display brings to you a clean 2.5D vision right on your wrist.
Smart Heart Monitor: With the HUAWEI TruSeen™ 3.0 precision heart monitoring system along with IR light and intelligent AI, ensure you have a precise up to date heart monitoring design at all times.
Sleep Tracker: Besides tracking your sleep cycles this band identifies 6 most common sleeping problems and provides you with almost 200 solutions to them. This will help you sleep better and wake up easier.
Fitness Tracking: With this feature of the GPS you will know how far you have travelled, how long and the effects it has on your body. This includes suggestions for recovering time and evaluation of your day to day progress.
Swim Mode: Making it water-resistant this device ensures you can use it in 50 metres of water be it in a pool or open waters. Furthermore, tracking your calories, a number of turns and average SWOLF all to help you improve your swimming skills.
Assistance: By using this fitness band you can have a hands free phone assistance to receive notifications, calls and other phone-related content.
Price: You can have this fitness band for almost SAR 300.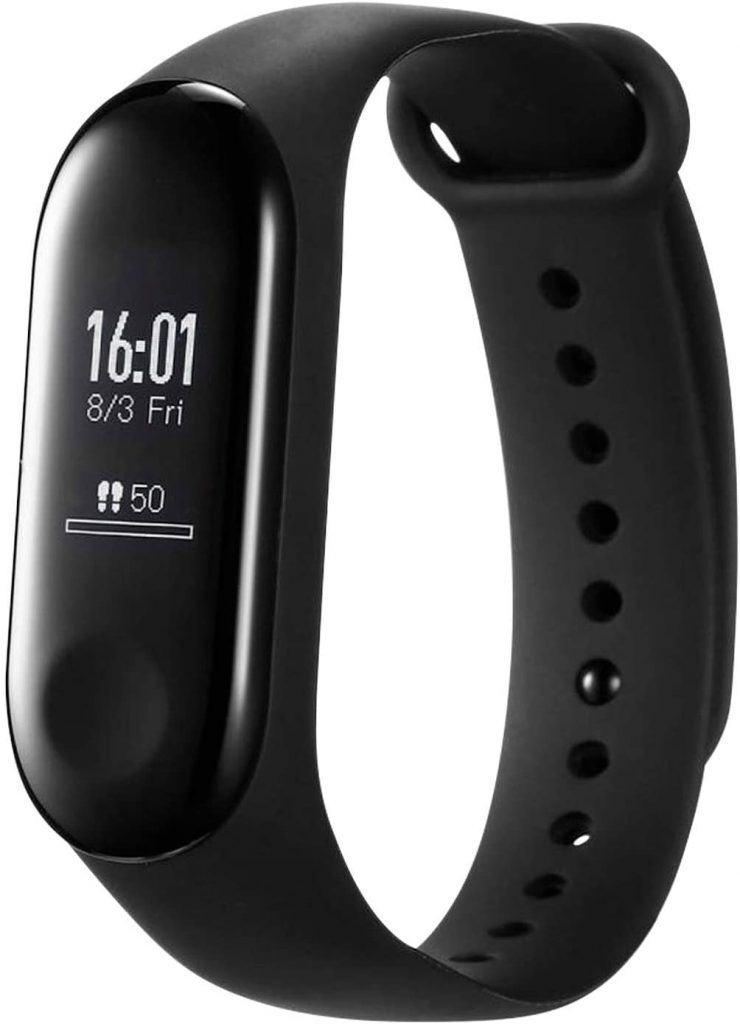 Material: Since the strap is made from thermoplastic elastomer it is lightweight and comfortable to wear for long hours as well as durable.
Display: The display of this fitness device is of 0.78″ with an OLED touch-screen. Which can not only display your progress but also notifications easily.
Fitness Trackers: Since it automatically measures your sleep, as well as, step count this ensures you have a good level of activity during the day as well as you rest-up enough for each day. Furthermore, you have an ideal feature which notifies you when you haven't had any activity for quite some time.
Heart Monitor: Keeping track of your heart rate automatically ensures your health to be kept in check.
Water- Resistant: Ensuring that you and your fitness band can not be afraid of a little water as this gadget can be worn even while you swim in 50 meters of water.
Battery: Sporting a long 110mAh which can even last up to 20 days with standard usage.
Price: Available for around SAR 100.
Best Premium Fitness Bands in Saudi Arabia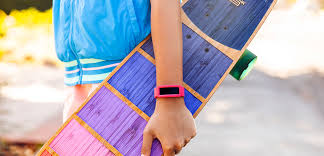 Speaking of the best fitness bands in Saudi Arabia you have to check out some of the premium ones as well. Well, whats's the difference you ask? Besides the regular functionality, the premium ones have the advantage of a better and sleek look along with added feature and functionality. All to get you up and moving every day and not have a motionless lifestyle. Furthermore, the premium fitness bands ensure you can wear this band in any setting be it formal or casual. Therefore what are you waiting for check out some of the best premium fitness bands in Saudi Arabia!
Model: FB408GMBKS-EU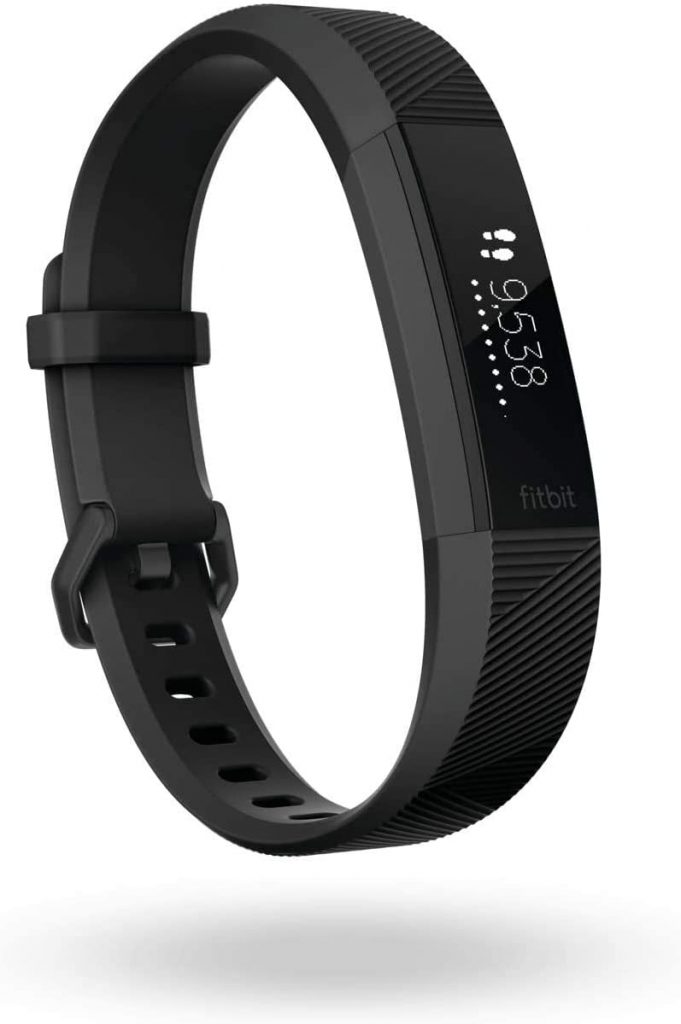 Display: This band displays an OLED which has the very information you would need. Right from the time, your daily stats and notifications from your phone. Besides this, you can accustom the face of the band for the face screen display to visually suit your needs.
Battery: The fast charging and lower power usage ensure that you have a long battery life which can last up to 7 days all through the night and day in one stretch. Yet this could vary depending on your usage.
Smart Fitness Track: Your fitness is given the upper hand since you perform various task. During the day this device detects these task and accordingly measures it. This is done with the SmartTrack feature of the band.
Water-Resistance: Although not completely water resistance it can handle light water like rain, sweat. But if wet it is advised to completely dry it off as soon as possible.
Heart Rate: The PurePulse feature gives you accurate and continuous, wrist-based heart rate tracking along with a simplified heart rate zones.
Sleep Tracker: Every time you rest yourself the band catches on and automatically tracks the quality of sleep you have. Furthermore, you can set alarms which will silently wake you up with the help of vibration.
Interchangeable Accessories: Show up with a brand new looking watch at each occasion with the interchangeable accessory straps. Add a chain, leather and any type of belt you would like.
Price: Avail this fitness band at the cost of around SAR 1000.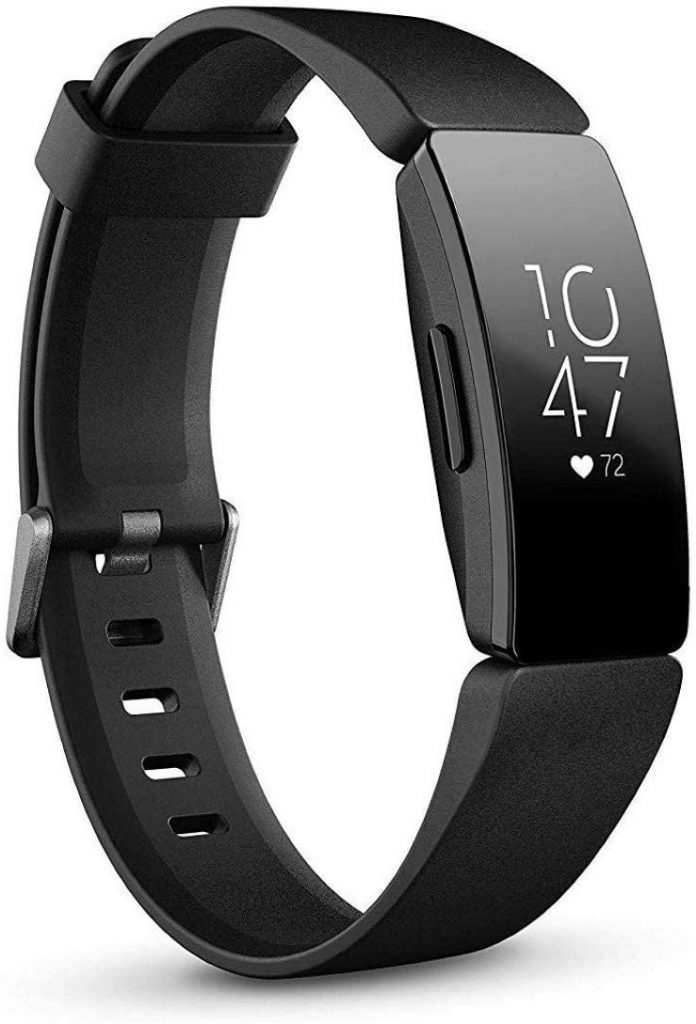 Sleep Cycle: Showing you your sleep cycles be it deep, light or REM sleep. This helps to understand you and your day on a deeper level thereby giving you better sleep well suggestions. Furthermore even waking you up with a silent alarm.
Heart Rate: With the continuous heart rate tracking helps you to exercise to your max limit and keep a track of your workouts. Furthermore, with the heart rate zones, you can see your fat and calories burned. Besides that detecting, your heart rate in the resting and active position helps you with your health.
Exercise Mode: Setting yourself up to the appropriate 15 available exercise modes, you can get real-time updates to your progress. And the added GPS feature helps to determine your progress.
Battery: Be motivated to keep yourself healthy and fit every day as you can charge this device once every 5 days and have the full fitness band experience.
Menstrual Health Tracking: A handy function for the females that you can keep track of your monthly menstrual cycle without any fuss. Just log in your dates and check for abnormalities.
Food Logging: While you work to get your health in check you might not consider the food you intake. But this band does that for you you just have to note down into your device the meals that are eaten. Therefore comparing the calories gained and loss, which makes it easier to reach your goal.
Water-Resistant: The fact you can wear this device while swimming or taking a shower makes it a handy feature. In addition to that is it can track how long you've been swimming and the effect it has on your body in terms of health.
Display: The touchscreen display has a backlit OLED which is easy to use. Besides that, you have the feature to change and adjust the face of your device as per your liking.
Price: This fitness band is yours at the cost of around SAR 450.
Model: CRS-B19S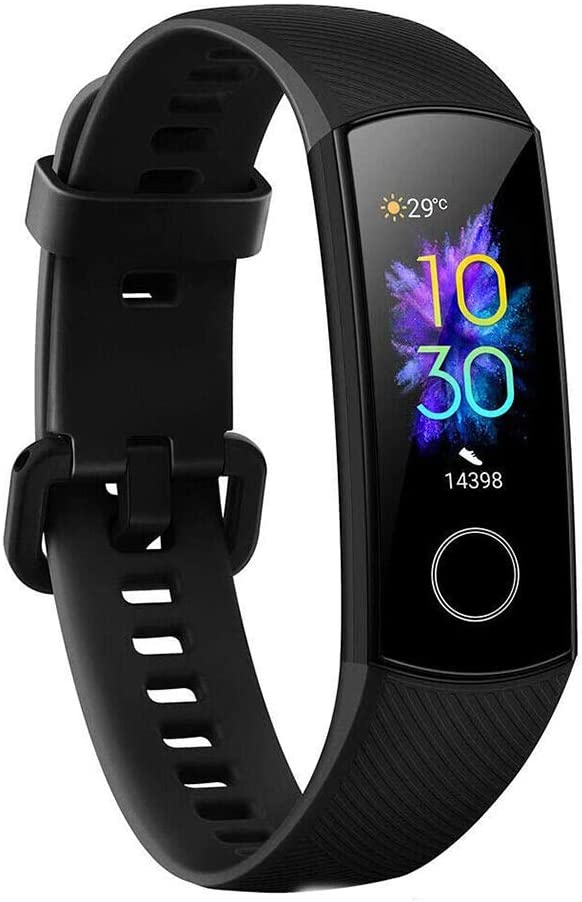 Display: The AMOLED touch display has a 2.5D curved glass display. Which can be colour coded for each notification received to make it easy to understand. Along with that, you have a changeable display face to suit any and every setting as well as outfit.
Heart Tracker: With the help of AI's TruSeen™ 3.0s technology the band tracks your heart rate continuously. Thus keeping a track of your fitness and health levels.
Oxygen Saturation: Keep a track of your oxygen saturation levels in your blood with the SpO2 Monitor. Therefore determining how your body works and adapts during workouts or at high altitudes.
Fitness Trainer: Get an in-depth stats of how was your workout time, your heart rate, distance, stride frequency, speed, calories and aerobic/anaerobic type of exercise. And an advisor on how to improve your workout along with the different workout modes.
Swimproof: Jump into your pool or any other open water without any hesitation. Since the Honor Band 5 is water-resistant up to 50M3. Besides this, the band has a six-axis sensor which can recognise four main swim strokes namely, freestyle, backstroke, breaststroke, and butterfly. Along with that even detect the speed, distance, calories and SWOLF4 score.
Sleep Improvement: The TruSleep technology embedded in the Honor Band 5 tracks your sleeping patterns and gives you over 200 personalized assessment to improve your sleep quality.
Assistance: You have your very own assistant in this device which notifies you on calls, social media updates and messages. Furthermore, you have 'find your phone' feature and it also works as a photo remote to capture images.
Battery: Lasting around 6 days which can change depending on the usage and sports a 14-day standby mode for when not in use. Making it power-efficient even with such a high level of performance.
Price: This can be yours at the approximate rate of SAR 100.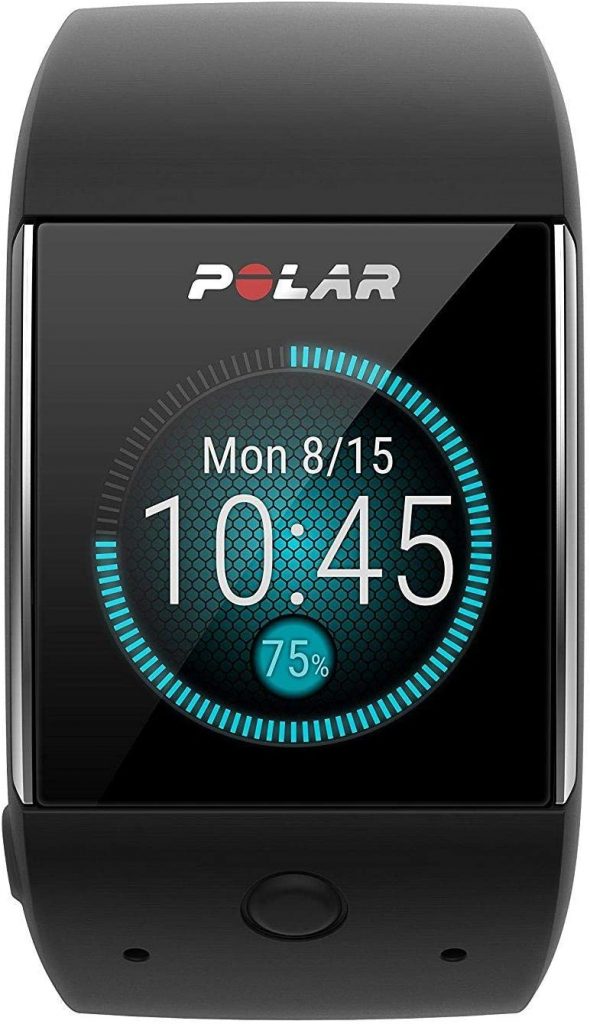 Dual Usage: You can not just use this as a fitness band but also has features to be used as a smartwatch. Which makes it handy whether you are out on a run or at your office desk.
Heart Rate: Checking your heart rate is convenient and easy with this device. All you would have to do is strap the watch to your hand and you are ready to go.
Integrated GPS: The GPS function makes it easy to keep track of how much and how long you've travelled while your out on your morning run. Besides that, it even tracks your activity, steps, calories and more to make sure you are reaching your goal.
Battery: With a long 2-day battery life you can connect to your phone and still enjoy quite a long time without having to charge it. The battery pack power is at 500mAh.
Sleep Tracker: Even making sure to track the level of sleep quality you have and for how long. Ensuring that you are in good health. Therefore this watch does just that.
Sport Mode: Giving you the benefit of choosing what sort of workout sport you would do, as you can select one from the multiple selections. Thus ensuring that you get accurate data of the calories burned every day.
Water Resistant: Suitable to use it in light water up to 10 meters to be precise.
Fitness: Having your very own personal coach is great. Which is why you have this band offers you that. As it provides you with your daily progress and way to improve the lagging parts of your workout.
Price: Get this at around SAR 1200.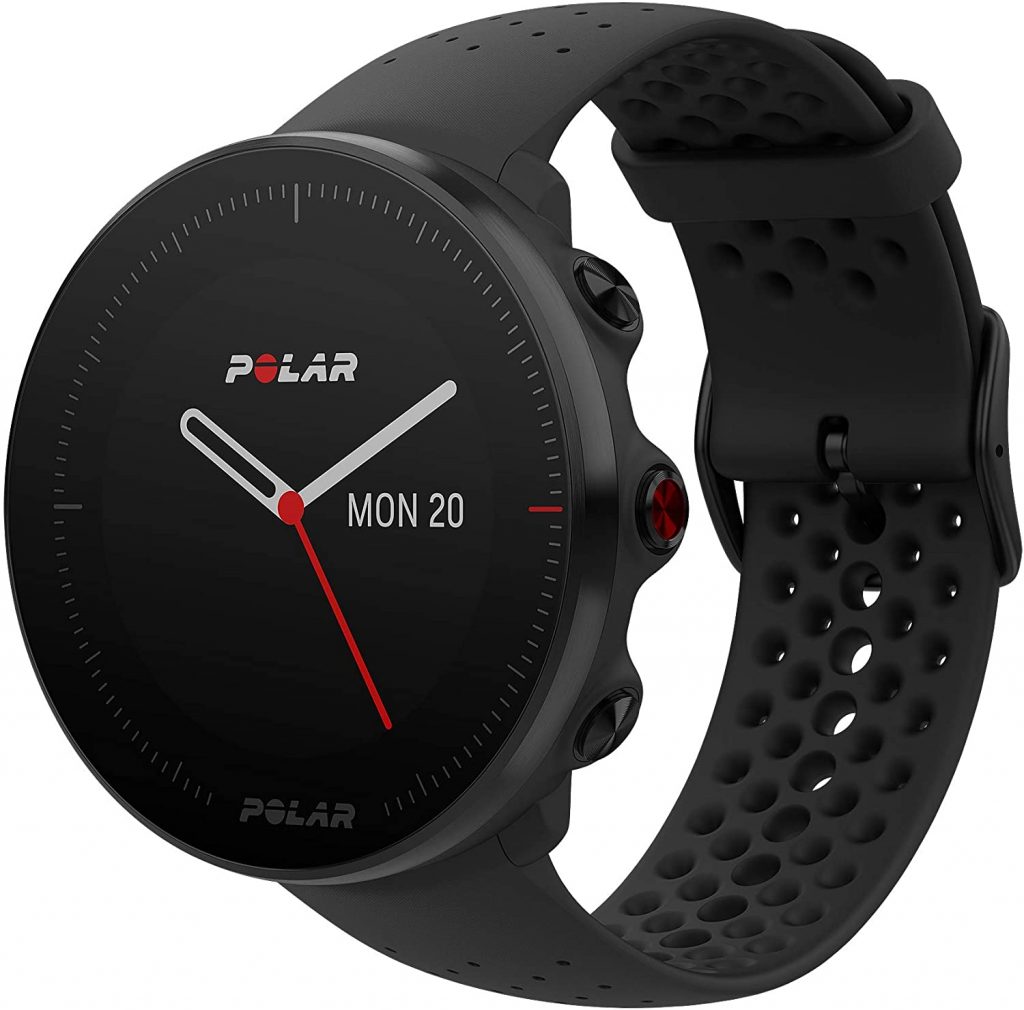 Battery: This fitness tracker cum smartwatch when connected to your phone can last for around 30 hours. Even to include training time.
Design: The design is such that it has a mix of elegance as well as sporty feel to it. Yet not being chunky and is lightweight. Plus it has a changeable wrist band feature to match with any of your outfits.
Heart Monitor: With Polar Vantage M you can track heart rate with the Precision Prime sensor fusion technology accurately monitors your heart rate. Therefore it can give you a precise reading of the calories burnt during the day.
Fitness Modes: Choose from the wide 130 variety of sports modes to ensure you have an accurate activity tracked. As the watch analyzes how much of the exercises you've done stresses which part of the body.
Sleep Tracker: Getting insights of your sleep isn't just what this device does it also checks the quality of sleep and ensure to give you suggestions to sleep well.
Share Progress: You can share your progress with any third party App to get more depth knowledge about your progress. Furthermore, you can even share your progress with your friends or your personal trainer for a more in-depth analysis.
Waterproof: This watch is waterproof since it allows you to use it in wet weathers as well. As it even detects when you are swimming. Tracking the calories, speed, distance and even the style of swimming.
Price: For almost SAR 1200 this watch can be yours.
With that, you have a wide range of choice to make for the best fitness bands in Saudi Arabia. All you have to do is check them out for yourself and make your purchase. But hold on before that make sure to read on to have a bit more insight before placing your order.
FAQs for Fitness Bands in Saudi Arabia
Can a fitness band withstand water?
Yes, most fitness bands can withstand water. Although they might not be waterproof but might be water-resistant. You have to keep an eye out for both these words. Since they aren't the same. As waterproof is a good feature to have where you can be completely drenched yet not worry bout your fitness band since it is built to work even in water. As for water-resistant, these bands are fine only up to a certain level of water.
Does fitness bands endure high temperatures?
Yes, fitness bands can endure high temperatures. Although you would have to keep an eye out on the heat resistant feature as some do not work well under heat. The higher the heat resistant the better it is for warmer weather climates. Also, there is a small chance that a band might not be able to withstand high temperatures, so do keep a check on that.
Does a fitness band track heart rate?
Yes, one of the fitness bands features is to scan the heart rate. This is done by keeping tabs on the pulse rate in the wrist. A green infrared light is flashed on the band. From there some of the light is reflected back while the rest passes through. With the reflected light the optical sensors are triggered which determines the heart rate and the blood flow as well.
What is the battery life of a fitness band?
The battery life of the fitness band is completely on the usage. As with standard usage, the fitness band should last for a minimum of 5 days. You would want to look out for a band which has high battery storage. So that it would last at the most a whole day thus have no need to constantly charge it.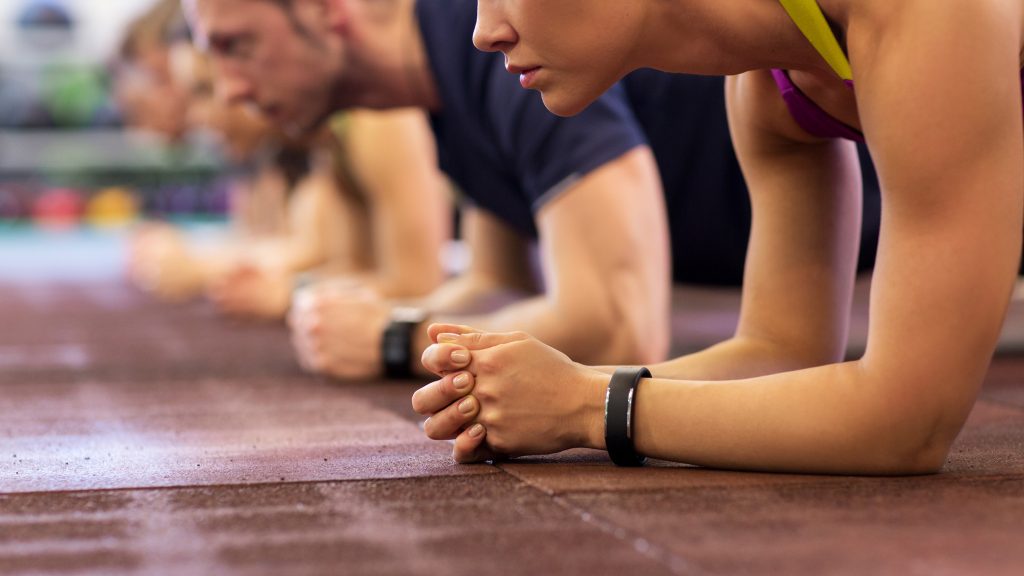 Technology of the Best Fitness Bands in Saudi Arabia
You have to know what is generally present and available for some of the best fitness bands. Which is why thorough research is necessary. So, you know that you can get the best and not settling for anything mediocre.
Altimeter
This feature is of great use when you have for the time you go trekking or hiking on a hill or some other elevated area. This includes stairs. This feature calculates your height with the GPS feature as well as by making use of barometric pressure. Giving you an exact measure of the sea level with the atmospheric pressure.
Optical Sensor
This is the technology responsible for tracking your heart rate. Which is a handy tool to keep track of your heart as well as your health. This is done by checking the blood pumped by your heart to the body with the help of the infrared light technology as well.
GPS
GPS or the Global Positioning System with the help of the triangulation process can narrow down your exact location. For the exact coordinates, the GPS uses different satellites to give you the precise location. This technology helps to calculate the exact amount of calories you burn since in rocky and hilly terrain you tend to have more activity as compared to walking on flat ground. Thus giving you exact metrics of the distance, speed and pace to keep you well informed.
Actigraphy for Sleep Tracking
To stay healthy you need to rest up well thus the incorporation of the actigraphy. This feature helps to track your sleep cycles. Furthermore categorizing them in deep, light or REM sleep and even when you wake up during the night. Thus giving you the in-depth detailed information of how well-rested you are. But this is only possible if you wear the band while you sleep.
Gyroscope
This device functions by reading your orientation and rotation. There are two technology features which work hand in hand to determine this. Which are the 3 axis gyroscope and the 3 axis accelerometer. Which tracks your movement to provide you with a 6 degree of freedom. This whole feature is handy when it comes to working out when your orientation changes to calculate the burn of calories.
Accelerometer
A common term for acceleration. Where the technology used to detect your movement be in it any direction and the speed of the movement. In more technical terms, the 3-axis accelerometer measures acceleration based on the start of a movement and the stop with the intensity that it happens.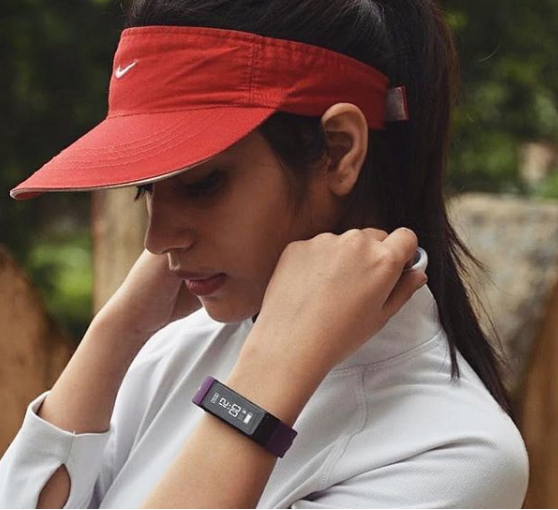 Let's Pump it Up!
Take hold of your health and fitness with the best fitness bands in Saudi Arabia. So you stay motivated and pumped to break your own records. And before you know it you will reach your desired goal. All you need is consistency which this device will help you with. Furthermore have a little extra as some of the fitness bands allow you to have your own personal assistant on your wrist always at your disposal. So, what are you waiting for, crank up the music and fire your self to work towards a fitter you. You can even try getting a smartwatch if you want a dual work feature. Check them out here at the best smartwatches in Saudi Arabia.