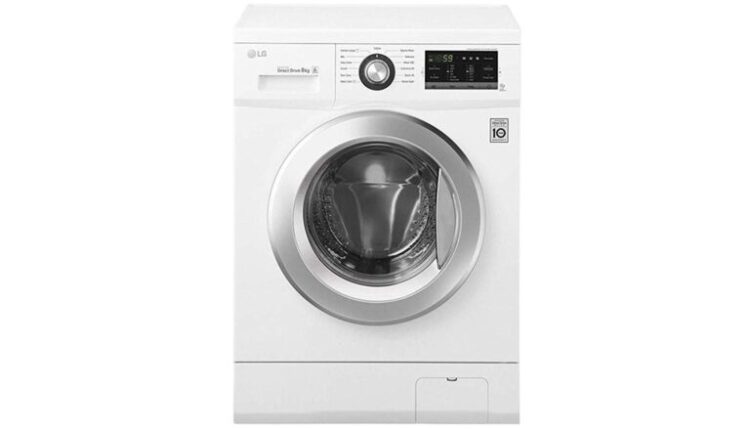 The best washing machine 7 kg in the UAE can be purchased 2022
Table of contents
So, are you looking for the best 7kg washing machine in UAE? Are you sure you're not looking at the wrong drum? How about buying the best 7kg washing machine in UAE? Choosing between a front-loading machine or a top-loading machine may not be an issue. But once you narrow down the type of machine, do you know what size you need? Probably not… If you are a standard (medium sized) family of 2 to 4 people, you will probably need a 7kg to 8kg washer.
The best washing machine 7 kg in the UAE
Hoover washing machine 7 kg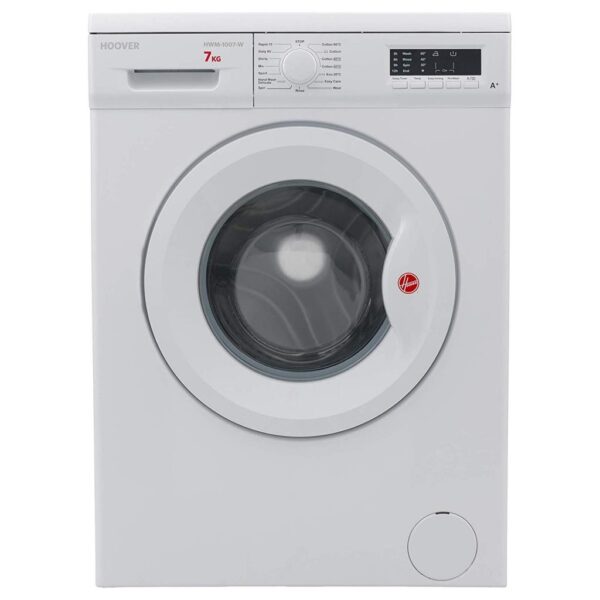 Capacity and price: other washing machine capacity 7 kg, available at a price of around 1100 AED which is very reasonable.
Washing modes: With the Hoover 15 Programs washing machine, save yourself the hassle of separating the laundry. Accommodates different modes and allows a variety of garments to be washed without any color. Dedicated modes for sportswear, daily wash, and 15-minute quick cycles.
Download type: This washing machine is a front loading machine. This means that you consume approximately 50% less water than top loading machines. In addition, you can run multiple wash cycles and consume less energy.
how to operate: The dial operating system gives you control of the washing machine in an easy-to-use manner. Spin the dial to the wash setting of your choice and enjoy a hassle-free washing experience.
Rotational Speed: At 1,000 rpm, this machine may be a little weak for large loads. However, it works well for small families. It's great for washing shirts and fabrics like jeans but may not work as well with cotton.
Electrolux washing machine 7 kg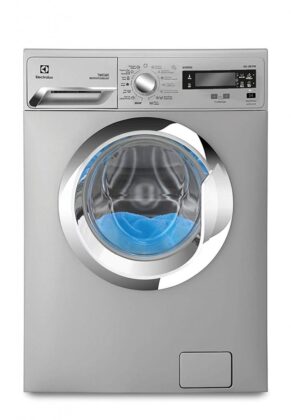 Capacity and price: Electrolux machine can comfortably host 8 kg of clothes in the drum. You can choose to wash the clothes weekly or biweekly as desired. The device is available at a price of approximately 1,680 AED.
Washing modes: The machine includes a time manager and a delayed start option. This can help you plan your washing according to your day's schedule. It comes with an anti-foam rinse system and anti-flood protection. The appliance gives importance to safety which can be seen in both its child lock feature and its silk program (washes at a lower RPM). Moreover, the garment's steam care technology ensures fewer wrinkles. These are just a few of the 15 modes available.
Download Type: Device It has a stylish look and is a front loading machine and comes in a silver gray finish.
how to operate : The machine features interactive dials and buttons. Choose a setting according to your needs. Its information can be displayed with the timer on the LCD screen. Furthermore, the machine comes with a pull-out tray for easily adding detergents.
Rotational Speed: The machine gives you 1200 RPM to work with. This means that you can effortlessly wash the cotton pads, remove stains and reduce drying time.
LG washing machine 7 kg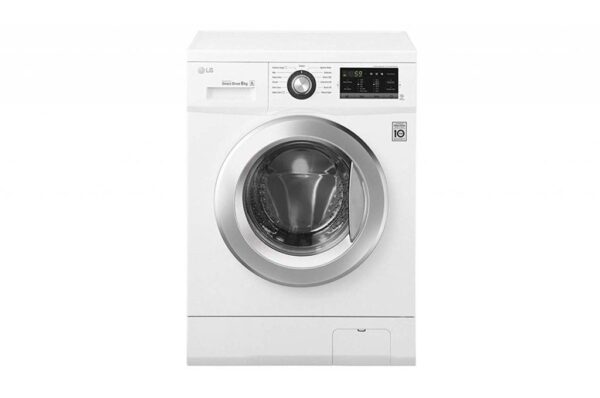 Capacity and price: This LG white and silver machine offers you a 7kg capacity. From T-shirts to socks and blankets you can wash all of them. Not only that, the device costs around AED 1,470 which makes it quite affordable.
Washing modes: The machine from LG comes with multiple washing modes. The noteworthy features are its quick 30 function which gives you clean clothes in a short period of time. The intelligent washing system adjusts to the right temperature and saves minimal energy consumption. Baby Care mode carefully washes your baby's clothes, ensuring that no rashes appear. Time delay comes in handy when you have a busy day but need to do laundry.
Download type: The washing machine is a front loading washer. Provides better energy consumption per wash cycle.
how to operate : Comes with a dial that lets you choose the desired mode. There is an LCD panel that allows you to view the remaining time and wash settings. Moreover, there are indicators on the panel that give you more flexibility to wash your clothes.
Rotational Speed: The washing machine gives you 1000 rpm but it has a 1200 rpm variable.
Whirlpool 7kg washing machine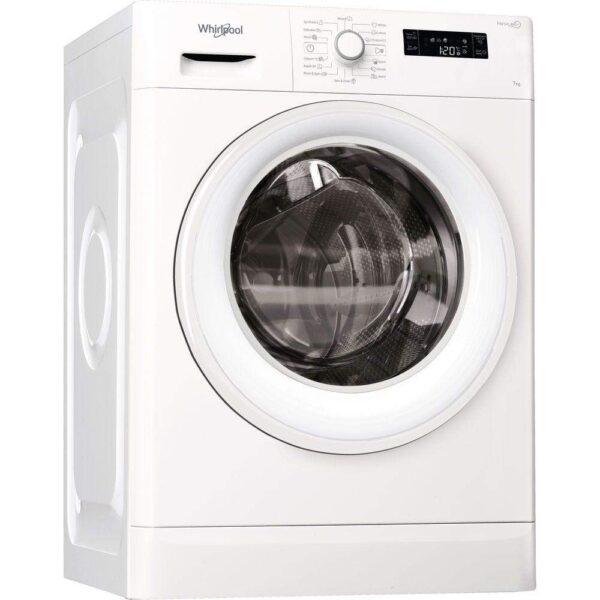 Capacity and price: Whirlpool 7kg washing machine makes the list of the best 7kg washing machines in UAE come to an end. The simple and elegant device costs approximately 1,350 AED, which is an absolute buy.
Washing modes: Available laundry Effective 15°C to maintain brighter colors for longer. It is known as color mode plus. You can also take advantage of the Fresh Care setting that gently stirs clothes in the drum. These fresh care settings ensure there is no odor in your clothes. This is true even when left unattended for several hours.
Download type: Easy to use front loading machine. It comes with an elegant and simple design and a white color.
how to operate : You can choose from more than 12 tweaks settings before starting your device. This gives you better flexibility and control over your laundry.
Rotational Speed: A 1000 RPM machine can wash all of your clothes without harming the fine silk.
---
How much can a 7 kg washing machine take?
The drum size you choose determines how many clothes you can wash in one cycle. To give you some perspective, a 7kg washer can hold about 35 double-spread t-shirts or quilts at a time. The important thing is not to struggle to fill the cylinder. The best 7kg washing machine in UAE does not waste water and energy in addition to providing clean and fresh clothes to wear.
It comes down to personal separation preferences and washing frequency. If you have an average laundry load, it can easily be accommodated 1-2 times a week with a family of 4. However, if a member exercises, works outdoors, or comes home often muddy and dusty, you will need to wash their clothes separately. You can also choose to wash delicate clothes and eggs separately from colored clothes. Washing machines from 7 kg to 8 kg are ideal for families with weekly washing schedules. So do those families who separate and wash clothes every two weeks.
---
How to choose the best washing machine 7 kg
So if you think that a 7 kg washing machine meets your requirements, you should pay attention to its features. The right features can make your laundry days a lot of fun and give you the best 7kg washing machine in UAE. Here are 4 features that should affect you when buying your home appliances.
Rotational Speed
This is expressed in RPM (Rotations Per Minute) and determines the number of times your clothes are tossed to dry before being cleaned hard. In general, the higher the RPM, the better, but not all clothes can handle its speed. Cotton can handle higher speeds of up to 1,400 rpm and even woolen handles as high as 1,200 rpm. It drops with shirt and soft dress fabrics at 600 rpm. Silk clothes should be washed at the lowest setting of 400 rpm. Taking a closer look at your wardrobe will help you determine if you need a higher RPM or not.
Additional washing features
The number of features offered at a given price should be given the importance it deserves. You can wash quilts, curtains, textiles, and other bulky items if the washing process allows. The feature avoids tangling and forming a large ball while spinning, along with keeping your device balanced. Permanent Press is the ideal mode for washing synthetic or blended fabrics. You get other features like soil level hosting less agitation time. Or keep an eye out for the one who is able to wash the whites, often dispensing chlorine to bleach the whites. This is no excuse to drop spaghetti sauce on your shirt!
noise level
The last thing you want is the corner of your house that looks like a Concorde, especially if you have a sleeping baby. Most machines will display the level of noise they produce. This is usually between 60dB to 80dB. 60dB is probably the best you can hope for. It's useful to remember that 70 dB makes almost twice as much noise as 60 dB – I'll leave 80 dB to your imagination. Well I won't, it looks like the phone is ringing until the cycle is over.
Typically, spin cycles make more noise than wash cycles. This is because the drum rotates close to its maximum drying capacity and removes water from the drum. The point of concern with lower washing machines is that they cost more. However, it is a small price to avoid constant sound getting on your nerves.
Quick wash function and timer delay
The express wash function is your best friend when you need to wash clothes with little time on hand. It's great for clothes that are neither dirty nor new, perfect for everyday wear. The best part about a quick wash is that you can get the best results without filling the drum. You can also get rid of annoying stains by throwing in a little detergent. Quick wash cycles use less water, about 30% less on average – so play your part in protecting the environment. Well, some of them are anyway!
Well, now that you know what to look for, let's go through some options. This is my personal take on full value for money machines which I consider, the best 7kg washing machine in UAE.
You have the best 7kg washing machine in UAE. An impressive list of features crammed into a 7kg washer. In most cases, a washing machine of this size can meet all of your washing needs. Going to a larger drum like 12 kg is heavier on the pocket and not mentioned on the water bills that follow. Remember that you want to fill the drum before each wash to maximize savings. Be careful not to overfill it and damage your device and clothing. Here you can read 9 tips to prevent your washing machine from damaging clothes.