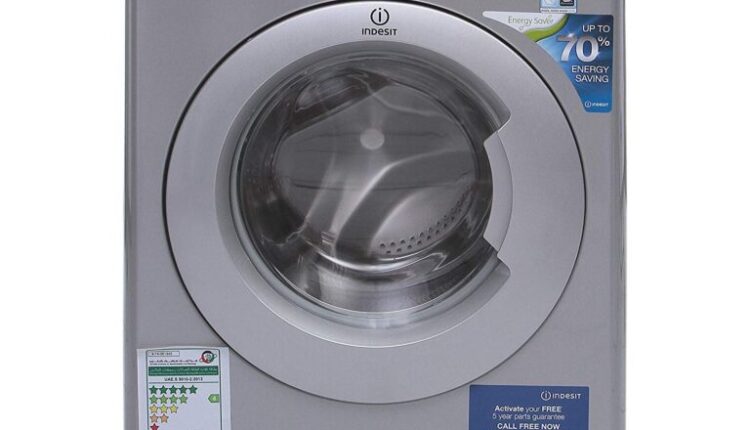 The best Indesit washing machine in the UAE that you can buy 2022
Table of contents
Indesit washing machine in UAE stands out for its ability to provide a convenient washing experience. Buying an Indesit washing machine in UAE will save you time in your busy schedule. Besides, Indesit washing machines are reliable, beautiful and easy to use. You might hesitate a little if you haven't heard the brand name before. Don't worry, I totally understand. Herein lies a brief introduction to Indesit.
First of all, Indesit is originally an Italian company. Secondly, it is one of the leading manufacturers and distributors of major home appliances. Besides, Indesit is the undisputed leader in key markets such as Italy, Russia and the United Kingdom. In fact , Indesit's key values ​​include reliability, efficiency and functionality . Indesit offers not only washing machines, but also a wide range of household appliances. Another home appliance that Indesit excels at is the cooking range.
The best Indesit washing machine in UAE
Indesit front loading washing machine 7 kg
Model: IWE-71251CECO-GCC
Device type: front loading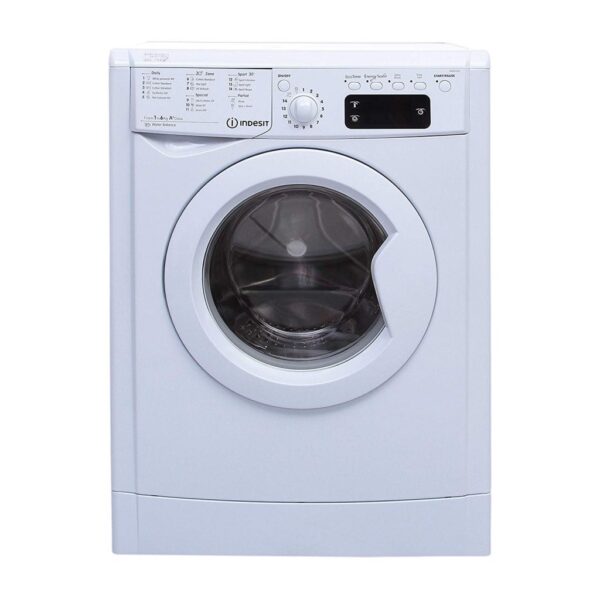 Rotational Speed: First, the Indesit washing machine is equipped with a rotation speed 1200 rpm . This indicates that the washing machine drum spins 1,200 times every minute.
Capacity: up to This washing machine is 7 kg. Thus, you can wash a full load of 7 kg in one cycle.
Energy Class A+: First, its A+ energy efficiency ensures minimal energy consumption. Second, it increases efficiency.
Aesthetics: The white color of this washing machine complements your home décor.
Creative LCD screen: The ingeniously designed LCD screen allows you to easily select the desired program. Thus, no struggles and no time wasting because you can also adjust the program easily.
Big numbers user interface: Since it has a user interface with large numbers. Choosing options is faster and easier. making it a hassle free experience for you.
front loading: First, this washing machine is beautifully designed. Second, its large door enhances the user experience. Therefore, the large door, in turn, allows you to load and unload clothes easily and conveniently.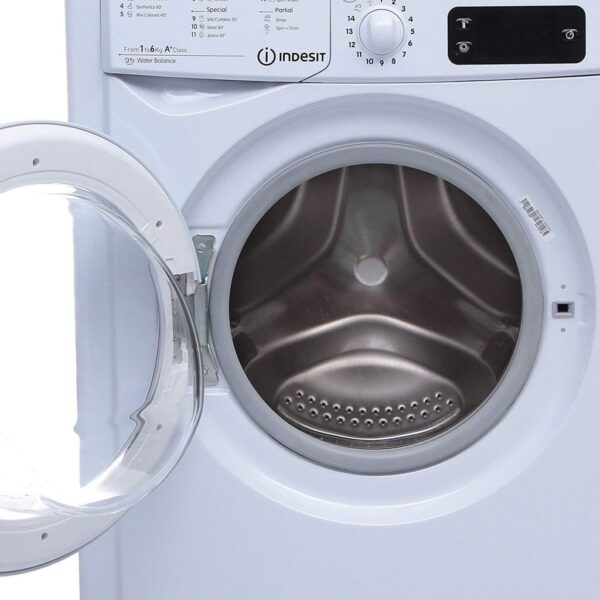 Drum washing: Drum wash provides gentle yet powerful washing performance. Although she is strong, she is caring and does the job in a very gentle way. Thus, you will not have problems such as peeling clothes and not fading.
Water outlet holes: First, gently move the clothes along the roller. Moreover, the small water exit holes prevent clothes from snagging.
price: An Indesit washing machine with a 7kg load is available for around AED 950.
No Aquastop function: on Although this washing machine has great features. There are some negatives too. Firstly , It does not have an Aquastop function . The following points will show you why Aquastop is important.

Aquastop is essential because it provides perfect waterproof protection. It is a special sensor installed at the bottom of the washing machine.
In the event of a leak, the sensor will immediately shut off the electric valve of the inlet pipe. This, in turn, will cut off the water supply to the device. Thus, the function of Aquastop is absolutely necessary.

No child lock function: In general, children have a bad habit of touching attractive or exotic items. Thus, there is a greater risk that they can change the operating mode of washing machines. In addition to other settings without your consent. Secondly, they can also damage the washing machine by selecting unsuitable options. So the other negatives of this amazing product are It does not have a child lock feature .
You can buy in the UAE from Amazon : buy now
---
Indesit automatic front loading washing machine
Model: XWD-71252SUK
Device type: front loading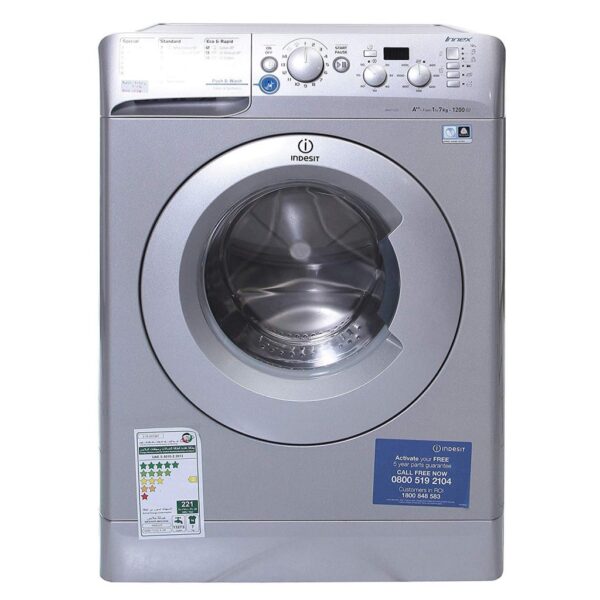 Technically advanced courses: It consists of 3 fast courses, 4 sports courses and an anti-odor course. Moreover, you can choose from these available courses as per your requirements.

Quick mode: In Quick mode, you can choose between a 9-minute refresh, 30-minute and 1-hour quick cycles. Of course, depending on the length and washing required.
Sport mode: On the other hand, Sports mode offers 4 choices. These include light sports, shoes and gym towels. Also, technical wear of fiber materials.
Anti-odor cycle: This cycle is for clothes with a persistent strong odor. It works by utilizing a unique basket movement and maintaining temperature.

button Pressing and washing : The equivalent or alternative feature of manual selection is push and wash button. Simply toss your clothes and wait 50 minutes for your washing to finish.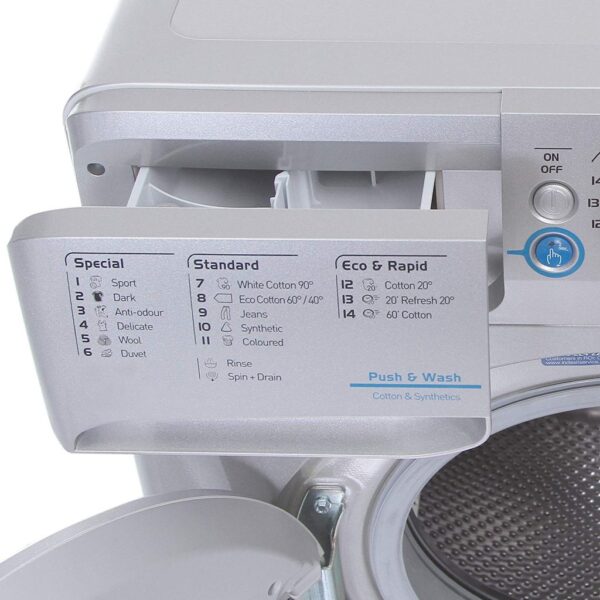 Temperature and RPM: based Indesit washing machine cleans clothes thoroughly at 30 ° C and 1200 rpm.
Water Balance Technology: Technology New as the machine's smart sensors measure the size of the load. Then provide the required water level for washing.
Delay timer: Another great feature to add to this washing machine is the delay timer. Here, the machine helps you postpone or schedule laundry for up to 24 hours. This is also as per your need.
price: The price of the Indesit washing machine is around 1,400 AED. Moreover, it is an ideal choice for small families.
No child lock: Unfortunately, this device does not have a child lock function. They are useful because they allow you to lock the buttons on the washer panel. This, in turn, does not allow the child to change the wash cycle while playing with it.
You can buy in the UAE from Amazon: buy now
---
Indesit washing machine 8 kg front loading
Model: F095244
Device type: front loading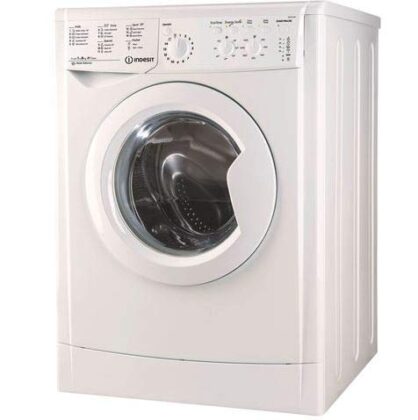 Capacity: Wow! This washing machine has a large capacity of 8 kg and is ideal for medium-sized families. This means that you can wash 10 T-shirts, 5 hand towels, and 4 jeans. This is awesome, right? In addition, it can carry and wash 20 pairs of socks, 2 pieces of cloth and 1 jacket.
Rotational Speed: Indesit washing machine offers a spin speed of 1400 rpm. Thus, this indicates that the entire drum rotates about 1,400 times every minute. Plus, your clothes will take less time to dry.
Front loading washer: As this is a front loading washing machine, it provides better quality cleaning. It is also more energy and water efficient.
Price: The cost of an Indesit washing machine is around 1,1,50 dirhams. It is worth it because it has a capacity of 8 kg and a rotational speed of 1400 rpm.
You can buy in the UAE from Amazon: buy now
---
Indesit washing machine 9 kg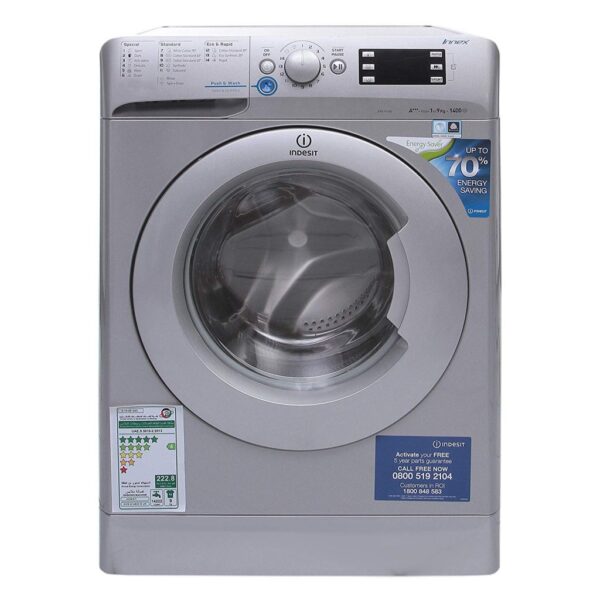 Big Digit UI: Become Selecting options is now faster and easier. All thanks to the large numbers user interface of this washing machine.
Energy Class A +++: This ensures that the washing machine consumes a minimum amount of energy. In addition, it increases the efficiency of washing.
Capacity: Since this washing machine has a capacity of 9 kg, it is able to wash an entire oversized quilt. Unlike washing machines 7 kg and 8 kg. Moreover, it is the most ideal choice for large families.
Anti-odor cycle: This cycle works best for clothes with a strong, persistent odor. For example smoke, sweat and fried foods. It involves a unique movement of the basket. Also, it maintains the temperature while doing so. The anti-odor cycle protects the fabric fibers while eliminating stubborn odors.
Rotational Speed: Provides 1400rpm spin speed, dries your clothes in less amount of time. Which makes it a suitable option for you. In addition, it is the best solution for daily washing in one step.
One-touch operation: Indesit replaces the ignition, selects the program, and starts the wash cycle. Moreover, it is able to do all this with the push of a button. Moreover, it guarantees the daily removal of dirt from cotton and synthetics.
Great performance: This convenient washing machine is packed with features that can handle loads of laundry. Especially for a bigger family with a busy schedule.
Price: Available Creatively designed Indesit washing machine in UAE for around AED 2,080.
No child lock: The only downside to this high-performance device is that it does not have a child lock function. This function is useful if you have mischievous children at home. This is because it allows you to lock the buttons on the washer panel.
You can buy in the UAE from Amazon: buy now
---
So, you've seen how amazing and powerful the Indesit brand is. Buying an Indesit washing machine in the UAE will save you time and effort. But before you make a purchase, be sure to consider the size of your family. Also, if you're used to washing a lot of loads, buy one with a higher capacity. Moreover, never compromise on quality to save costs. As a low quality washing machine will not do you any good. Also, never overload the washing machine above its capacity. The washing machine or your clothes will be damaged.