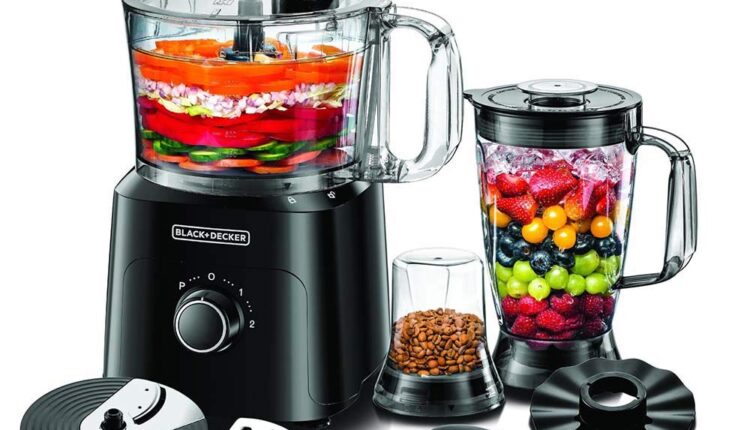 The best food processor in the UAE: Kenwood, Philips, Moulinex, Black & Decker
Table of contents
Are you looking for the best food processor in the UAE to add to your kitchen? A food processor can make an impact in your kitchen and help you lead a healthy lifestyle. As brands often come up with better and improved options. It can be very difficult to make the right decision. But now you don't have to worry anymore. Here are some tips and illustrations to help you find the best food processor in UAE to buy as per your requirements.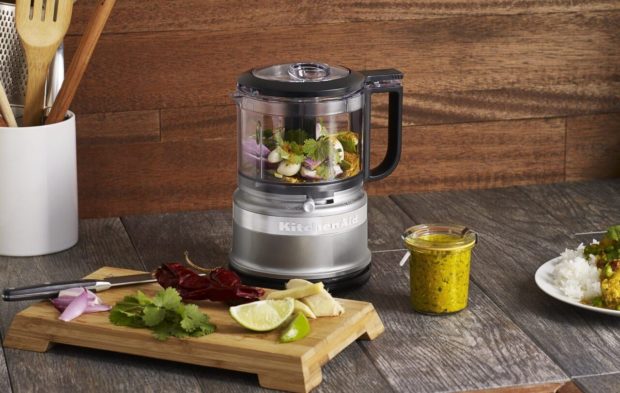 A food processor is one of the essential household appliances that can make things easy for you as it can grind, mince, beat and much more. But what size should it be? What is the ideal weight and engine power? What are the budget friendly options? Use this guide and explore these unique brands' offerings so you can decide what best suits your needs.
The best food processor in the UAE, we recommend buying it
1. Black and Decker Food Processor
Treat yourself and your family to good, home-cooked food using the Black + Decker Food Processor with Blender, Blender, Grinder and more. Why is this processor ranked number one? The device speaks for itself. Take a look at one of the best food processors in UAE.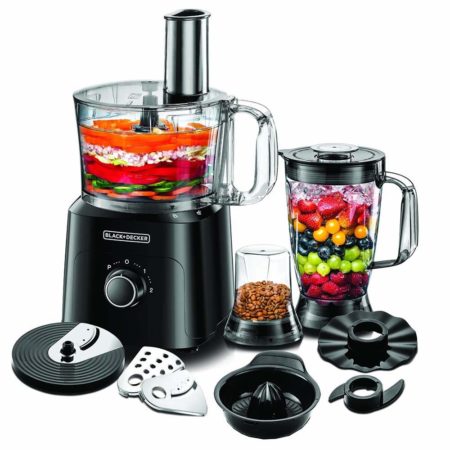 5 in 1: The Black + Decker food processor is equipped with a 5-in-1 formula. The package includes a mincer, blender, grinder, dough maker and citrus juicer.
Best-in-class capacity: It has a large bowl for preparing food capacity 2 liters. Additionally, it has a 1.8L blender bowl for smoothies.
flickering blade: The whisk blade is the perfect accessory for whipping cream.
grinder: Using the grinder, you can grind coffee, herbs and spices.
Easy lock system: For increased security, the Black + decker food processor is equipped with an easy lock system.
Citrus juice supplement: This supplement in a food processor makes it suitable for extracting juice from citrus fruits.
Extended accessories: Slicing and shredding blades are suitable for fine and coarse cutting. In addition, the kneading blade is suitable for mixing dough.
price: The Black + Decker 750 W Food Processor is available for AED 290.
2. Palson Food Processor
Why buy a whisk, juicer and grater? When you have a food processor in the UAE that can do all of that. Thus, the need for multiple kitchen appliances is over, due to this multi-purpose device.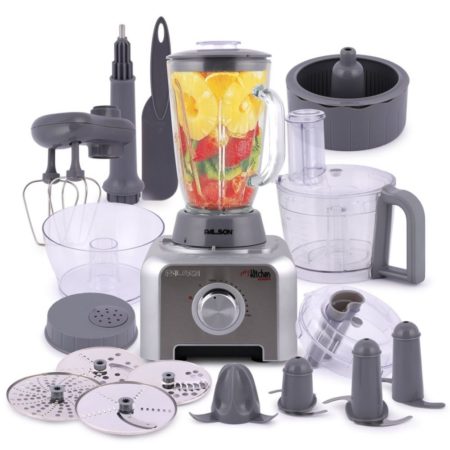 powerful motor: The Palson food processor is equipped with a 1000W motor. It works well because it is one of the most powerful equipment around. Moreover, it provides quick and easy shredding, giving you excellent results every time.
12 in 1: Chop, whisk, grind, press and blend in this food processor. Easily chop hard foods and meats at high speed.
Main accessories: It consists of a container with a large capacity of 1.7 liters. It also has a 1.5 liter glass jug. Plus, it comes with a mini chopping attachment not available with other food processors.
Some additional features of the same are:
High speed juicer: Make fruit and vegetable juices in a quick and convenient way.
6 multi-level knife with 3 double blades: 3 double knife blades are designed to quickly mix and grind hard products. These include nuts, coffee beans, vegetables, ginger, garlic, etc.
grinder: The grinder enables to grind coffee, ice, sugar, etc.
stainless steel disc : This high quality stainless steel disc undergoes extensive testing to provide the best cutting and shredding results.
price: available price 520 AED approx. A Palson product is worth the coin spent.
3. Bosch food processor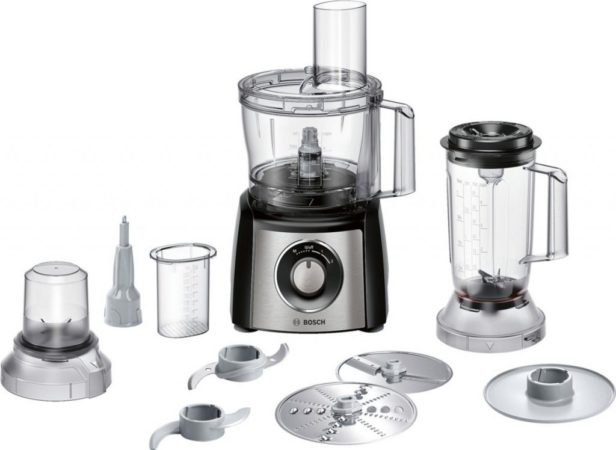 high power motor interesting : This powerful engine runs hard 800 watts with this kitchen appliance. The kitchen has never been easier with a range of speeds. Moreover, it ensures amazing performance while processing a variety of dough.
small size: This compact and versatile food processor from Bosch makes cooking and baking fun and easy.
Smart Storage: Done Store standard accessories directly in the compact container. The smart storage attachment ensures that all 13+ attachments are stored neatly without dislodging.
Consistent results: Ingredients are finely chopped. Shakes and smoothies are perfectly mixed. Thus, we provide you with consistently good results.
Dishwasher safe: You can easily wash the accessories in the dishwasher as they are completely safe.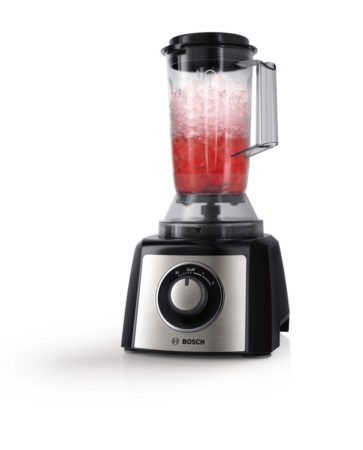 mixer: With a capacity of 1 liter. This blender is ideal for preparing cold drinks, crushing ice, making smoothies, shakes and smoothies.
grinding: With special grinding function. Easy to grind coffee and spices.
Numerous functions: Grinding, chopping, and blending has never been so easy. All thanks to the various accessories such as the blender, mincer and various blade attachments.
Very multifunctional: More than 50 apps in one device. Kneading, slicing, chopping, and grinding. With the help of 13+ extensions, you can set up up to 50 different apps.
price: The 800W food processor is available at 420AED.
4. Moulinex food processor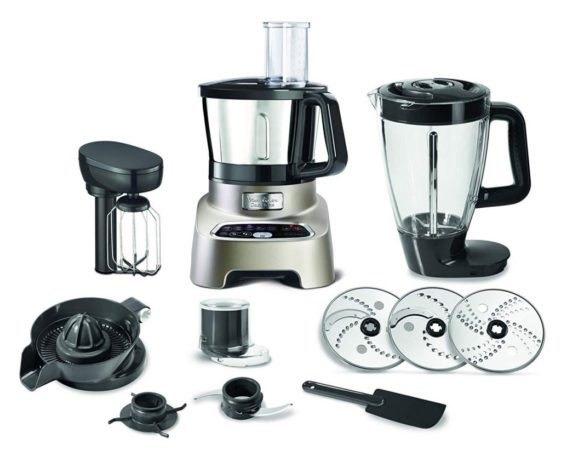 Easy lock system: With the easy lock system, simply rotate the cap a few degrees clockwise for a secure closing.
High power motor: motor strong 1200 watts -Provides fast and accurate results in all applications.
shredding: Chopping bowl to fit both right-handed and left-handed users.
kneading: Light or heavy dough. Kneading helps you prepare any dough in no time.
stainless steel bowl: Durable and scratch resistant.
Two motor outputs: They provide optimum spinning force and working speed in the operated bowl.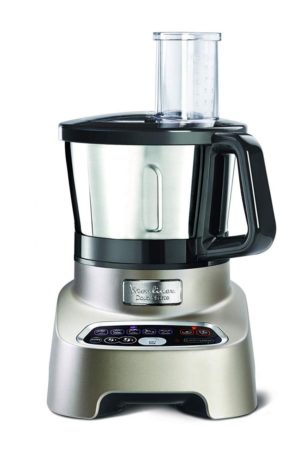 main bowl: The main bowl is made of stainless steel with a capacity of 3 liters. This provides enough space to make food for your whole family.
Mixer and chopper: These accessories are useful for tasks like juicing and grinding. It is also useful for mixing and chopping.
Manual speed switches: The three manual speed switches provide you with the luxury of customizing the speed. For meticulously preparing different dishes.
control panel: control panel Intuitive 7 pre-programmed backlit keys. Once you choose the function you need, this food processor will automatically adjust the spinning force and speed to achieve the best result.
price: Moulinex food processor 1200 watts is available for 800 AED.
5. Kenwood Food Processor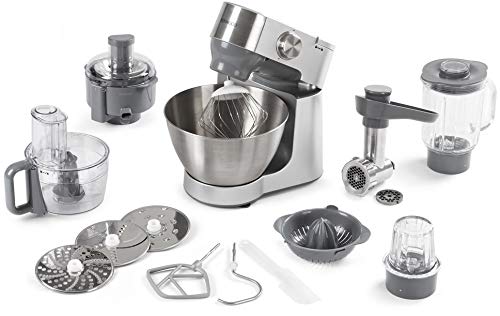 energy High: Equipped with a dynamic motor that consumes up to 900 watts of power. The product can shred berries and coconut pulp alike. Besides being energy-saving, it also enables you to knead.
Variable speed control: The Kenwood food processor features a knob that allows you to control the speed. Moreover, it allows you to prepare multiple types of recipes as per your requirements.
Ergonomic design: The brand provides a firm, yet comfortable grip on the food processor.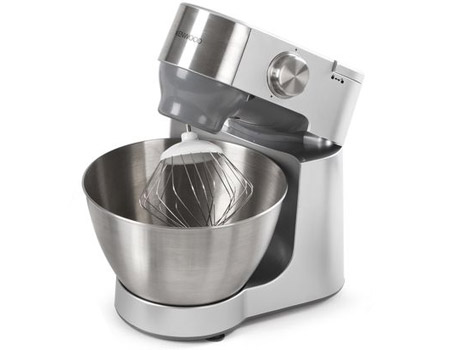 Special Features: You can use it to bake a cake weighing up to 1.6 kg and knead up to 500 g of dough. This means that you can skip making two batches and get them done in one sitting.
small size: As this Kenwood food processor is compact, it makes a great addition to your kitchen. It takes up less space in your kitchen, thus you can accommodate other kitchen utensils easily.
Durable design: Add the color Silver that features a processor body to its sophisticated look. Made using high quality plastic that makes it strong, long lasting and relatively light.
price: Available at around AED 965, the device comes with a number of accessories to justify its price.
6. Philips food processor
The Philips Food Processor is a versatile kitchen appliance ideal for making anything from bread to drinks.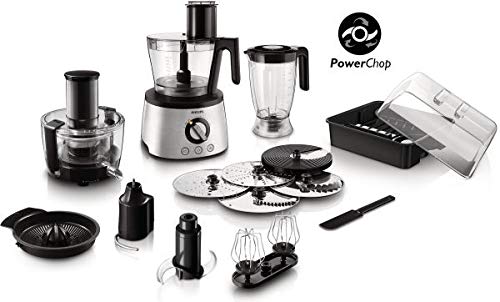 Powerchop Technology: The uniformity of blade shape, cutting angle and inner bowl represents the powerchop technology. Provides excellent chopping results for both soft as well as hard ingredients. Regardless of whether he's handling bread dough or breaking ice.
12 speed settings: 12 speed settings let you customize the speed. For meticulously preparing different dishes.
Non-slip feet: Stays in place even when placed on a smooth surface. All thanks to the non-slip feet.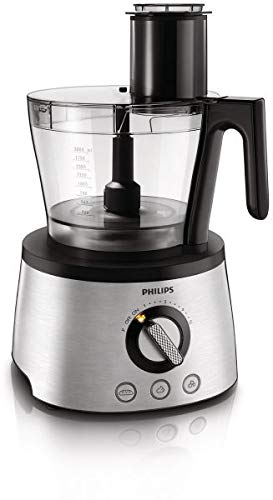 Double metal racket: Useful in whipping cream and eggs.
kneading: Combined with its powerful motor, the metal kneading hooks quickly knead the dough smoothly.
Dishwasher safe: from In order to facilitate the cleaning process. Philips food processor accessories can be washed in the dishwasher.
Wide range of attachments: With diverse functions, from shredding to juicing. Philips food processor includes a wide range of accessories. Simply connect the appropriate attachment to get the job done. Let your Philips food processor do all the hard work.
price: Philips Food Processor 1300W is available for AED 820.
Tips for choosing a food processor in the UAE
bowl capacity
It can vary from a smaller capacity to a larger capacity for cooking food for the whole family. In general, the capacity should depend on the number of family members. Thus, a large family indicates the need for a larger bowl capacity and vice versa.
Size and weight
The size and weight of a food processor generally depend on the number of family members. Therefore, you will need a large size food processor if you have a large family. Not only that, the type of workload that is placed on the food processor is also important.
If your family consists of 4-5 people, or only cooks for certain occasions, the 10-11 cup version will suit your needs. Whereas someone who only chops small amounts of nuts or makes different types of sauces can buy a small food processor. It should include a small work bowl and a 3 to 4 cup processor.
Engine power
It is necessary to purchase a food processor that is powerful enough to perform various types of operations. Because operations like kneading, chopping, shredding, and more require high motor power. In addition, a food processor with a higher power motor works well and is long lasting.
Moreover, it performs all these tasks without any complications. The best types of food processors have a minimum power of 700 watts. Besides, they have an amazingly long life, without chances of wear and tear.
Frequently asked questions about the best food processor in the UAE
What is the purpose of a food processor?
The primary purpose of a food processor is to chop and mince food products such as meat and vegetables. Not only does it make cooking easier and easier, but it also saves you a lot of time. This is because you don't have to chop food by hand, which makes it a very versatile kitchen appliance.
What can a food processor do?
It's easy to chop anything in a food processor, whether it's chicken, vegetables, cheese, or nuts. Besides, you can use it to make homemade sauces and dips like pesto, hummus, vegetable dip, etc. Some full-size processors are very useful for making dough.
How many watts should a good food processor have?
A good food processor should have a wattage of at least 600 to 1000 watts. High power motor ensures better performance.
What is the best way to clean a food processor?
First, disconnect all devices from prepared . Secondly, keep it soaked in warm water i.e. soap washing water for a few minutes. After waiting a few minutes, gently scrub off the dirt and gently rinse.
Is a food processor safe in the dishwasher?
It is always recommended to wash the food processor by hand. But, it is possible to clean the blades in the dishwasher. While doing this, be sure to keep the water temperature warm rather than cold.
Can you juice in a food processor?
Yes, it is possible to juice in a food processor. Furthermore it.
Can you chop up solid vegetables and frozen meat in food processors?
Yes, it is possible to do this in a food processor. However, you should be careful about frozen meat. It is always a good idea to thaw meat before you put it in a food processor. In addition, there is the possibility of heating the device and causing damage to it.
Should I change the speed of the food processor while chopping?
Yes, you need to change the speed when necessary. slow down Food processor motor while chopping, grating and chopping. Do this especially when using ingredients soft .
Can I use the base attachment to knead the dough?
Most food processors have a separate attachment for kneading dough. It is always a good idea to use this special attachment rather than the primary attachment. However, you can use the basic attachment to mix the cake batter.
Is it possible to grate coconut in a food processor?
Yes, it is possible to grate the coconut in a food processor. But, you should remove the soft white parts of the coconut from the shells before adding it to the food processor.
Can I use a food processor to prepare fruit and vegetable juices?
Yes of course. You can use a food processor to prepare fresh fruit and vegetable juices. However, it is very difficult to extract juice from very hard vegetables and fruits using a food processor.
Thus, we have provided you with a report on The best food processor in the UAE . Don't forget that a food processor is a long-term investment that will serve you and your family for years to come. Hence, you need to choose wisely and choose a reliable product. When considering price, avoid a lower quality food processor that may come with sacrificing safety or longevity of use. Buy the best food processor in the UAE and save time and effort.