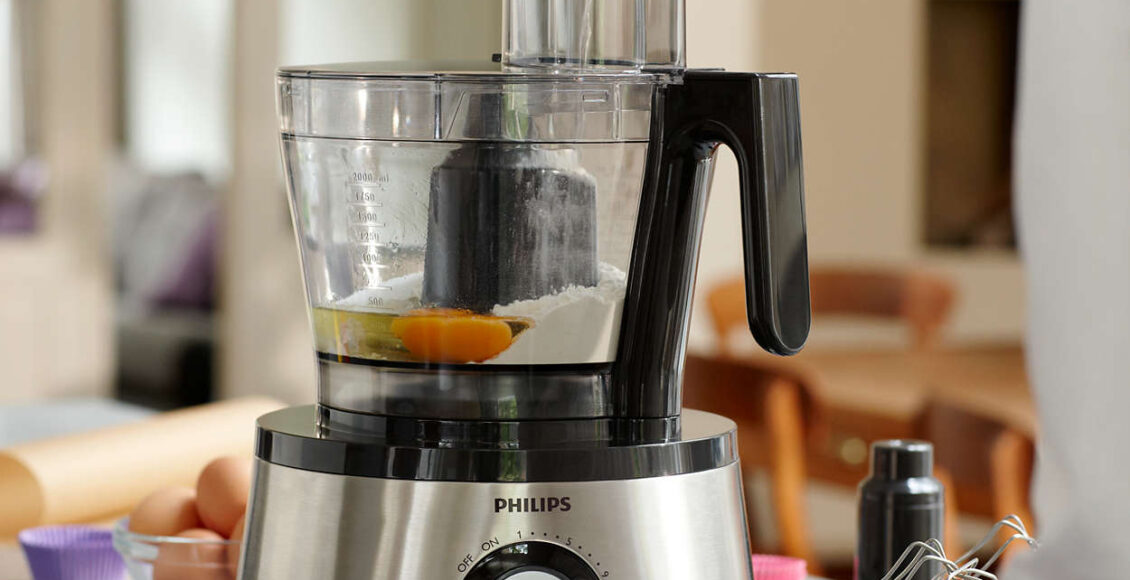 جدول المحتويات
Philips always strives to make the world healthier and more sustainable through innovation. I'm presenting this Philips food processor review UAE to you. It will make your task of searching for the best food processor simpler. This is an in-depth guide containing all the best and most recommended Philips food processors in UAE. In today's world, living up to your family responsibilities while building a career is commonly seen. However, it is no joke and not at all easy. But, with a Philips food processor at hand, everything seems easy. All of your daily kitchen tasks such as, grinding, blending, chopping and kneading cannot get simpler.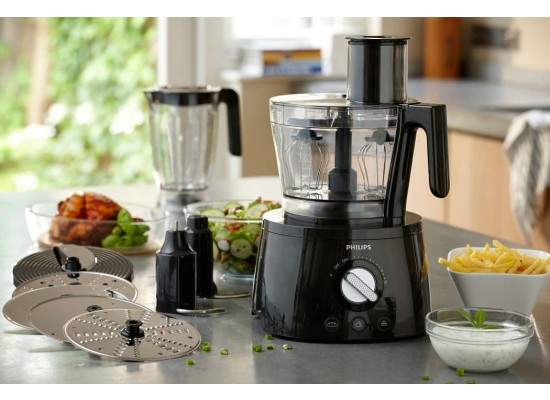 A food processor can exponentially increase the workflow efficiency in your kitchen. Philips range of food preparation appliances always combines best in class technology. Along with great tools to complement your style. Koninklijke Philips N.V abbreviated as Philips is a Dutch multinational conglomerate corporation headquartered in Amsterdam. It is one of the largest electronics company in the world. Moreover, it focuses especially in the area of kitchen appliances, healthcare and lighting.
Related: Best Food Processor in UAE [2021]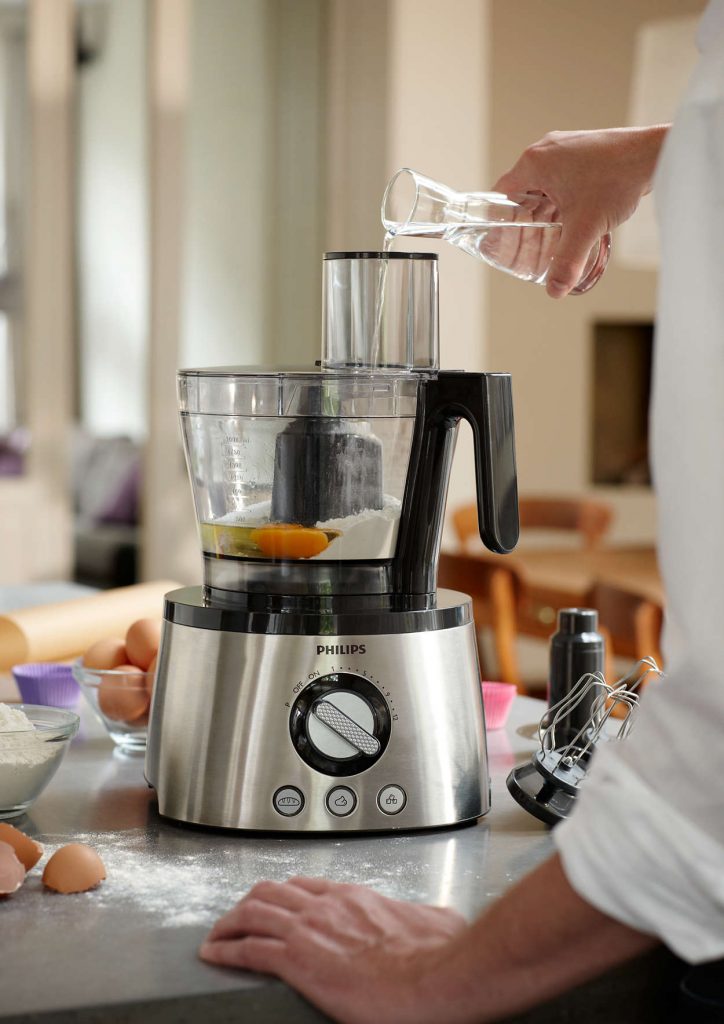 I bet, you won't be able to take your eyes off the 4 Philips food processors discussed below. I've also taken the liberty to pen down the features of the best Philips food processors in UAE through this review. All while keeping a close eye on the budget too. So, you can select one depending upon your specific requirements after reading this Philips food processor review for UAE.
Entry Level
Philips Viva Collection 600 W Food Processor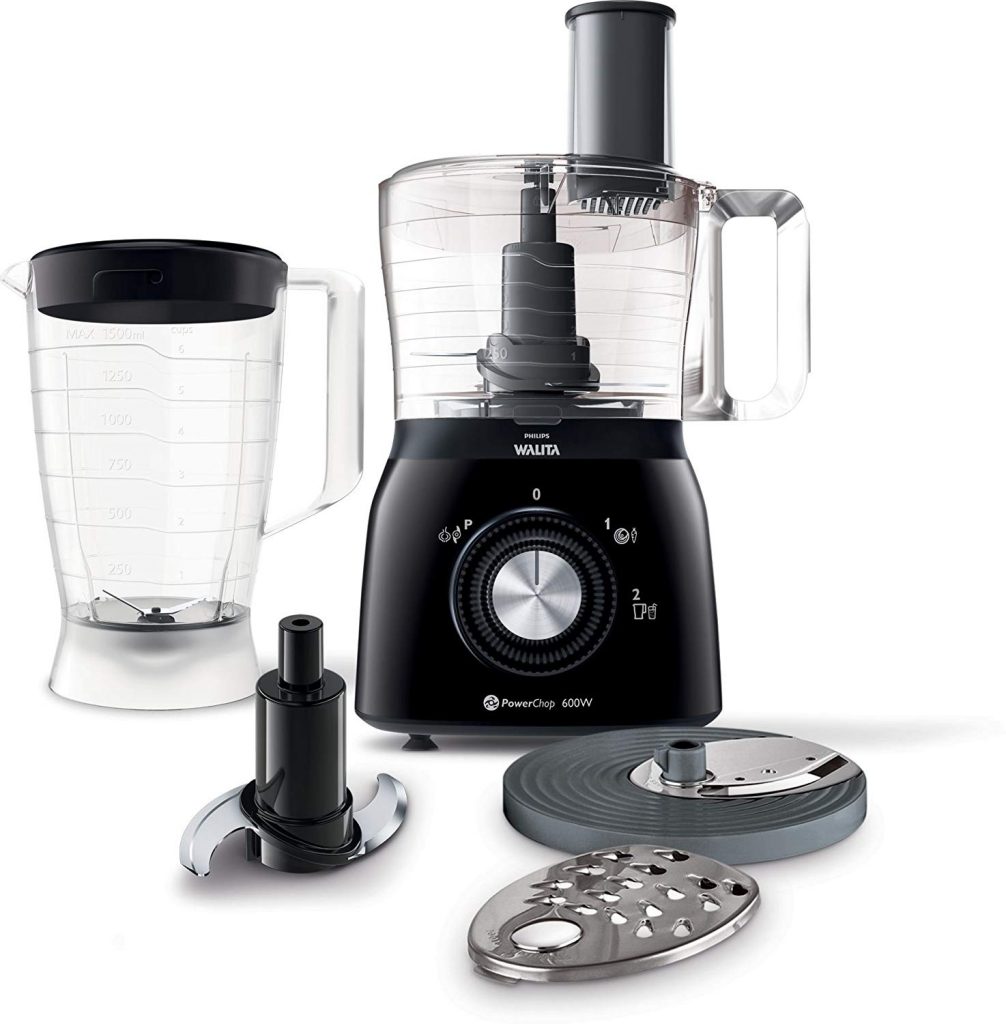 PowerChop Technology: This technology is a combination of blade shape, cutting angle, and inner bowl. Which, in turn, results in superior chopping of both soft as well as hard ingredients. Moreover, it's perfect for making purees and mixing your cake batters. Thus offering you a superior chopping experience.
2 Speed Settings for Maximum Control: The Philips Viva food processor consists of 2-speed settings. A high-speed setting and a low-speed setting depending upon the texture of the ingredients.

Use the low-speed setting i.e speed 1 to whip cream, beat eggs, create pastries, and bread dough.
In order to chop onions and meats, blend soup or smoothies. And shred, slice, grate or rasp vegetables. Use the higher speed setting i.e speed 2.

2 Years of Worldwide Guarantee: Philips offers 2 years worldwide guarantee for this appliance.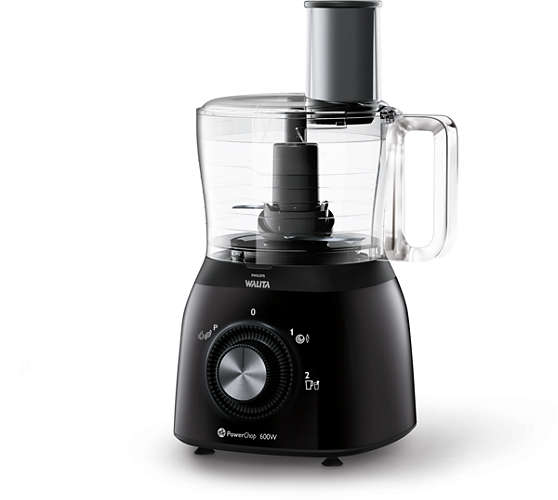 Form Fitting Tools for Easy Assembling: It's designed in a way such that you can assemble it easily. The parts easily fix together due to the form sitting design.
Sturdy & Stable Base: The food processor's base is not only sturdy but also stable. Even during kneading or other heavy processes.
Dishwasher Safe Accessories: Each and every accessory included in this box is dishwasher safe. Hence, you need not worry about the washing of these accessories in a dishwasher.
Stainless Steel Disc: Select the stainless steel disc insert to prepare your favorite ingredient. And just click it onto the disc holder. Performance has been tested enormously to provide the best slicing and shredding results.
Blender: The 1.5L blender jar performs the blending, crushing and stirring process well.
Price: Philips Viva Collection food processor is available approximately for AED 185.
Mid Range
Philips 750 W Food Processor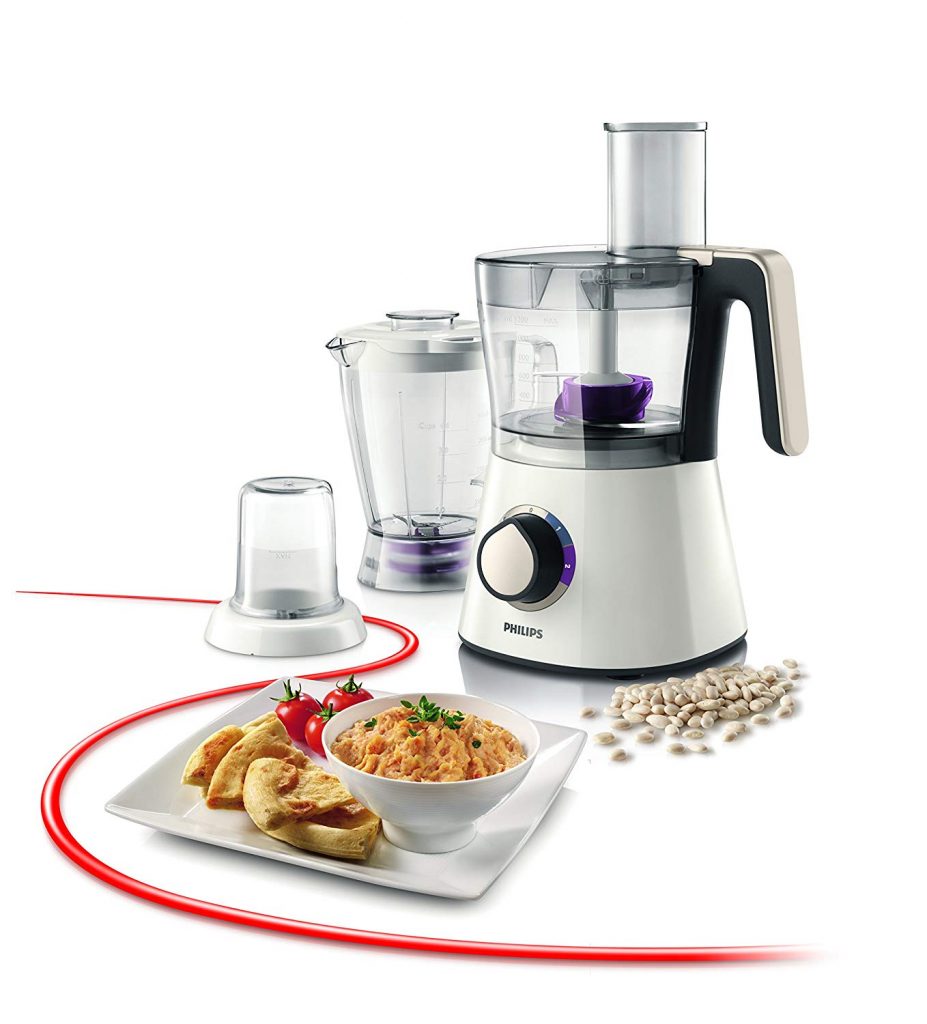 Colour Coded Accessories/Speeds: Match the color of the speed with the color of the accessory for optimized results.
Break-resistant Jar: This 1.75-litre jar is break-resistant and has a working capacity of 1 liter. Prepare up to 5 smoothie portions at once due to this capacity.
Motor Power: It offers a 750-watt powerful motor consisting of 2 speeds. The low speed (speed 1) works best on soft ingredients. Or less complex processes. Whereas the high speed i.e speed 2 works best on hard ingredients or complex applications. Therefore offering power and control to you to prepare all your favorite recipes.
Steel Disc Inserts: Simply select the right disc insert for slicing, shredding, and granulating. For example, select the slicing disc insert for slicing. Next, click it onto the disc holder. In order to prepare your favorite food and there you go.
2.1L Bowl: The 2.1-litre (capacity) bowl has a generous working capacity of 1.5 liters. It, therefore, enables you to blend up to 5 portions of soup in one go.
Emulsifying Disc: An emulsifying disc is essential in preparing foods such as mayonnaise. Besides this, it is designed to whip cream.
Kneader: With the help of this kneading tool, you can mix and knead batter and dough.
Grinder Mill: This grinder mill is ideal for grinding herbs, spices, coffee beans and more similar items.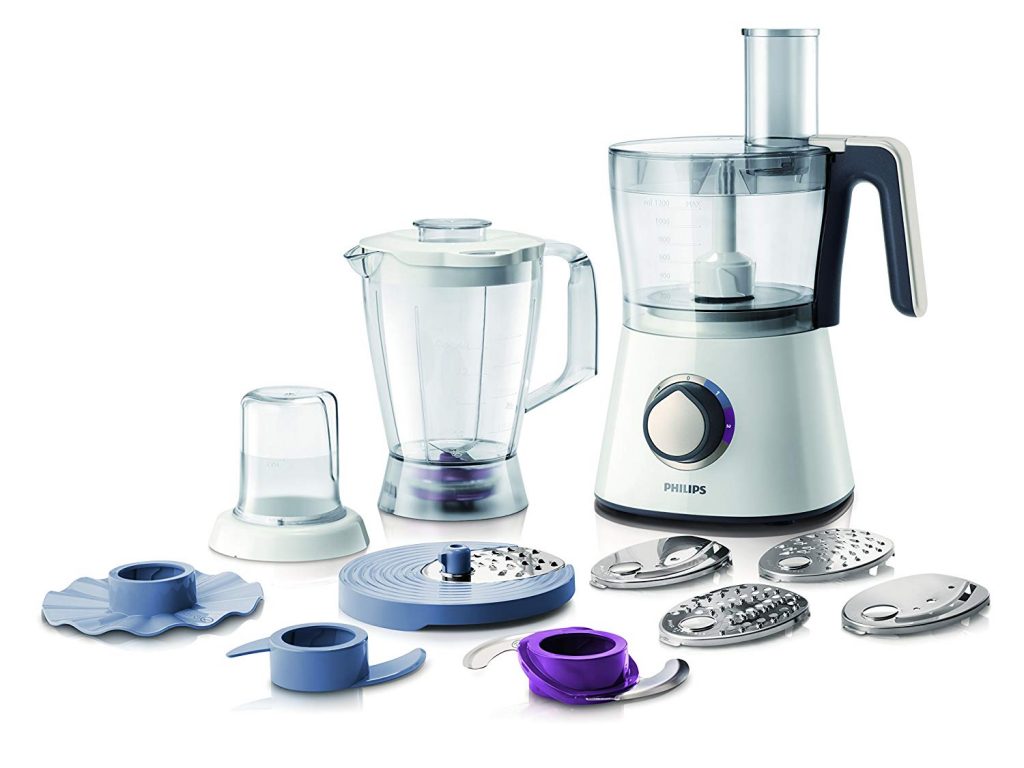 Dishwasher Safe: All thanks to Philips. The accessories can be washed easily in a dishwasher. Thus, all the parts and accessories are dishwasher safe.
Powerchop Technology: A combination of blade shape, cutting angle, and inner bowl provides a superior chopping result. Not only with soft ingredients, but also with hard or complex ingredients. Thanks to powerchop technology. Besides this, making purees and mixing cake batters is easy as ever.
Stainless Steel Chopping Knife: Chop meat and vegetables easily with this stainless steel chopping knife.
Break-resistant Blender: In order to blend, crush and stir different ingredients. The blender with a capacity of 1 litre proves essential. Moreover, it is break-resistant indicating that it is stronger and won't break or crack easily.
Stable Base: Since the base of this food processor is sturdy and stable. You won't face issues while kneading or other heavy processes.
Easy to Assemble: This food processor is designed in such a way that assembling the parts is hassle-free.
Price: Philips 750 watt food processor is available for around AED 400.
High End
Philips 1300 W Food Processor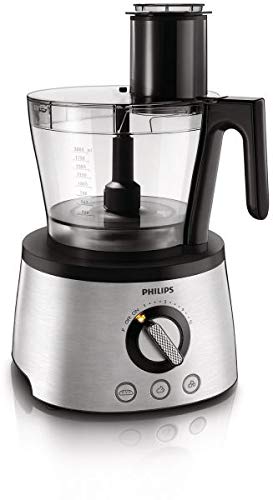 Double Metal Balloon Beater: This double metal balloon beater along with the one-touch auto button creates fluffy egg whites. That is up to 600% volume increase. Besides this, it perfectly whips cream (up to 200% volume increase). Hence, creating delicious deserts has never been this easy.
High Power Motor: Featuring a 1300 watt motor. It has the ability to process any kind of food. Its sturdy construction and super fast speed also add to its performance. Thus, making it one of the best Philips food processor options in this review for UAE.
Metal Kneading Hook: Along with the strong motor. This metal kneading hook forms a dough ball quickly from your ingredients. After the dough formation, the kneading hook works on the dough with the right force. The right force and power, in turn, enable you to make the tastiest bread.
Non-Slip Feet: The non-slip feet of this processor enable it to stay in place. Even when it's placed on a smooth surface.
3.4L Bowl: With a capacity of 3.4litres (XL-size). Maximum volume of food can be processed in one go. It can process 7 portions of soup, 7 egg whites, and 1.7kgs of dough in one go.
Compact and Clutter-Free: Say bye to those bulky food processors. And welcome this sleek and compact food processor. Its compact form factor makes it easy to fit in any corner of your kitchen. You can, therefore, accommodate your other kitchen appliances too.
4 Stainless Steel Discs: The reversible shredding disc suits all types of vegetables. Both fine as well as coarse. Granulating disc is useful in granulating potatoes and cheese. In order to make thin vegetable strips, you can use the Julienne disc. Moreover, there's a disc known as French fry disc especially for making thick potato strips.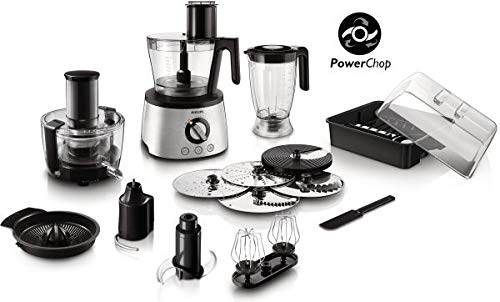 Dishwasher Safe Accessories: Not only can you handwash all the accessories. But you can also put it into a dishwasher. And there your accessories come out nice and clean. Thereby, these accessories are dishwasher safe.
2.2L Blender Jar: Easily create up to 5 smoothie portions in one go. With this 2.2L capacity blender jar.
XXL (18cm) discs: Due to the XXL discs. This Philips food processor provides faster execution of all the ingredients. Hence, saving you time and effort while cooking due to the faster performance.
Powerchop Technology: It is the combination of blade shape, cutting angle, and inner bowl. Which makes chopping both soft as well as hard ingredients easily. Furthermore, it's also perfect in making purees and mixing cake batters.
Citrus Press + Centrifugal Juicer: This power-packed food processor includes a professional juicing accessory. It can juice up to 200% faster, as compared to other food processor juicers. Thanks to its XL feeding tube and patented large metal mesh filter.
Micromesh Filter: This micro mesh filter is made of stainless steel. It squeezes every drop of the fruit to give you more juice.
Ergonomic Design: All the accessories are easy to clean. As well as easy to store due to its ergonomic design.
Price: Philips 1300 watts food processor is available approximately for AED 820.
Special Mention: Philips Steamer & Blender
Philips Avent Combined Steamer and Blender
Philips understands that nutritious food is essential to your baby's development and hence we have included this in our processor review for UAE residents. This Philips Avent healthy baby food maker enables you to prepare tasty homemade meals. That too in a simple way.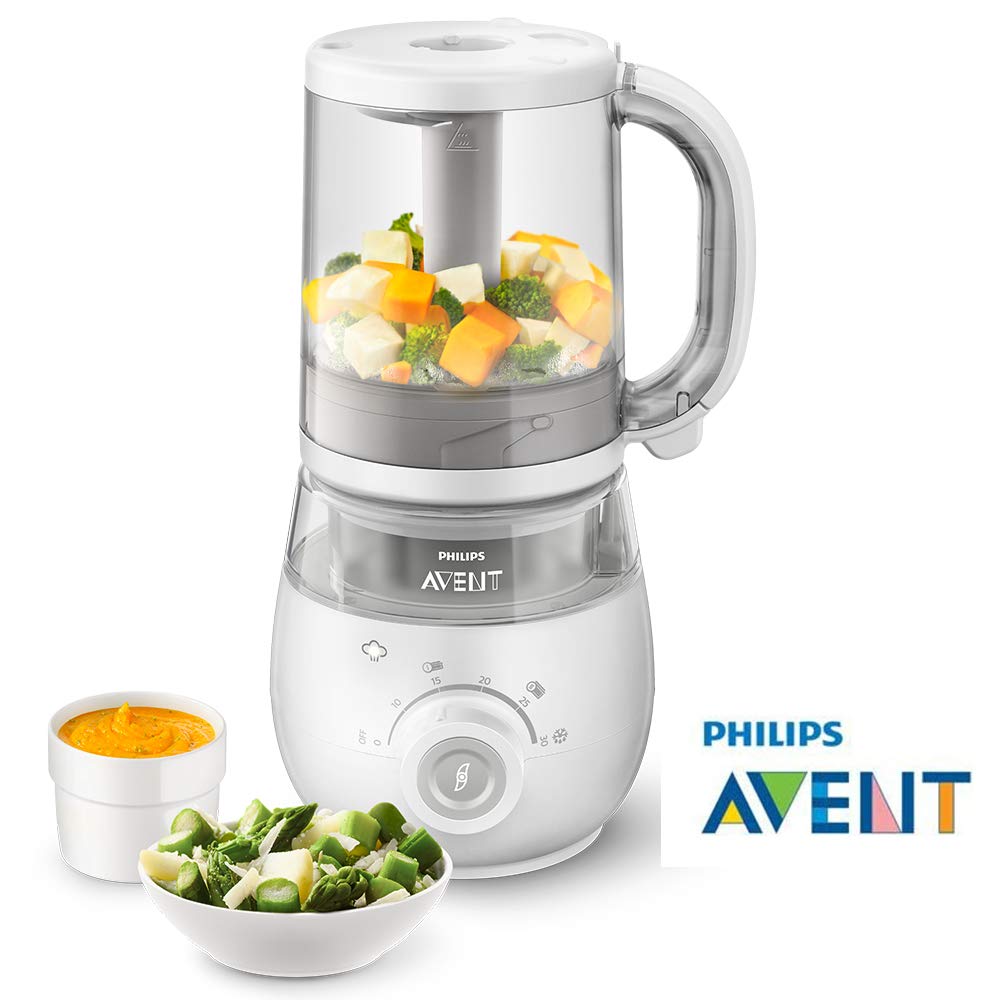 Steam Technology: A unique way of steaming to cook healthy. Since steaming is a healthy way of cooking. This unique technology makes the steam circulate upwards from the bottom. Thus ensuring that all the ingredients are cooked evenly. Moreover, the texture, goodness and the cooking liquids are retained for blending.
Beep Alert Notification: No more waiting and watching. A distinctive beep will tell you when the food is cooked to perfection. All that you need to do is flip the jar, blend and serve or store for later use.
Steaming and Blending in One Jar: You can prepare all the nutritious baby food in one single jar. Right from steaming to blending. Once the ingredients are steamed, all you need to do is lift the jar, flip it over and lock it in place. This will enable you to blend it to your desired consistency.
1000 ml Jar: Since the jar has a 1000ml capacity. You can cook up to 4 meals at a time. It, therefore, helps you save precious time. If you don't want to serve all the meals together. Then you can serve one meal and store the other 3 in your fridge or freezer for later.
Supports Every Food Step: From very finely blended fruits and vegetables. To combining ingredients of meat, pulses and fish, it guides you in every step of the way. It then offers chunkier textures.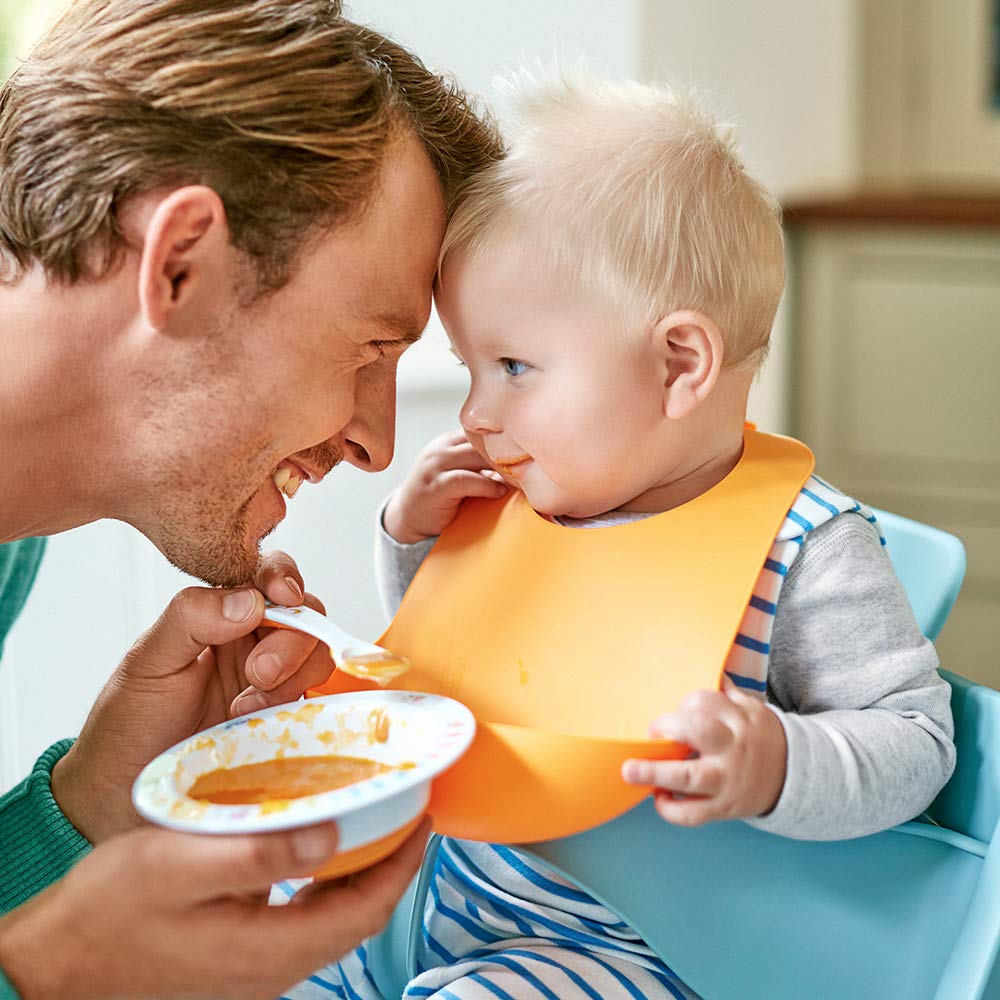 App for Advice: Discover wholesome recipes, videos, tips, and tricks, on this app. A very useful and informative tool as the app offers advice for the little one. Additionally, you will find nutritious and easy to prepare recipes. These, in turn, keep step with your baby as he/she grows.
Steam, Blend, Defrost, Reheat (4-in-1):

This healthy baby food maker enables you to prepare delicious homemade meals. And that too all the meals in the same jar instead of using different ones.
Whether you want to serve the food immediately or store it in the container is up to you.
If you're storing the food in the container then you can reheat it later. Courtesy of the easy to use reheating and defrosting options.

Easy to Clean Water Tank: Due to its open design. The water tank is easy to clean and refill. This, in turn, allows you to cook with clean steam every time.
Dishwasher Safe Jar and Blade: The jar and blade are safe to wash in a dishwasher.
Price: Philips Avent combined steamer and blender is available for around AED 540.
Philips Makes Cooking Easy
I'm glad you've made it till the end of this Philips food processor review for UAE. I know that each and every food processor that I have penned down here has great features. Now that doesn't mean I recommend buying all of the above but simply opt for one that will suit your requirements, lifestyle and fit your budget. Moreover, it also depends on how much you cook and what you cook. Never compromise on quality to save costs. Also, never purchase a food processor with an average or low motor power.
It's always advisable to purchase a food processor with more features, functionalities and high motor power. So that you can use it for years to come. I don't think anybody would want to replace their food processor or for that matter any other kitchen appliance often. Therefore, ensure you go through all these 4 food processors once more and only then make your purchase. You may also read an in-depth article on food processors in UAE. Additionally, make the most out of these innovative ways and easy-breezy hacks while using your food processor. Besides this, consider reading about the best hand blenders in UAE.