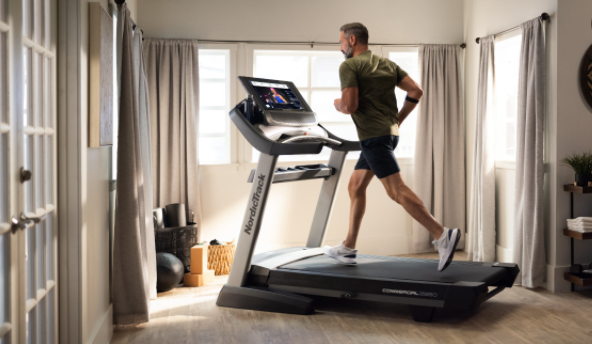 جدول المحتويات
It is still unsafe to hit the gym and exercise outdoors due to COVID-19. However, the best treadmills available in UAE for home use can make your dream come true by helping you get incredible and faster fitness results than that of a gym. All these treadmills are unisex, hence, men, as well as, women are able to use them. You can workout whenever you want to in the comfort of your own home without the need to step outside. The best features, functionalities, and technologies from brands like PowerMax, Sparnod, and NordicTrack are awaiting you.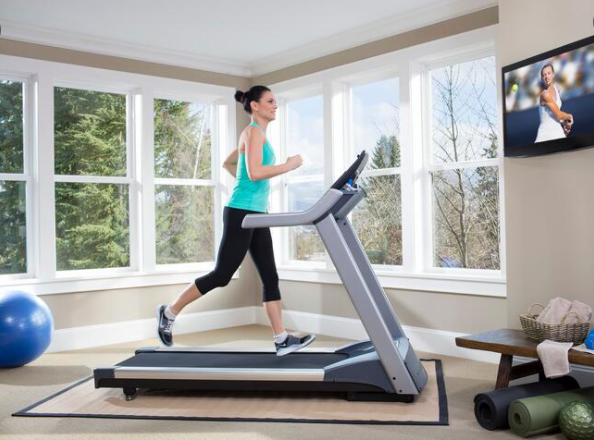 Best Treadmills for home use in UAE – Quick List
Treadmill (Home Use)
Max. User Weight Capacity
Foldable
Check Price
PowerMax Fitness Motorized Treadmill
TDM-110
110 Kgs
Yes
Price on Amazon.ae
Sparnod Fitness Automatic Multifunctional Treadmill
STH-4200
125 Kgs
Yes
Price on Amazon.ae
NordicTrack Commercial Treadmill
1750
136 Kgs
Yes
Price on Amazon.ae
Related: Best Treadmill in UAE – Price & Brands Compared [2021]
We hope you are excited to see the best treadmills available in UAE for home use. Read further to know more.
Budget-friendly Option
PowerMax Fitness Motorized Treadmill
Model: TDM-110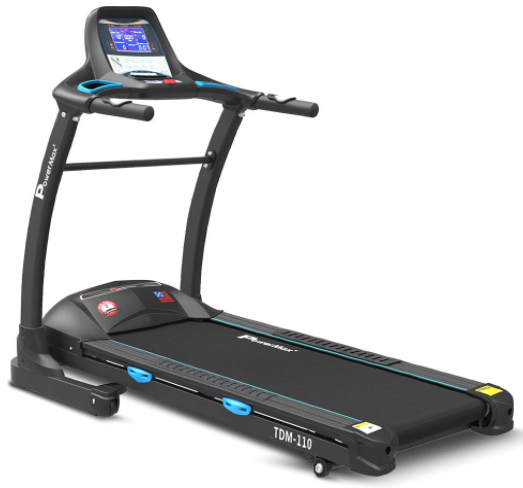 Spring Shock Absorption: This treadmill utilises 6 level damping system with variable durometer elastomer cushions which, in turn, not only delivers more shock absorption at the point of impact but also provides additional stability in the back. This is great as you need it the most here and therefore it is included in the list of the best treadmills for home use in UAE.
Heart Rate Sensor/Pulse Sensor: The heart rate sensor/grip pulse sensor on the handle grip (hand rail) allows you to monitor your heart rate. All that you need to do is place your palm on the handle grip while working out. Doing this enables you to keep within your target zone.
Quiet Energy Saving Motor: Featuring a powerful 2 HP (4.0 HP) DC motor that is 99% all copper core. Moreover, the noise is controlled within 68 dB, hence, you don't have to worry about causing disturbance to your family members and neighbours.
Built in Speakers: Featuring a 7.2-inch vivid colour, uniquely designed LCD display. It provides you with an easy to read experience by showing you the speed, distance covered, time, heart rate, incline, and calories burned.
Hydraulic Soft Drop System: The hydraulic soft drop system (HSS) enables you to unfold the treadmills. This system is extremely easy to use, simply kick the yellow tube and lower the treadmill. This exclusive hydraulic soft drop system supports the weight as the treadmill is lowered and lifted.
400m Track UI: Now you can prepare yourself for any competition or sports event by working out from home itself. The 400m track UI is featured in all major athletics programs as one lap along the track. Stay focussed on your fitness goals and athletics training in the comfort of your own home.
Additional Features of PowerMax Fitness Motorized Treadmill TDM-110
Adjustable Incline: In order to offer you an intense workout, this treadmill is equipped with 4 levels of manual incline. You can adjust the level as per your preference.
Device Holder: To make your workout session all the more exciting, this treadmill comes with a device holder so you can place your phone or tablet (of any size) in it. Watch your favourite TV shows, series, movies, chat with your friends and lots more.
Pre-defined Workout Programs: Providing you a set of 6 pre defined workout programs to make it more challenging for you. Hence, you won't have to stick to the routine.
Target Based Modes: With the target based modes, you can set your fitness goals i.e. the distance, time, calories to burn and more.
Auto Stop Safety Function: Featuring a built-in auto stop safety function. Simply attach the safety clip to your clothes while running and run as normal. It will auto stop if you drift back or fall off dangerously from the treadmill. This function also minimises the risk of injury.
Lifetime Frame Warranty: Featuring a heavy gauge steel mainframe with 3 layers of quality paint to prevent corrosion. Additionally, it also ensures longer life of the treadmill.
Price: Bring home the PowerMax Fitness TDM-110 motorized treadmill for an approximate cost of AED 1,500.
The specifications are as follows:
Maximum User Weight Capacity
110 Kgs
Speed
Minimum: 1.0 Km/hr
Maximum: 16 Km/hr
Running Surface Area
1250 x 425 mm (49.2 x 16.7 inch)
Motor
2 HP (4.0 HP) DC Motor
Incline
4 Level Manual Incline
Foldable
Yes, Hydraulic Soft Drop System
Number of Programs
6
Mid-Range Option
Sparnod Fitness Automatic Multifunctional Treadmill
Model: STH-4200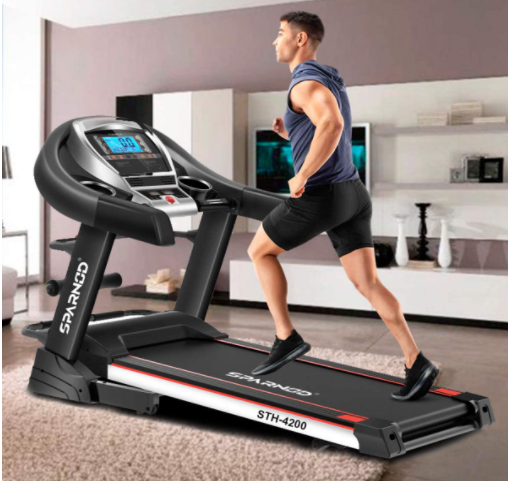 Multifunctional Treadmill: Without going to the gym you can obtain a complete workout session at home. Purchase this treadmill today as it is loaded with multifunctional utilities making it one of the best treadmills available for home use in UAE.

Use the powerful belt massager to massage your abs, glutes, hamstring and calves.
The twister plate can be used for your waist.
Make use of the light weight dumbbells for toning your arms, shoulders, and chest.
Lastly, the sit-up bar can be used to strengthen core muscles.

Auto Incline: Offering you an effective and adjustable auto inclination of 1-15% to increase your workout intensity. At 0%, you burn 134 calories. When you adjust the incline to 5% you burn 159 calories, at 10%, you burn 183 calories, and 15% you lose 207 calories. As a matter of fact, this treadmill helps you burn 1.5x calories at the maximum incline. Hence, you can simulate walking and running uphill.
Anti-slip Lawn Texture: This treadmill running belt of is designed with a high-density and anti-slip lawn texture that absorbs shock for premium comfort. The non-slip feature provides maximum safety.
Large Belt: The large 4-layer running belt provides the users with ample of space to comfortably walk, run or sprint.
12 Preset Programs: To make your workout more challenging and exciting, this treadmill offers you several options, i.e. 12 preset programs.
EZfold Technology: The Hydrolic EZfold technology uses a hydraulic shock to help you fold and unfold the treadmill.
Additional Features of Sparnod Fitness Automatic Multifunctional Treadmill STH-4200
LCD Display: The 3-inch LCD display at the front of your treadmill enables you to easily monitor your speed, distance covered, time, heart rate and calories burned. Additionally, it also helps you to customize your workout through the settings.
Hi-Fi Speaker: A big thanks to the hi-fi speaker since it enables you to play music from your MP3 player or iPhone using the AUX cable.
Pulse Sensor/Heart Rate Sensor: The built-in pulse sensor/heart rate sensor monitors and tracks your heart rate during your workout session. Simply place your hands on the treadmill hand rails.
Wheels for Easy Transportation: You won't find the need to lift the treadmill. When it comes to storing the treadmill after your workout, simply drag it across.
Entertainment Device Shelf: Place your phone, tablet or iPad into this shelf and watch your favourite movies, TV series, videos and even chat with your friends while working out.
2 Cup Holders: The 2 cup holders help you to place your mugs of bottles of water, juice, or coffee. In fact, whatever you intend to have during your workout session.
Price: Sparnod Fitness Automatic Multifunctional Treadmill is available approximately for AED 1,700.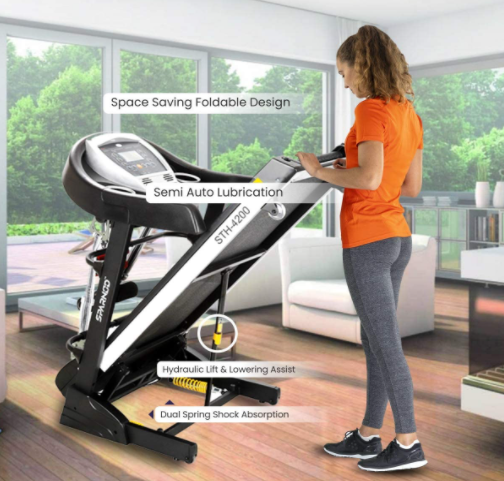 The specifications are as follows:
Maximum User Weight Capacity
125 Kgs
Speed
Minimum: 0.8 Km/hr
Maximum: 14 Km/hr
Motor
2.25 HP (4.5 HP Peak) Powerful DC Motor
Running Surface Area
50 x 17 inches
Automatic Incline
1-15%
Foldable
Yes
Number of Programs
12
Advanced and High-end Option
NordicTrack Commercial 1750 Treadmill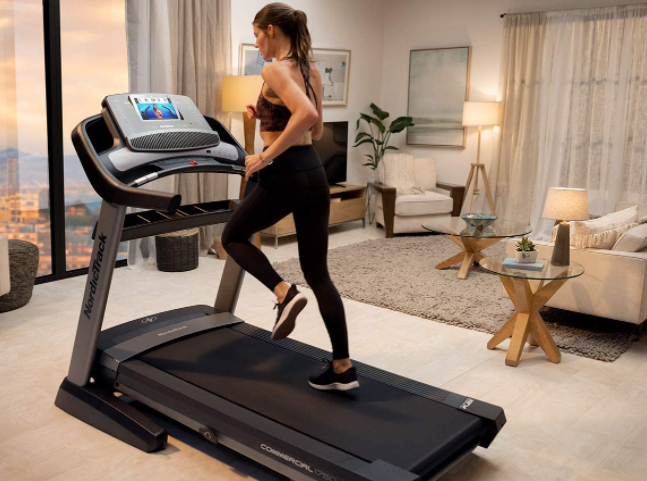 iFit Coach Data Tracking: The NordicTrack Commercial 1750 treadmill enables the iFit coach to keep track of fitness statistics with every session. So whenever you finish with your workout, the data is logged into the treadmill. Additionally, it is paired with any other device on iFit. Besides making you obtain nutrition and exercise easily, it also helps you get lifestyle recommendations easily, thus making it one of the most powerful and best treadmills for home use in UAE.
Touch Screen Control Panel: Nowadays, touch screen control panels are a necessity. They are not a luxury anymore. You are lucky if you buy this treadmill since it comes with a 10-inch touch screen. It allows you to check your calorie count, number of calories burned, mileage numbers such as speed, distance covered, and time. Additionally, it also enables you to flip between workout programs.
On-the-go Fitness Guidance: Benefit from on-the-go fitness guidance by using iFit Coach. On the touch screen control panel, you can check out Google Street Views to be able to run through real streets. Moreover, you can also use the HD video feature since it offers exercise paths around the world.
Decline, Incline and Workout Programs: Unlike other treadmills that only offer you an incline option, this treadmill offers you a decline option as well. A 3% decline and 15% decline ramps up your workout intensity. This not only helps you burn more calories but also helps you increase your resting metabolic rate, muscle strength, and cardiovascular conditioning level, all at the same time.

It syncs with the elevations and dips of the landscape that you choose to explore through iFit's Google Maps feature.
This ensures that you really get the feel of running outside on a terrain.
This feature is one of the best and ideal for all those who find it difficult to stay motivated while exercising due to its capability of allowing you to explore new locations.

50 Workout Programs: One factor that makes this NordicTrack treadmill truly and totally unique is the 50 different workout programs that it offers. These programs are creatively designed by some of the best personal trainers in the industry. Hence, it helps you save your hard earned money as you won't have to buy personal training sessions. All you need to do is rely on this machine.

It will guide you through whichever workout program you choose and also help you to navigate between points A and B.
You will have various workout options to choose from such as interval training workouts, speed training sessions, calorie burn programs, and heart rate control options.
Additional Features of NordicTrack Commercial 1750 Treadmill
Safe for your Joints: If you are into interval training, simply use an incline to complete your interval rather than running. Also, those who are prone to injuries, will experience that going on an incline is far easier on their body compared to running. So, even if it is for regular use, going on a 1-2% gradient can help in taking some of the impact of the joints, that you would have otherwise experienced.
Treadmill Belt: A big thanks to the 60-inch x 22-inch treadmill belt since it gives you plenty of space to move. Additionally, it easily accommodates larger individuals at 2-inches wider than the industry standard. Further, the thickness of the belt helps to minimize the amount of noise that it makes and also offers a better overall longevity.
Audio: Featuring Bluetooth audio capabilities to help you listen to your favourite music through its set of 3 digitally amplified speakers wirelessly.
Tablet Holder: You can keep your phone, tablet, magazine, or book in the tablet holder. So, you can stay entertained throughout your workout.
Foldable: You can tuck this treadmill away into storage after you workout. Since this treadmill is a folding one, you are able to store it upright to be easily packed. It measures 81.25″ L x 39.25″ W x 62.75″ H when unfolded and 37.25″ L x 39.25″ W x 75.75″ H when folded.
Cushioning Preferences: Turning the cushioning on or off according to your preferences is a great feature available in this treadmill. You can either save your joints and use the cushioning or you can mimic real outdoor conditions and then turn it off. Note that you are adding 30% more impact to your joints if you're keeping the cushioning off. Hence, you shouldn't workout for too long with the cushioning off.
Price: Treat yourself the NordicTrack Commercial 1750 treadmill for an estimated cost of AED 9,930.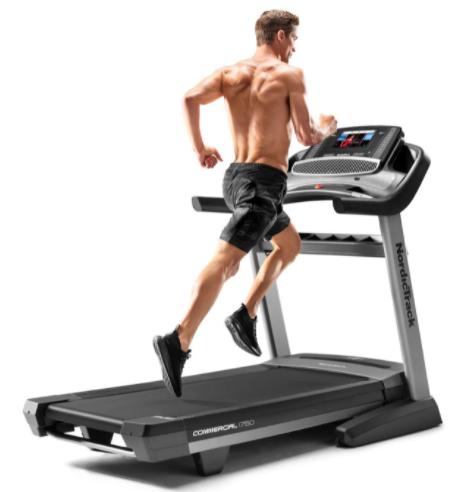 The specifications are as follows:
| | |
| --- | --- |
| Maximum Weight Capacity | 136 Kgs |
| Maximum Speed | 12 MPH |
| Running Surface Area | 22 x 60 inches |
| Motor | 3.75 HP |
| Incline | 15% |
| Decline | -3% |
| Number of Programs | 50 |
| Foldable | Yes |
Nothing Less than a Home Gym!
Transform your living room or bedroom in UAE into a home gym with one of these best treadmills. See which one suits your requirements the most and the one that fits your budget. We would advise you to opt for the NordicTrack Commercial 1750 for a high-intensity workout. Also, if more than 2-3 members would be using the treadmill then this would be worth investing in. However, see which one fits your budget as all these treadmills are ideal for home use to give you the fitness results you desire. So, you can purchase the one that best suits you. You may also want to see the best high-end treadmill in UAE.
Also, Read…
Best Folding Treadmills in UAE
Best Treadmill Brands in UAE