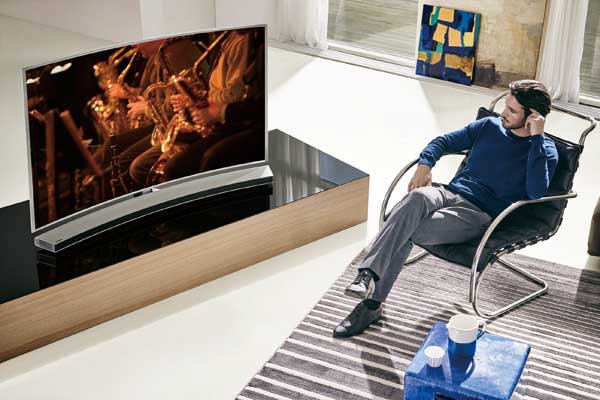 جدول المحتويات
Getting the best television in UAE to suit your home can be a stressful task. But here is the guide on which is the best television for you and your home in UAE. After doing the tough work for researching the topic for 100+ hours. We have shortlisted a few in each category including brands like Samsung, LG, Sony. So, read on to choose the best one for you and your home.
Related: Best Television in Saudi Arabia
Screen Size – How big should your TV be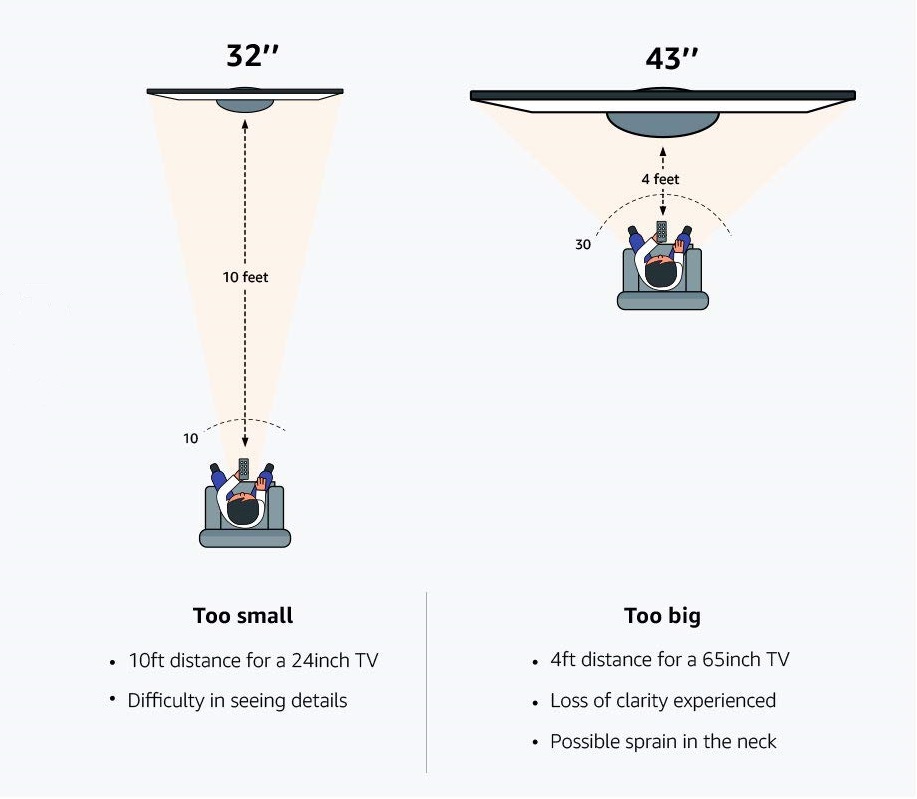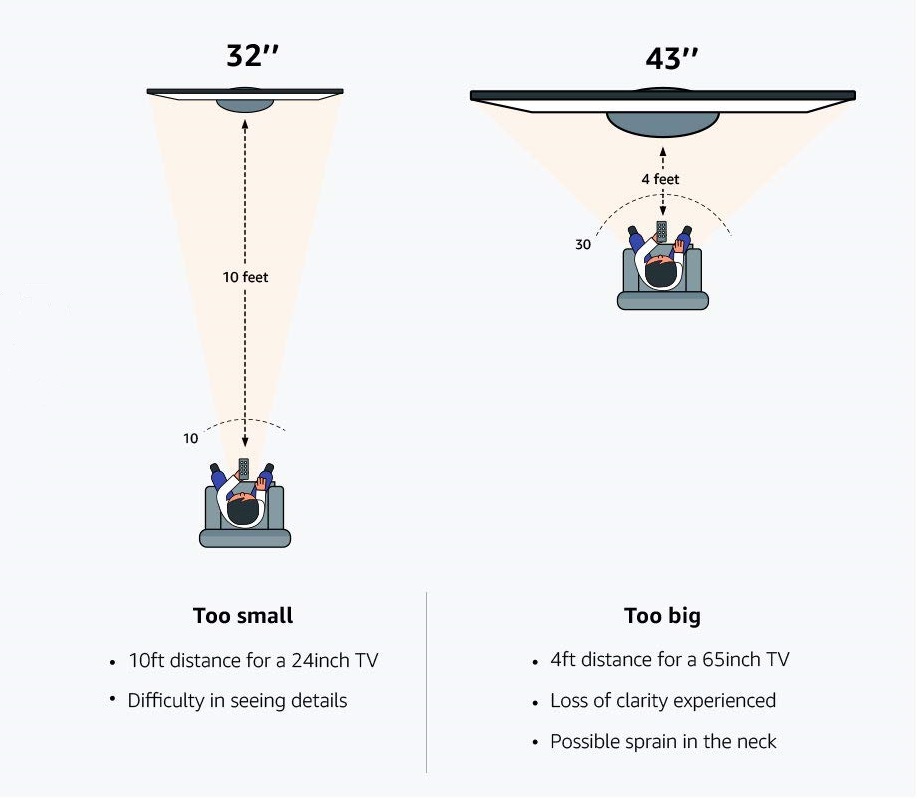 Getting the best television in UAE, which is the perfect match for you is what you need. But while deciding on the screen you have to think of the size which would be suitable for your home. And not just base it on 'because you feel so'. If you have the right size you can have the cinema type experience at home. Otherwise, if the screen size is too big it can cause you neck pain or even can cause a decrease in clarity of the picture. But on the other hand, if you have a too-small screen this could lead you to squint on smaller details.
So while you are deciding on your screen size make sure to identify two major factors. Especially to make sure you are making the right choice. First is the distance from where you sit and watch the television. So, that becomes the distance from your sitting area to your television screen. And secondly, it is necessary to decide on the resolution size of the screen. For you to identify the best television set in UAE, check out the following table.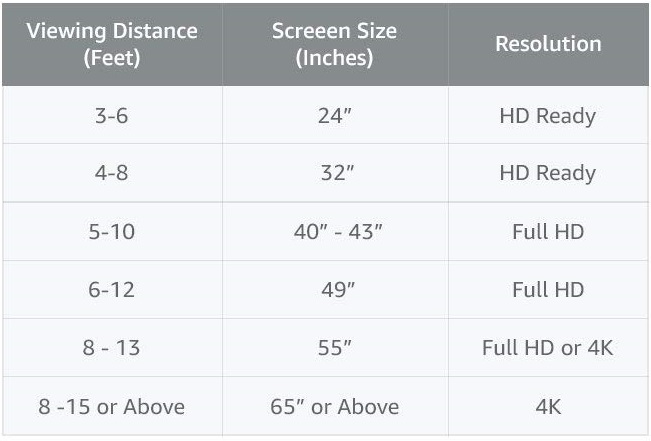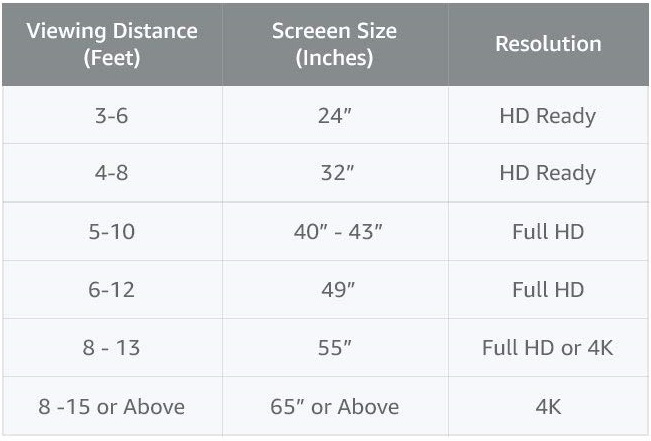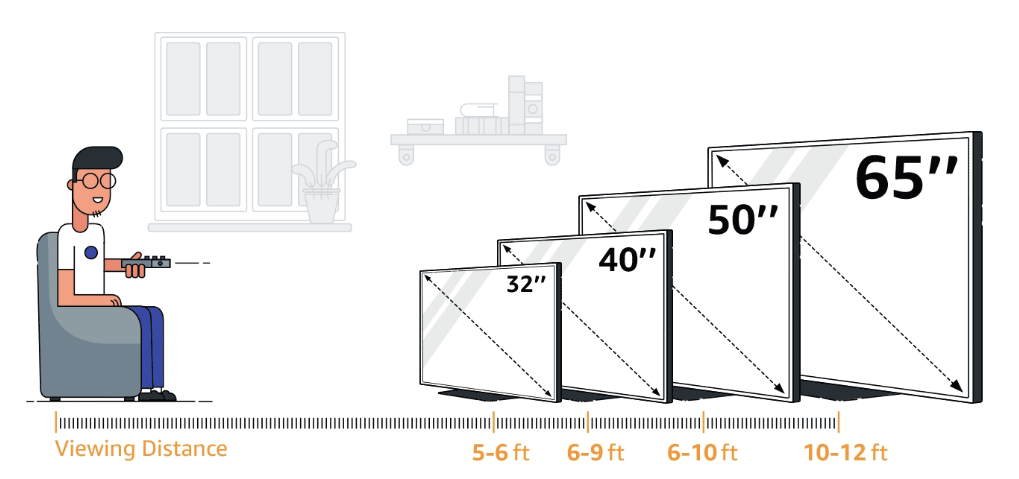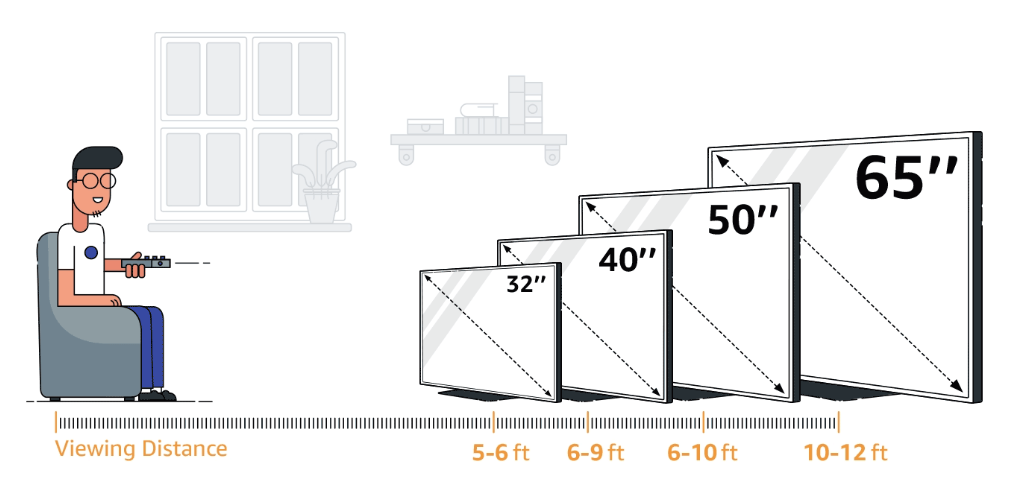 Display Type – LED Vs QLED Vs OLED
The display is a part which would be the most important for the best television in UAE. Deciding on this is crucial before you go ahead and finalize your TV set. Within the display, the main thing for you think about is the display type. Display type has a variety of types like LED, QLED and OLED. All of these are technologies used to produce better picture quality by the TV. You can also have LCD or Plasma TVs but these are older technology which was used and is not popular anymore. Hence to make this choice easier here are a few comparative features among the display types.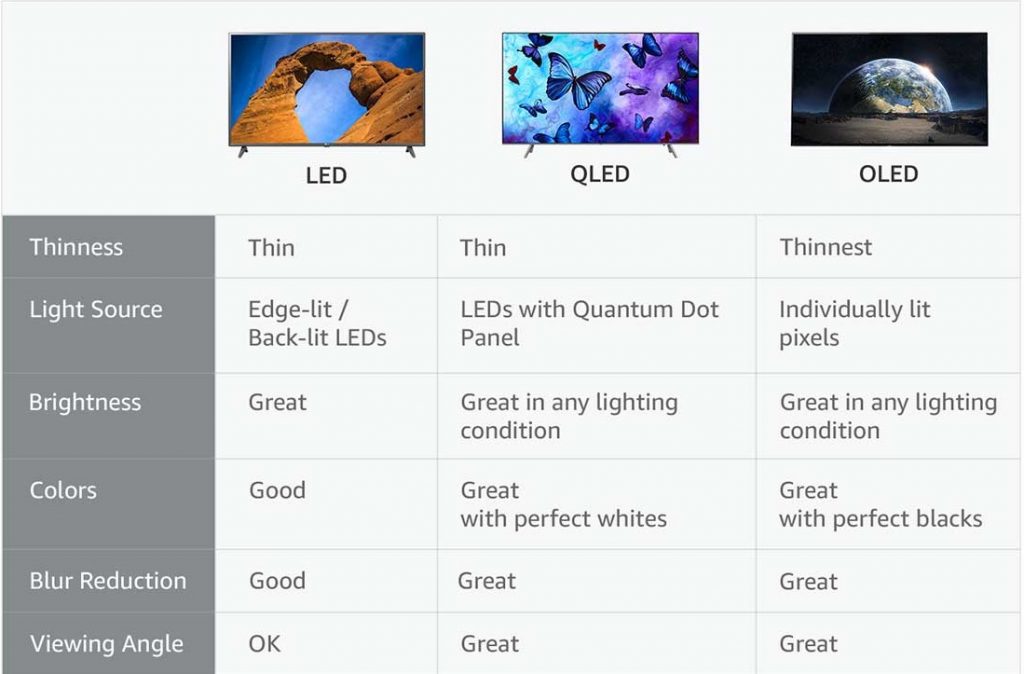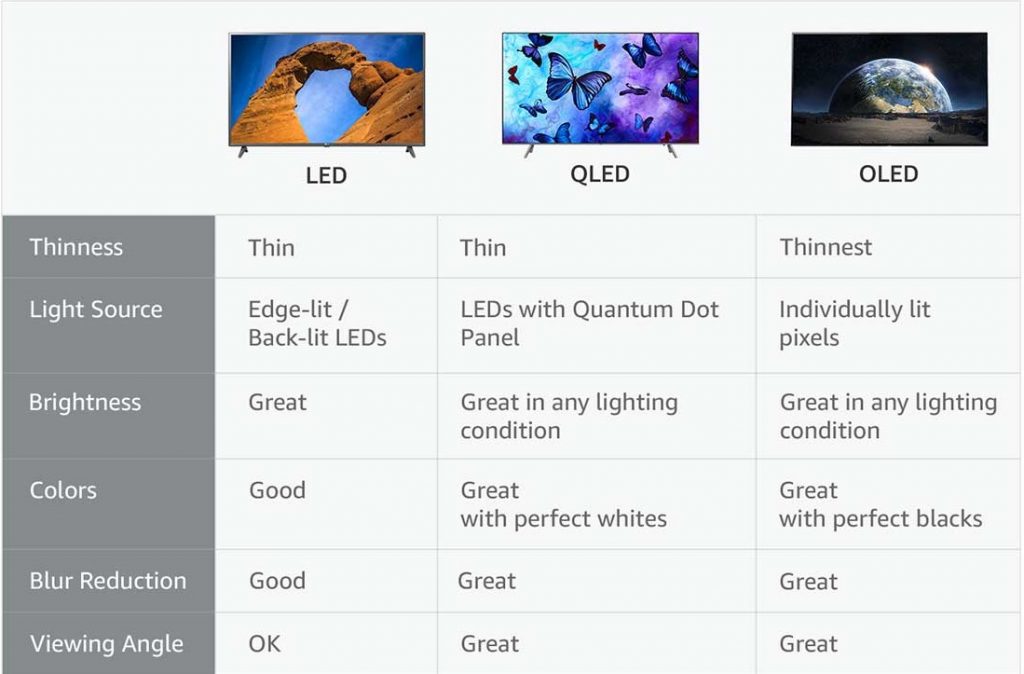 LED
These are the most popular type of TV display. These display type uses LEDs on the edge as well as are backlit. Besides this, they are a better option as they are slim so they consume less space. And another point for you to keep in mind is that this television is best for day time use and/or in well-lit rooms of your UAE home. Also, you can make sure to check the feature of IPS which is only available for the LED screen TV as an option.
IPS is an abbreviation for in-plane switching. Which in simple words is a technology used in the screen to let you comfortably watch the TV from any angle of the room. So basically they allow you a higher viewing angle which is up to 178 degrees. So now you can watch TV from any part of the room and not have any colour change or brightness issue. Also, take note this technology feature is only available for LED screen TVs as the QLED and OLED both already have good viewing angles.


QLED
With a QLED you have a chance of having a better quality of picture output. As it offers a great range of colour and better brightness levels for you to have a good watching experience. This TV display uses the quantum dot technology which lets you have a variety of colours that you see. This is because in the quantum dots technology the TV produces has its own red, green and blue lights. This can make up the whole spectrum of colours.
OLED
This TV uses pixels to recreate the image on the screen. And the recreation is done in the same colour as the original. Therefore you have great picture quality in comparison with LED TVs. And you will have no more off shades of black and a blur picture. To top it off you also have a good viewing angle range.
Screen Resolution – HD Ready Vs. Full HD Vs. 4K or Ultra HD
Another important aspect for you to watch in the best television display in UAE is the resolution. The resolution determines the quality, clarity and sharpness of the image displayed. So, if you are looking for a better quality make sure the resolution is high and the quality will follow. The resolution is made up of pixels which are scaled in both the height and width. And so with the advancement of technology, there are types of resolutions too. HD Ready which is 720p, Full HD is 1080p and the 4K which is made up of 2160p or UHD (ultra-high-definition).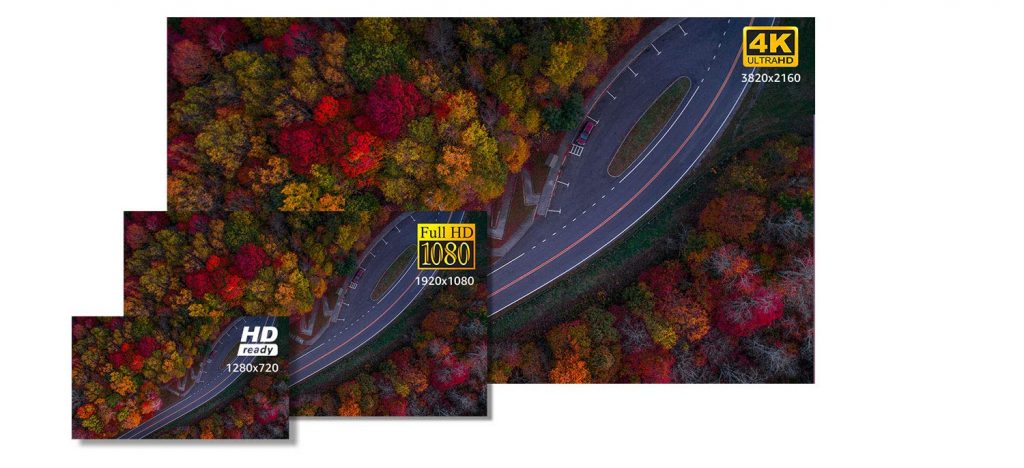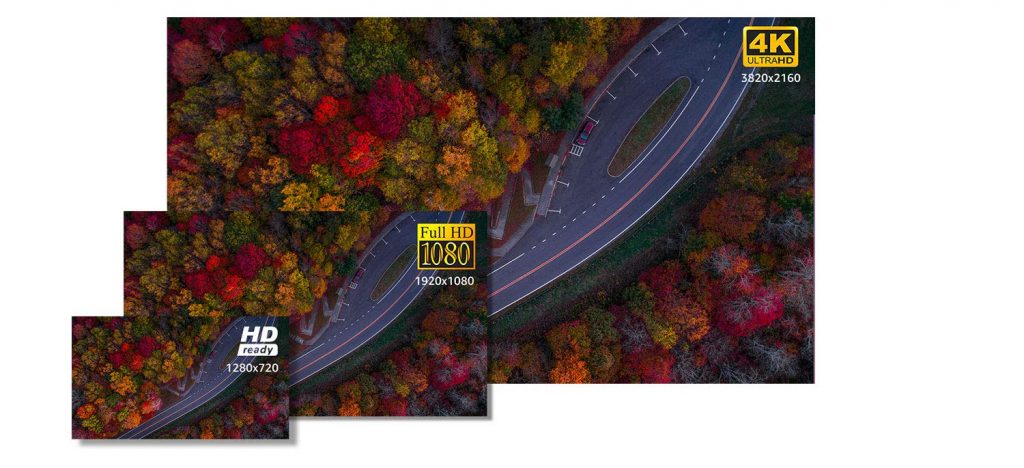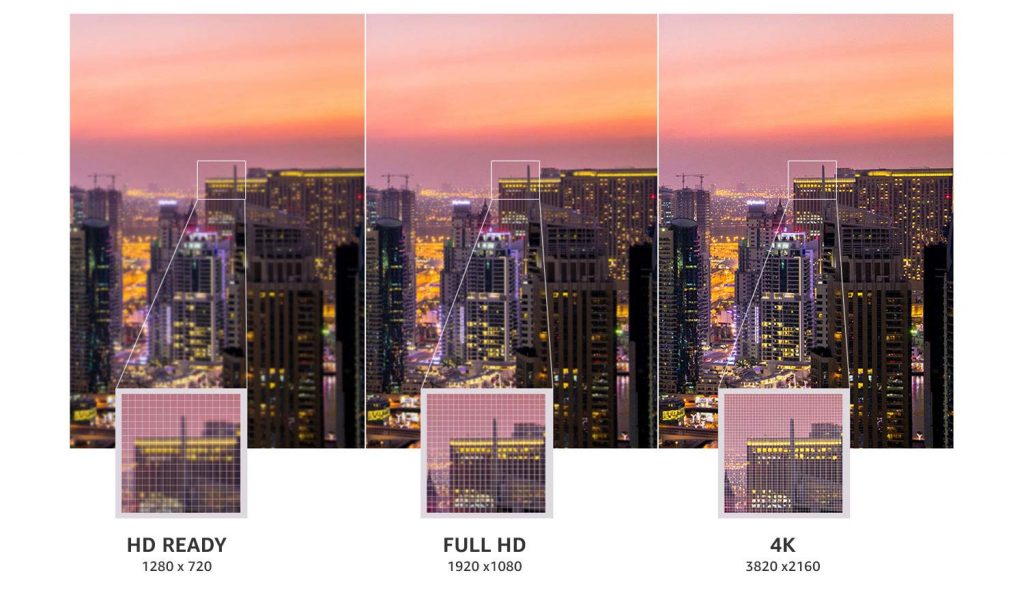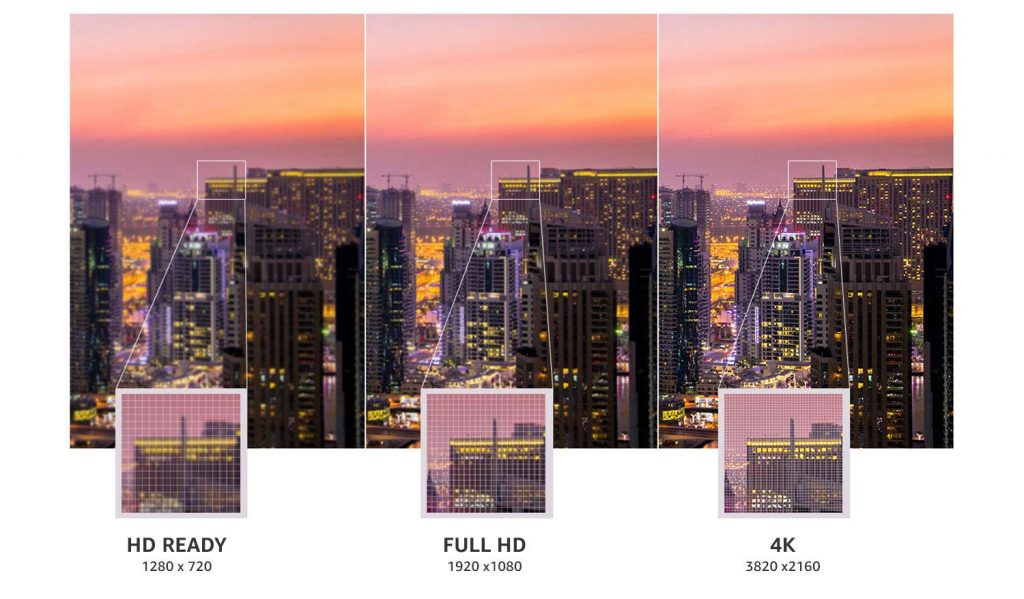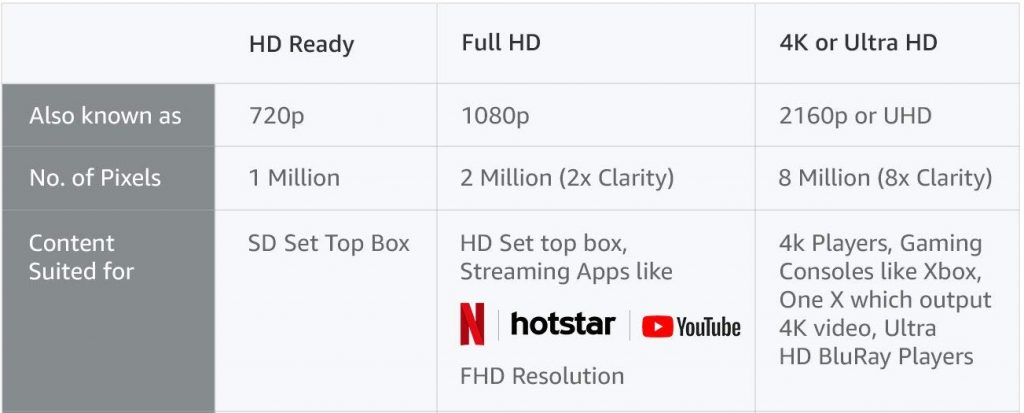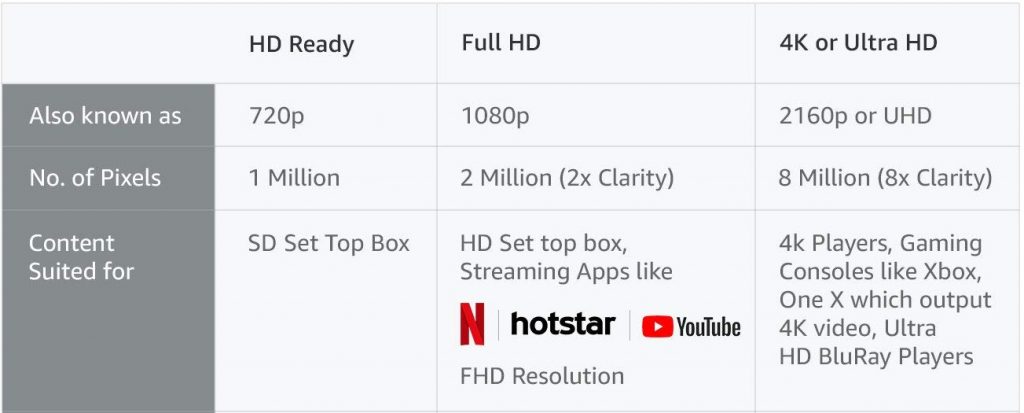 While you are considering to buy the best new television in UAE why would you even think of downgrading from the product you have. So, if you have the bulky CRT TVs consider a budgeted HD TV. With which you will have a better quality than your previous TV. But If you own a Plasma TV or even an HD TV then better if you consider a 4K TV, QLED or either an OLED TV. It would be advisable for you to get the best 4K television in UAE as the future has 4K written all over. As even the phones these days shoot in 4K. Now if you are considering the 4K TV you might come across a 4K Ready TV which is nothing but a TV which can play any 4K content but doesn't give you the quality of the actual 4K content.
Smart TV – How to choose the right one?
A smart TV would be considered the best television in UAE right now. It is one which connects to your internet connection – your WiFi. And with this, you can have access to any video-on-demand apps. And that's not it, you can even have access to the games with the help of their apps. Surfing on the internet has never been easier as you can stay connected to your social media site too with this TV. And lastly, you can even cast your photos and videos on the smart TV with the help of the internet connection. So, therefore it is necessary for you to think about all the factors needed to be considered while choosing the smart TV to suit your home needs.
Operating Systems
The operating system (OS) is the whole outlook and the way in which your smart TV will function. This also enables you the ability to determine which all app will you be able to use on the TV. If you are planning to stream videos via Netflix, Hotstar or Amazon Prime then consider the smart TV which has these apps preloaded on it.
There are various OS available like Google-certified Android TVs. This one is considered as a good one as you can use any apps available on Google Play Store. Secondly, you have Android-based smart TVs. These are the ones which have their own preloaded apps and interface. Although this a popular type of interface, it allows a limited number of downloadable apps on it. And lastly, TVs with their own OS. Like Samsung who have their own OS Tizen or LG uses WebOS. Check out the available apps and consider buying the product if it is suitable for your needs.
RAM
RAM is the random access memory of a device. This, as you might know, is the way in which you can have quick access to content on the TV like apps and files. Therefore if you have more RAM the better, as it will facilitate towards the fast and smooth functioning of the overall TV performance. The minimum of 2GB RAM would be sufficient enough for a lag-free functioning of the TV.
Storage
This would be no brainer as a better storage would be a good thing to have. With this, you will be able to store and download more content on to the smart TV. So, for this, the most prefered storage range would be around 8GB storage. As this will let you store and content be it apps and movies onto your TV for usage whenever convenient.
Remote & Navigation
Consider the method in which you would prefer to operate the TV set at your home. As the most common commanding functions are with voice control, remote control and even mobile phone led control.
For the voice control, you would be given with a special type of remote where you would have to speak into it to open any app or play anything on the TV. As for the remote control one, it would work as an air remote or air mouse. In which you would only have to point onto the TV and you will have a moving cursor which follows. And finally, you have the mobile phone led control. For which you would have to download an app and make use of the app remote. This is done to get rid of the remote control which the company would provide.
Phone Mirroring
The ability to cast or duplicate your phone screen onto your TV screen is a plus point. As with this feature you can play videos and put up images right from your phone straight to your TV screen. There can be a feature where this is in-built into the TV and in other cases, you would manually have to download a mirroring app from the respective app store. Only after this would you be able to use the mirroring feature.
With all that said and done and dusted. We can't go preaching to you about what to buy and not. But suggestions are always welcome, right? So, here are a few suggestions on what all are the best televisions for you to consider. Starting with the best smart television in UAE.
Best Smart TV in UAE
Model: UA58RU7100KXZN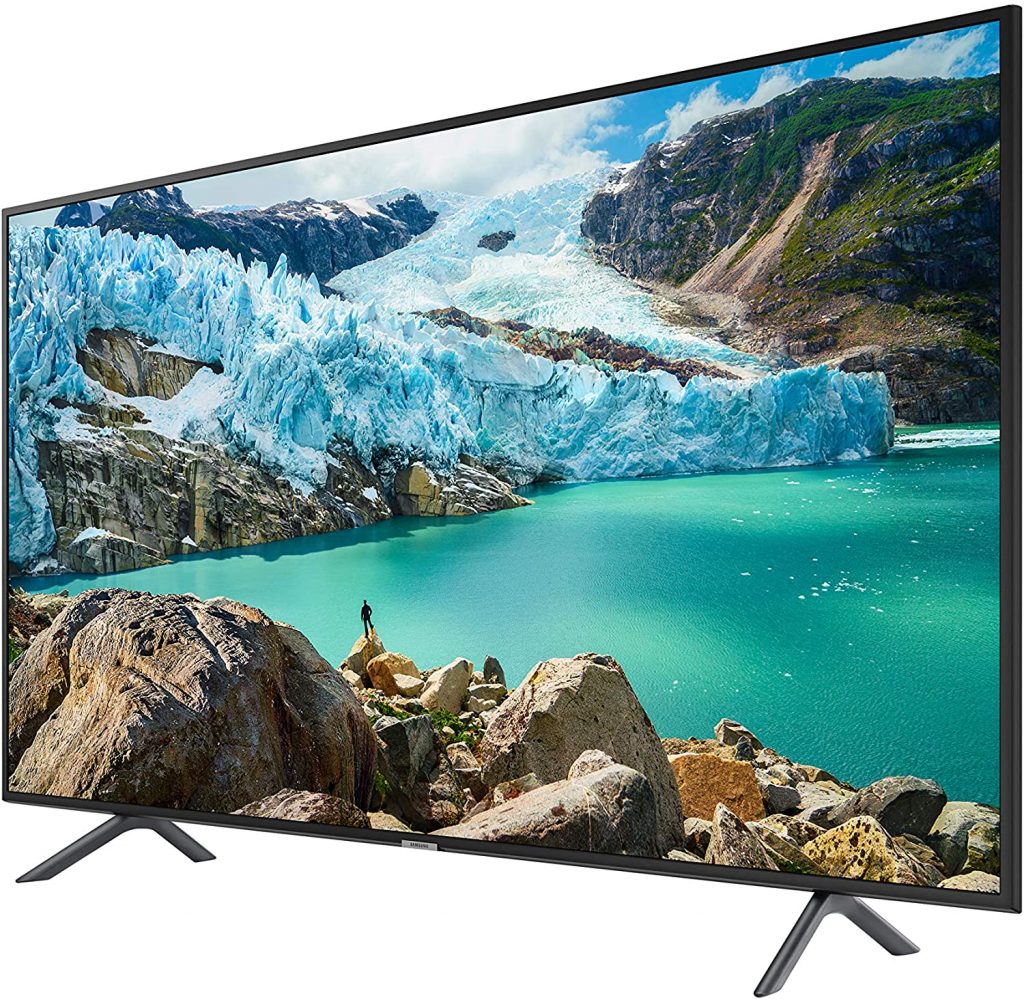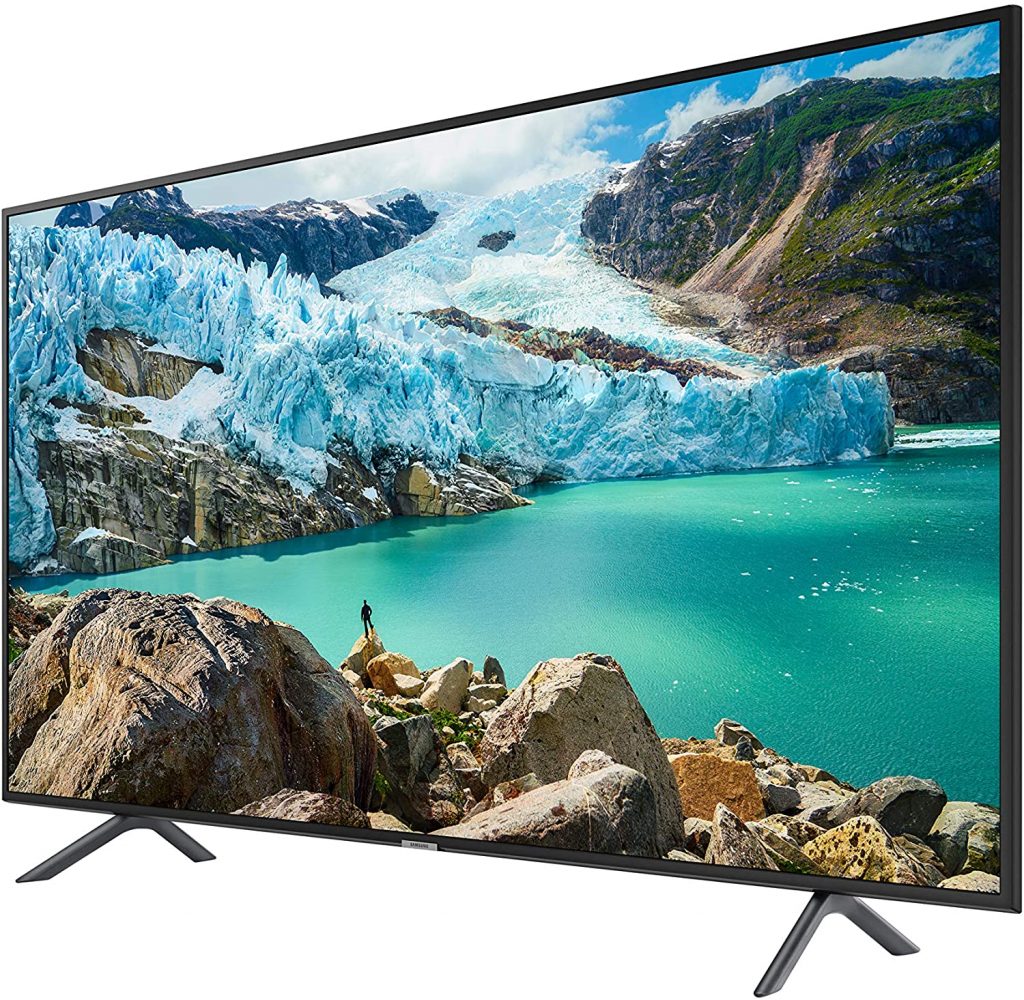 Dimensions: You have a big screen to stream all your movies and games on this TV as the dimensions are 5.9 x 130.1 x 75.7 cm.
Display: This Samsung TV has a 4K UHD processor that lets you have a sparkling image every time. As the pixels are wide since it uses a special chip. Which allows for a more vivid and rich colour experience. You can have the experience of the image and colour reproduced by the TV screen.
HDR: You have the option to control the HDR of the TV. Which controls and gives you the details accurately even in dark scenes.
Design: The slim design makes you feel like you are watching not the screen of a TV but actually live at the scene. And the plus point is that it gives the slim TV screen gives a stylish appearance.
One-Touch Usage: The smart hub is the one place where you can find everything you will need. With just the one touch of a button everything in your fingertip.
Controls: You can control all your devices with just the remote of the TV. As you eventually connect to your internet connection.
Sound: The best of sound experience as you can also connect to your soundbar and hear every sound with clarity. Besides this, the TV itself has Dolby Digital Plus technology.
Price: This Samsung smart TV will cost you around AED 1800.
Model: 6971408151035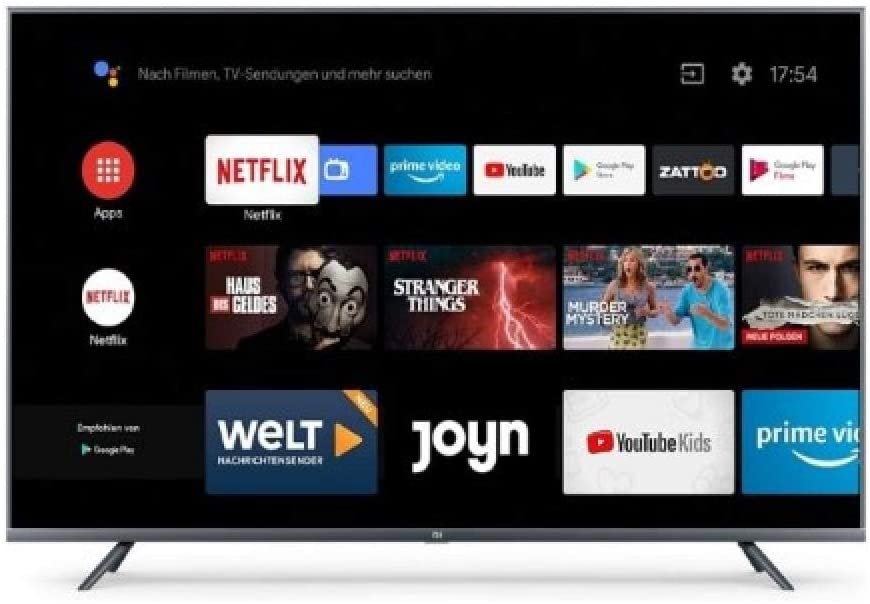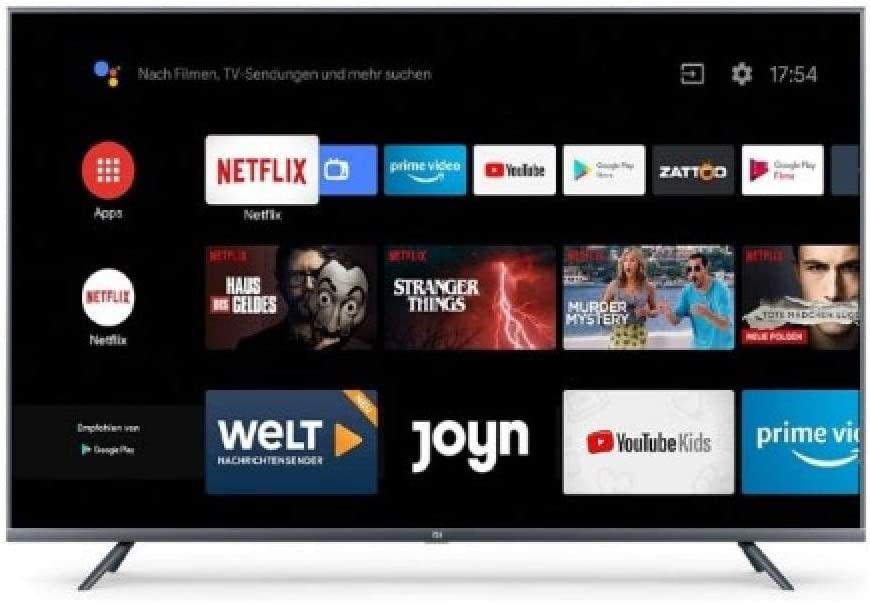 Dimensions: A 124.2 x 24.5 x 78 cms product dimension and 55 inched screen TV what else would you really want?
Technology Used: This smart TV uses Android 9 technology and operating system. So you can browse through and have some of the best features of this operating system.
Display: The 4S UHD LED TV allows you to have a rich and vibrant colour experience and 60Hz refresh rate for a smooth watching experience.

4K HDR resolution lets you watch every detail clearly. As you have a sharp image quality.

Storage Capacity: Allowing you a storage capacity up to 8GB allows you to store apps as well as movies for quite a long time without having a full storage space.

Also, you have a RAM of 2GB allowing you seamless usage off all the apps and usage of the TV.

Sound: Firstly this TV is equipped with two 10W speakers which allow Dolby audio and DTS. Which enhance your listening experience and allows complete clarity of every sound.

Secondly, you can connect the TV with any external audio Bluetooth speaker and still have the best audio without interruption.

Compatibility: This smart TV is smart as it is very much compatible with Google Assitance and Google Play so you can download any applications you like. Furthermore, it also has a Chromecast. So, you have everything you need with this TV.
Connectivity: You are going to connect the internet to this TV. But it doesn't matter what broadband technology you use as it works on 2.5G up to 5G. So, even if you upgrade to 5G you won't have any worry.
Control: Working your way around with this TV has been made easier as you can control it with the help of a remote. But the speciality is that the remote also works on voice command.
Price: This Xiaomi Mi smart TV will cost you approximately AED 1300.
Model: 49UM7340PVA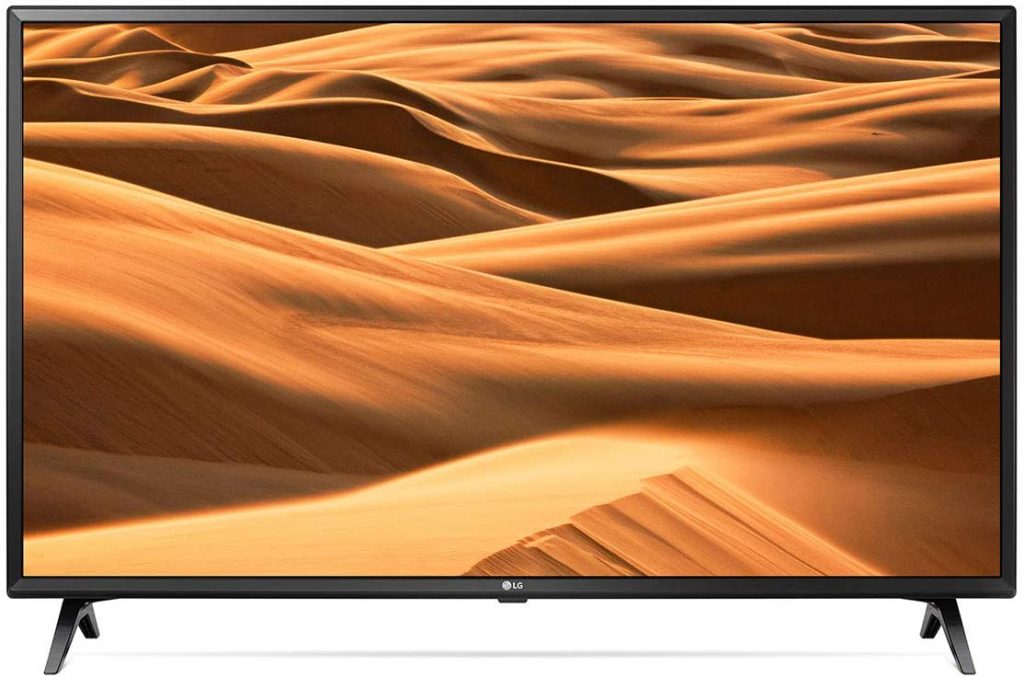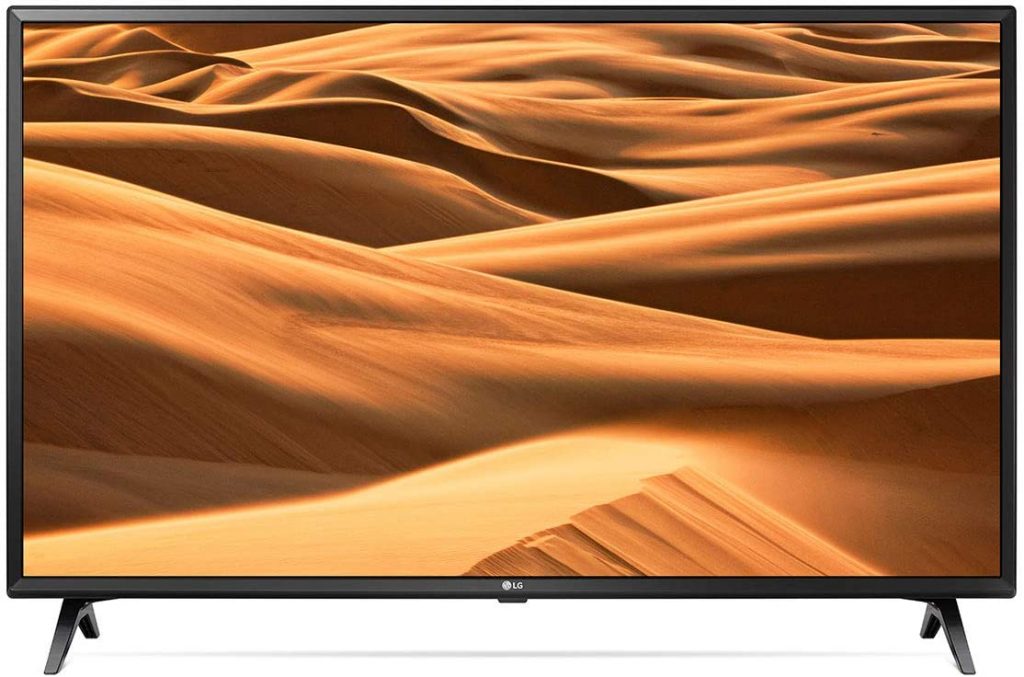 Display: 49 inches display equipped with HDR quality with the 4K Active HDR.

Also a 99% colour accuracy from any angle. This is because of the Quad-core processor. Which reduces all the excess noise from the image and gives you a clean image.
Furthermore, it upscales any lower resolution image to give you the best quality.

Resolution: A high-resolution screen of 3840 x 2160 making a 4K LED to let you have an immense experience. That you never miss a single detail anymore.
Audio: This LG TV also has 2.0 channel speakers which are in the down-firing direction. And that's not it as the TV allows other great audio features such as Clear Voice II, One Touch Sound tuning and Adaptive Sound Control.
Modes: Allows you to choose between eight modes so you can have the best image quality according to your needs of the image and your surrounding.
Control: Working of the TV lets you change the volume, channels and more with the help of a voice equipped remote for the TV. Making it easy and efficient.
Smart Features: Proving to be a smart TV is all the features of the LG as well as needed smart features like LG's ThinQ, Intelligent Voice Recognition, Speech to text, AI Recommendations and much more is already equipped into the TV.
Connectivity: Connect your phone or even speakers on the TV. Linking them with the help of the Bluetooth. This is beside the internet connectivity that it allows.
Price: Get this LG smart TV For around AED 1400.
Best Ultra HD TV in UAE
If in the list of the best television in UAE you have more options the better right and if they are of different types even better. So here another section of a few of the best television for your UAE home. But this time they are the best Ultra HD TVs.
Model: QA65Q60RAKXZN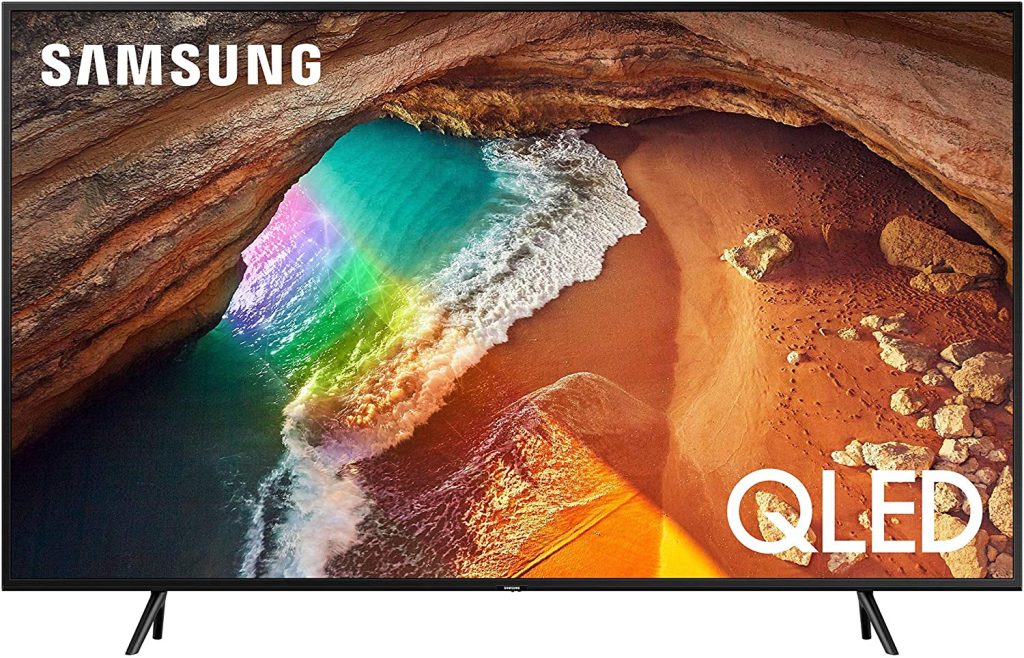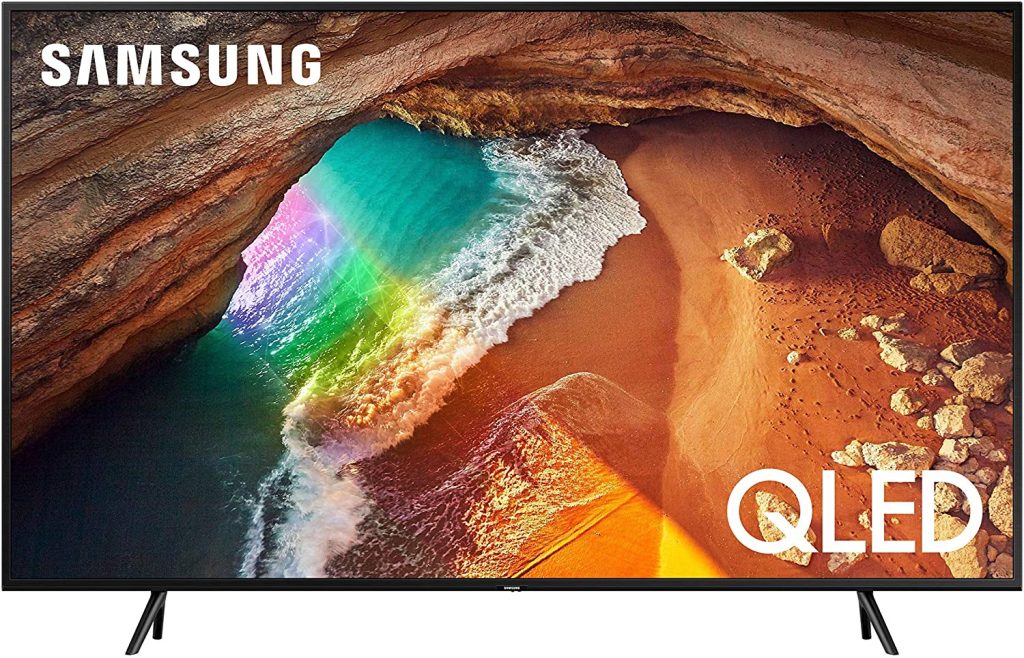 Colour: Using Samsung's unique Quantum Dot technology lets you see the true colour of everything displayed without any alterations. Adding that realistic feels to your watching experience.
Display: With the equipped direct full array 16X you can see every minute detail on the screen. Enhancing the depth of the image and controlling int brightness as well.

Quantum HDR 16X makes sure you have no altered colours and have the right deep contrasts and vivid and natural colours.
The QLED's Quantum Processor 4K uses its own unique upscaling techniques to get every content you watch up to the 4K mark. To help in this the QLED uses AI Upscaling which reduces any image noise in the process of upscaling.

Dimensions: To add the cherry on the cake is the size of the screen as it is in 65 inched flat smart screen TV. With dimensions of 5.9 x 145.6 x 83.7 cms.
Mode: The TV has an ambient mode as well as intelligent mode.

In the ambient mode, your TV will add to blend into your surrounding and room. By displaying images so even when turned off you will not have a blank screen TV.
Whereas in the intelligent mode the QLED detects and adults to the surrounding of your room by brightening and controlling the volume for you.

Wireless: This TV is efficient in a way that it lets you have no excess wires except for one which controls everything to your TV. So you have a clear and no-clutter area.
Control: With the help of the remote control of the TV you can control the TV and the equipped smart hub technology used. With which you can access any app or function you want to with ease.
Assistance: This smart TV is equipped with voice assistance called Bixby. So, this can help in the smooth and easy operation of the TV.
Price: Available for the approximate price of AED 3950.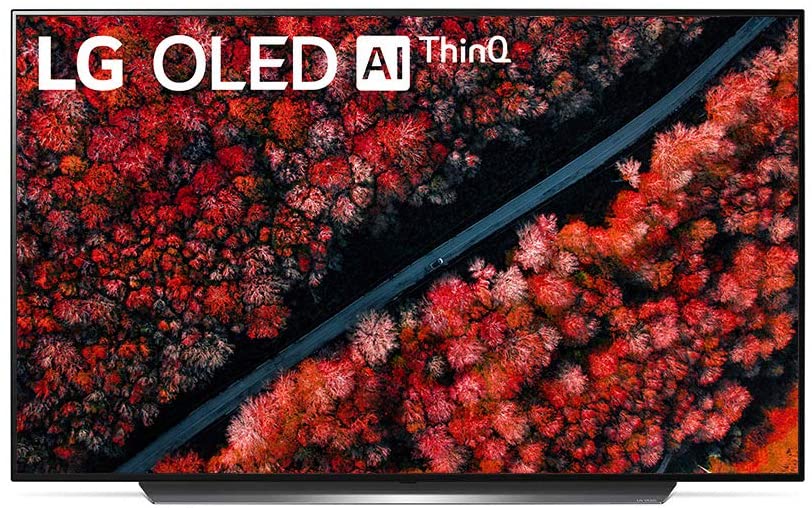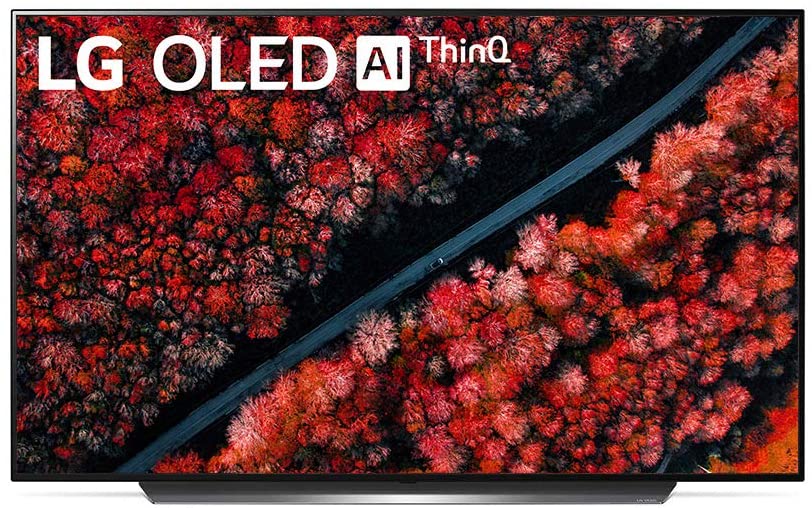 Dimensions: With the dimensions of 165 x 80 x 90 cms 65 inches screen you are sure to feel the cinematic experience rather than just a TV experience.
Technology: The use of the second generation α9 Intelligent Processor with an AI algorithm. Makes sure that the processor's speed and graphic is compatible with the next-generation technologies. All so you feel the action as if it were real and not just through a screen.
Smart Features: You have been covered in as if you need any recommendations based on your previous watching the LG ThinQ AI is here to recommend you. And while you are at it you can also make conversation with the TV and expect a response. As the TV recognises your voice.
Colour: Your home cinematic experience will not be complete unless you have this TV as it balances the colour and gives you the much-needed depth to the image. Furthermore, the OLED Black contrast is the making factor to make the images more intense and bright.
Display: This LG's 4K Cinema HDR trues to you and the movie buff inside you as its support of most HDR formats used. Thus offering a clear and stunning view of the image shown. That the credit is given to the advanced HDR and HDR 10 Pro technology used in the TV.
Sound: Have your theatre experience at home with this TV as it gives you the best sound quality. This is all thanks to the Dolby Vision and Atmos technologies used in the making of the TV
Graphics: This LG OLED TV provides you with more engaging game time. Since it has only 1ms response time. And allows you a low input lag precisely 12.9ms. Furthermore, the TV has HDMI 2.1 which is supported by VRR and ALLM. And this delivers graphics that can blow your mind that too at a rapid speed.
Price: Buy this product for the price of AED 6400.
Model: L55P8US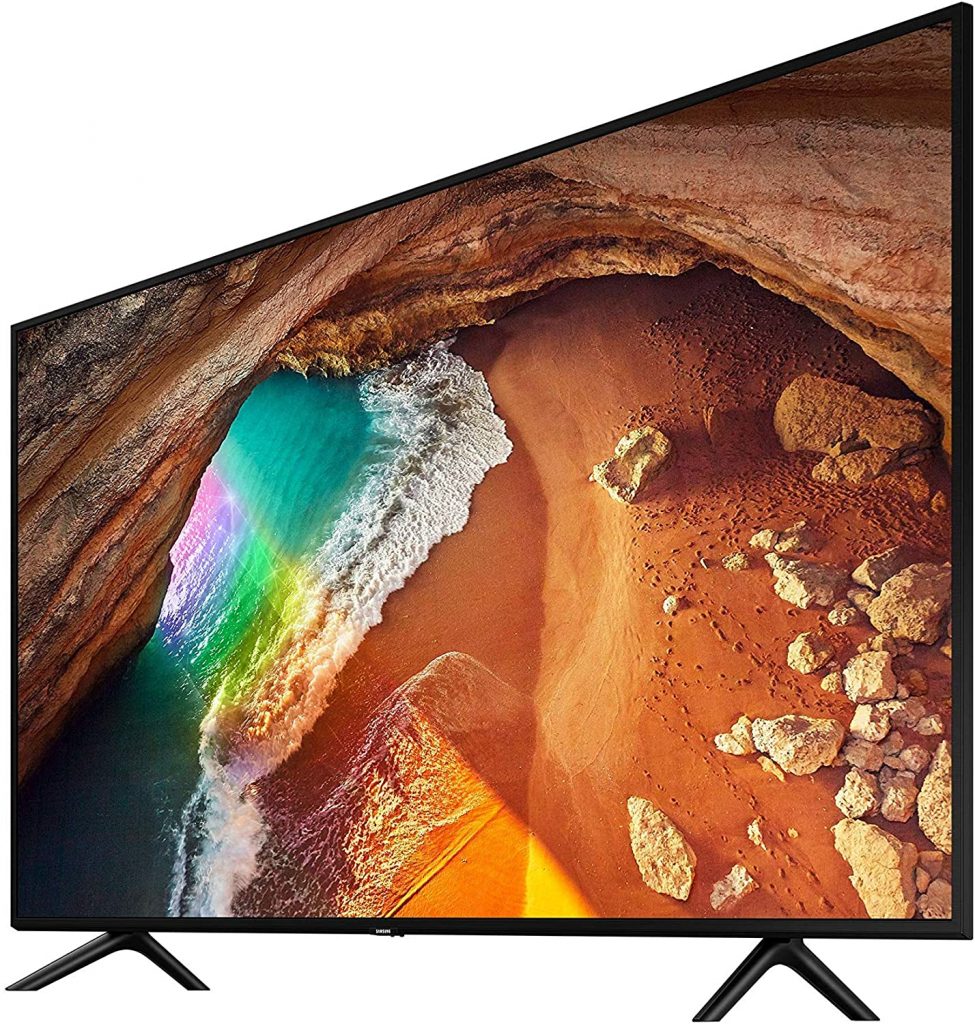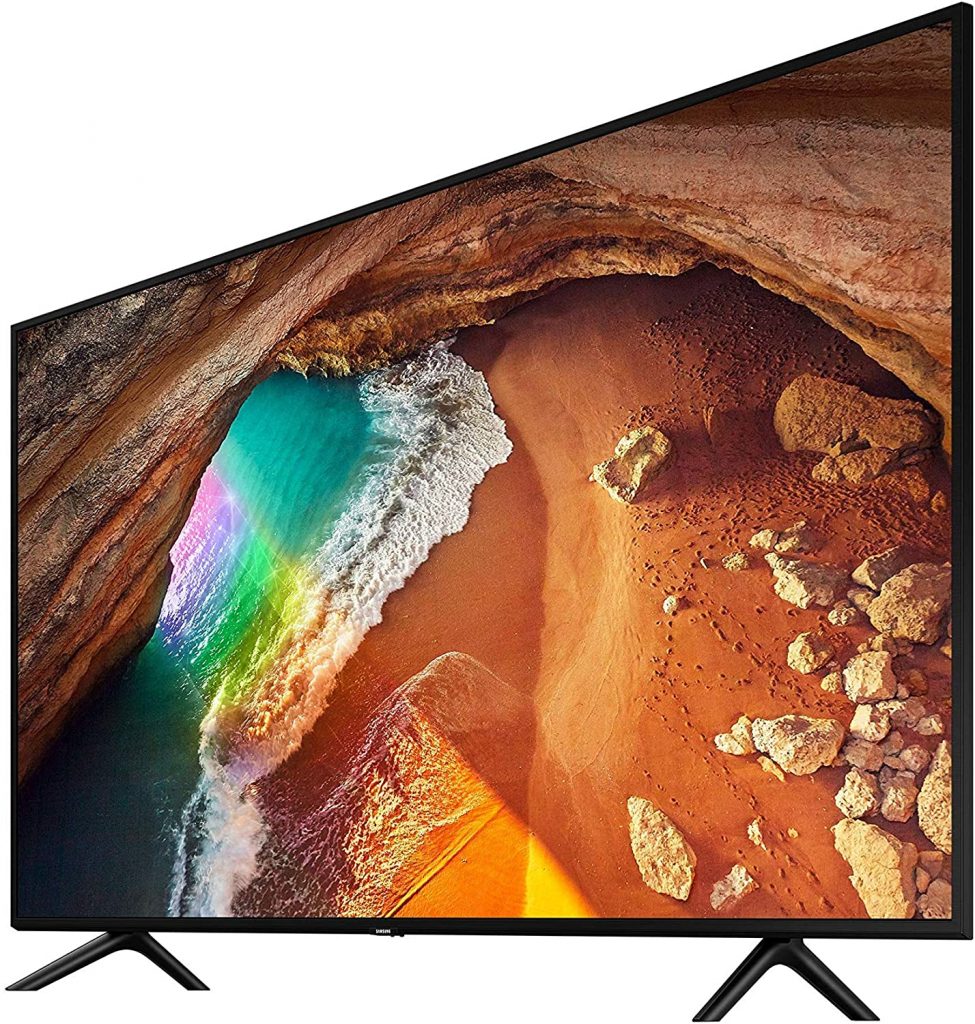 Technology: This smart TV has the next-generation TCL Android Artificial Intelligence which makes it like an assistant if not a family member. Since it has the ability to talk, listen and help you with your problems making it the perfect companion. This is possible with the Android interface that it uses.
Dimension: 55 inched TV screen with dimensions of 124.4 x 7.7 x 72.2 cms this TV is the one you've been looking for.
Display: Besides this TV is the 4K UHD high resolution and best viewing experience from any angle of the room.

Having HLG helps you get the desired HDR standard performance. Moreover, this is the HDR format chosen by broadcasters as well.
have various modes too helps the display of the image. And this TV has that as well. Including a sports mode.

Colours: Packed with a staggering 8M pixels which give you more definition as well as the HDR 10 ensure that you have a rich image and colour. So, you see very minute detail with every contrast.
Audio: The audio of the TCL TV is the best you would expect with the Dolby audio. As it has an immersive 5.1 surround sound with Dolby decoder. Which gives you clarity, realistic sound quality with the best-optimised sound quality.

A smart volume feature is also equipped and automatically adjust the volume in case of the fluctuation for TV commercials and when you change channels.

Smart Feature: Since this Tv also used the official google services you have access to Google assistance, Google Playstore and more you only have to sign in to your Google account and you are ready to go. Furthermore, you have Chromecast which lets you cast your mobile screen to the TV screen.
Control: With the help of the remote it is easy to operate the TV but because of the in build voice assistance control has become even more easier.
Price: This TV can be yours only at the cost of around AED 1350.
Best OLED TV in UAE
An OLED TV should be considered while you are checking out and planning on the best television to suit your UAE home. This is because an OLED television produces better quality images that are brighter and efficient. And are simply better than a normal LED TV. So, here are a few of the best OLED television in UAE.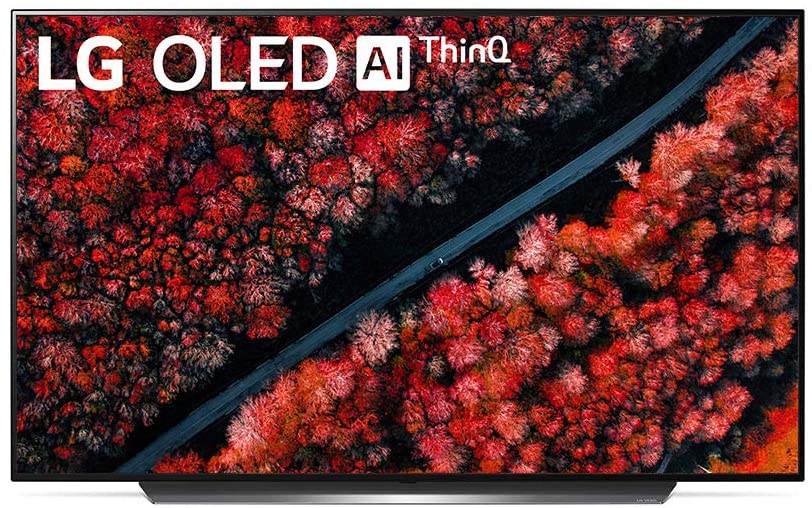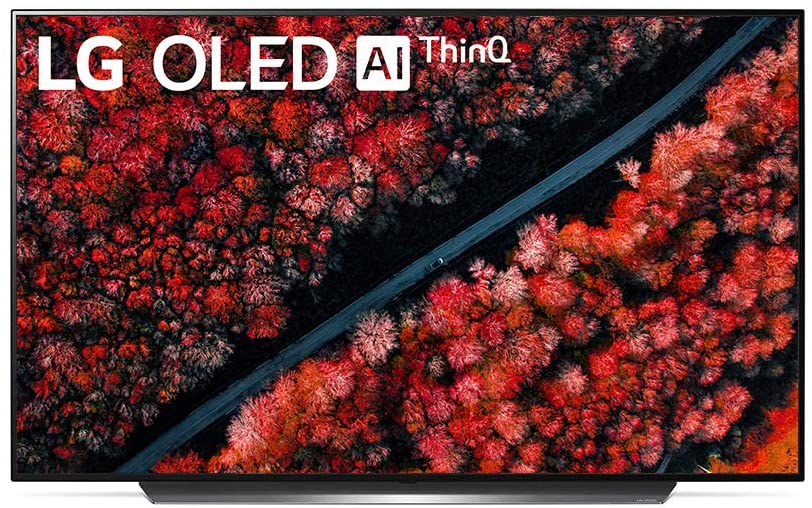 Dimensions: Bring the cinema right at home with this TV as the dimensions are such, 165 x 80 x 90 cms and a 65 inches screen, that you will feel like your at the theatre.
Technology: You have been covered with the next-generation technologies as well with this TV as it uses the second generation α9 Intelligent Processor with an AI algorithm. And with this, you are sure to feel live at the scene.
Smart Features: You can make and hold a conversation with this TV. As it works with the help of voice recognition. And look no further for any recommendations as the LG ThinQ AI does this based on your watch history.
Colour: With LG OLED technology which balances the black contrast you have the desired depth, intensity and brightness as that of a cinema. With the perfect touch and balance of all the colours in the image as well to give you the real-life feels.
Display: Having the best and clean visuals with this LG's 4K Cinema HDR TV. This is made possible because of the advanced HDR and HDR 10 Pro technology used in the TV. Since it supports all the HDR formate you can enjoy without any limitations.
Sound: The Dolby Vision and Atmos technology used to give you an enhanced audio experience of the theatre at the comfort of your home.
Graphics: The TV has HDMI 2.1 which adaptable with VRR and ALLM to give you the best graphics. Moreover, enjoy your game time with 1ms response time and 12.9ms input lag time.
Price: This LG OLED TV is available at the approximate price of AED 6400.
Model: QA65Q60RAKXZN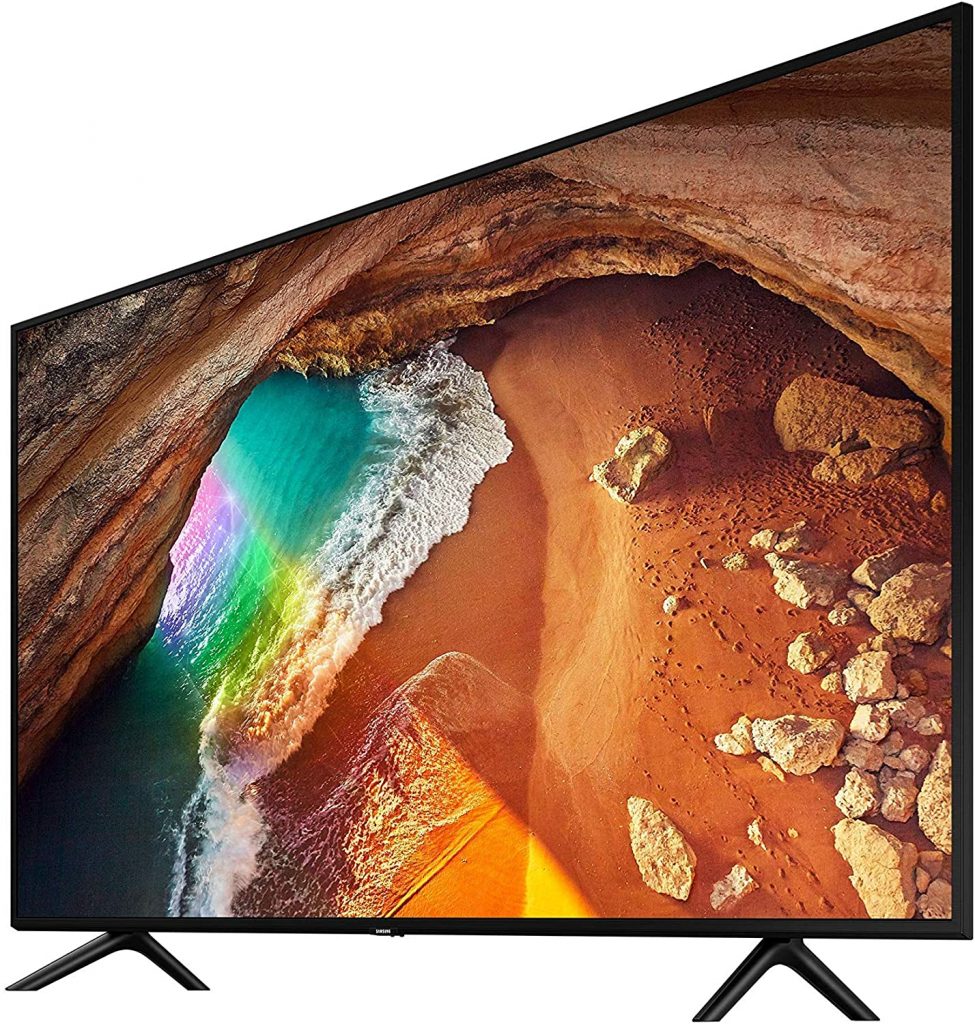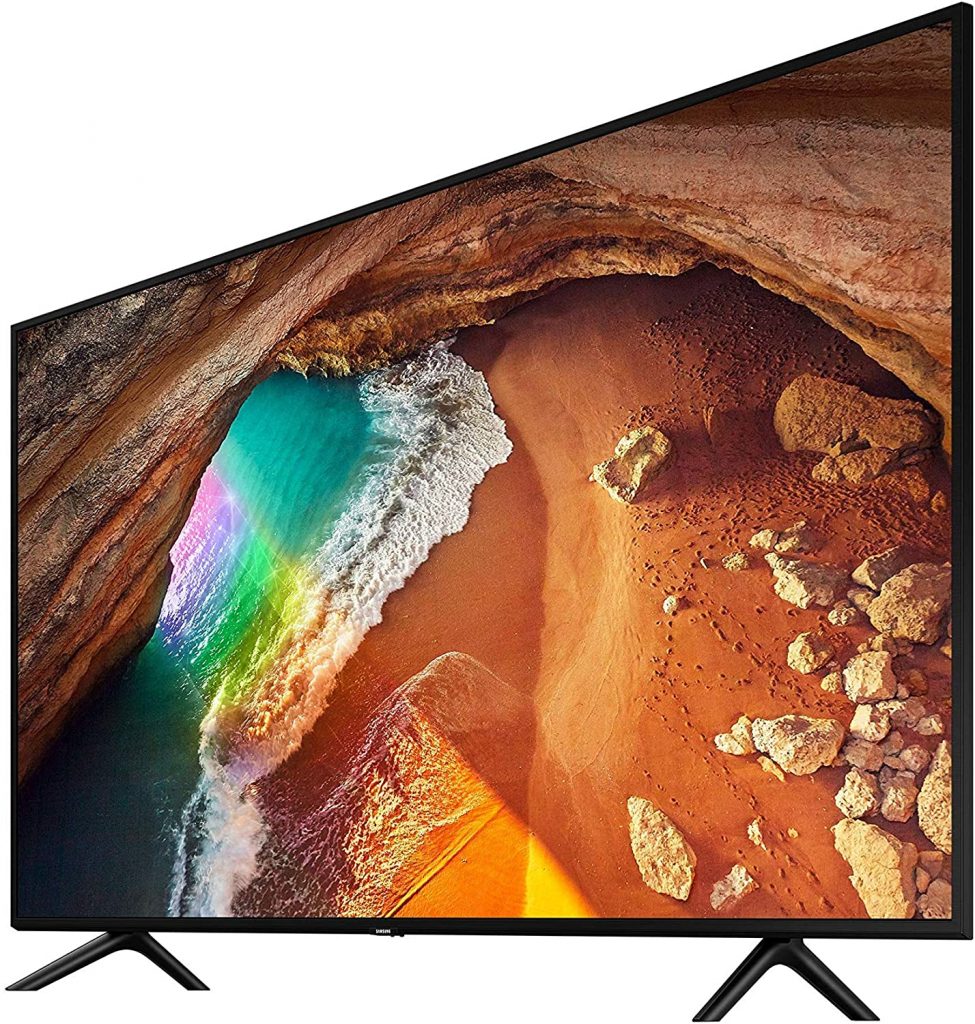 Colour: To add that realistic touch to the screen this TV uses Samsung's unique Quantum Dot technology. which enables you to see the real colour as you would see it with your eyes.
Display: The direct full array 16X allows you to see every detail there is to see on the screen. Giving depth to the image along with the handling of the brightness for the best experience.

Have natural colours wit all its glory shown on your screen with the Quantum HDR 16X technology. Producing the contrasts as it is without any alterations.
Using its own unique upscaling methods the QLED's Quantum Processor 4K is ready to produce high-quality 4K content. And that's not it the QLED uses AI Upscaling to help reduce any image noise which can be created.

Dimensions: A large screen size is what you are looking for then this is the one as it is a 65 inched flat smart screen TV having dimensions of 5.9 x 145.6 x 83.7 cms.
Mode: Mode makes sure you can have the best viewing experience in with any content display. But this TV has taken it to the next level with the mode here are a few.

Ambient mode, Your TV can blend into your surroundings with easy in this mode. This is done with the TV displaying images on the screen when not in use and turned off.
Besides this is the intelligent mode. Where the QLED adapts to your surrounding and brightens the display as well controls the volume for you.

Wireless: Clean your space and make it free from any excess wires with this TV. As this efficient TV lets, you use it without any cables except for one. And it is this cable that can control everything you need.
Control: Get easy usage and excess to everything with the smart hub and the remote control to guide you through everything there is to offer.
Assistance: Just like Alexa and Siri's voice assistance this smart TV is equipped with the assistance of Bixby. To help you find your way and get your work done in an easier manner.
Price: Get this Samsung smart QLED TV for the approximate price of AED 3950.
Model: KD-65A8F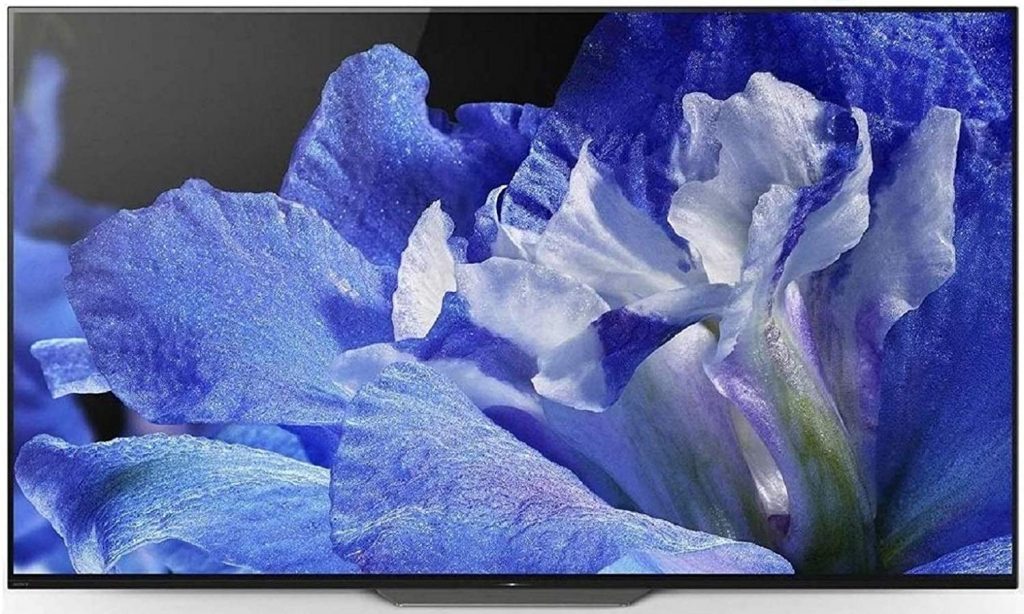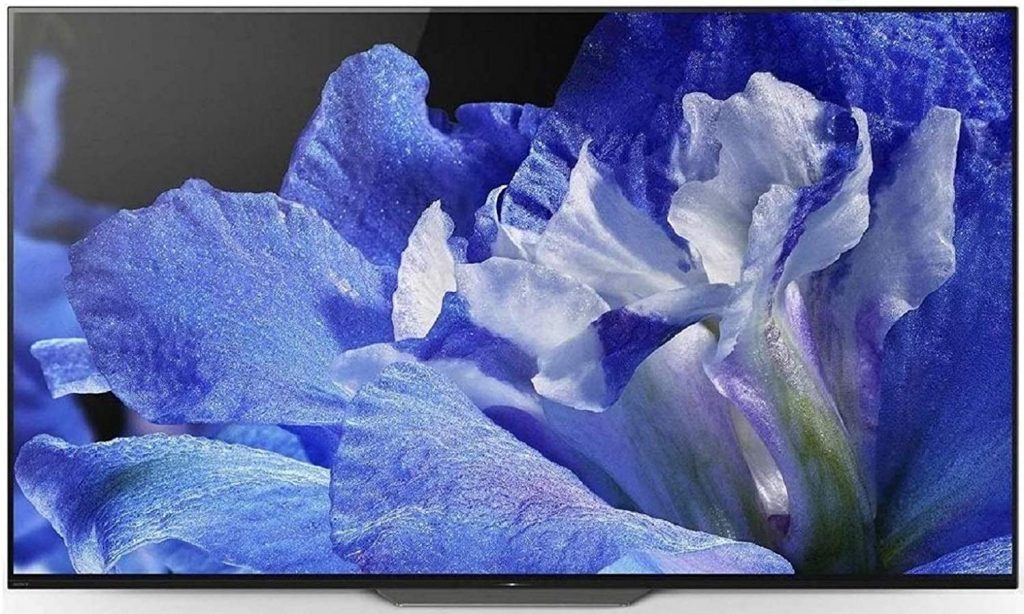 Colour: With the precision colour mapping and super bit mapping of 4K HDR which lets you see the colour it full density and the TRILUMINOS display technology enables the TV to reproduce every colour in the palette allowing you to see every colour.
Display: Every pixel that you see is controlled by the X1 Extreme processor. Which contributes towards the real-time image processing. And additional upscaling by HDR 10 and HLG.
Audio: For a whole surround sound experience you have speakers all around the TV display. Furthermore, you have Dolby Digital and Dolby Pulse so you have the best audio compared to any other TV.
Control: Excess your TV with the help of the remote control which is equipped with voice control. So, you can get whatever you are looking for without too much hassle and only with your words.
Dimensions: With the TV dimensions of 56.96 x 10.03 x 33.11 inches and 65 inches screen this TV is the big enough for a cinematic experience.
Smart Features: Features like screen mirroring, Miracast and built-in Chromecast all form excellent feature for you to have n your smart TV.
Modes: Modes help the display of the TV. As it gives you clearer content as per your needs whenever you need it. And this Tv allows you to choose among 10 mode and additional 5 sound modes as well.
Technology: Using the Android OS interface this TV is easy to operate and it comes with Google Play Store so you can get whatever apps you wish for with this TV.
Capacity: The storage capacity of this TV is around 16GB flash storage. So, you can store a lot of content be it movies or external apps.
Price: The approximate price of this Sony OLED TV is around AED 7900.
With that, we reached the end of the list of some of the best televisions in UAE. That too in every category for you choose the best for you. But we are not done just yet here are a few more details for you to look into while purchasing the best television suited for your UAE home.
Why we don't recommend buying 8K TV in 2022
While we are still in the mid-era of the whole best television type in UAE being the 4K technology, the next big thing is already into existence that is 8K television for your UAE home. Which are a good upgrade to a higher-resolution product and a better advancement to the 4K. But still, the whole 8K phase isn't here yet. In the terms that if you are one of those people to get the best off the market before the others do it will come to your notice that there isn't too much of variety in the market yet.
At most, you will have around five products on the shelves yet. And if you do not have much of variety you can't really have the best as per your needs. While you are talking about the few options available and the 8K is a comparatively newer technology. Thus the prices too are a bit on the expensive side. So much so in the sense that you could get the same size LED TV for a 4 – 5 times lesser to the price of the 8K. And all the expenses you need a special converter box to handle the various video formats and codecs to convert the non 8K contents. The fact that you need special and additional technology to view other content says a lot about the TV.
With that, we come to the main problem with getting an 8K TV. That being that there isn't much 8K content generated in general. You might find a few 8K contents on YouTube and come Japanese content. But other than that you have nothing yet and it's not guaranteed when will the content popularize either. Since this is the case it is better for you to get the best television in UAE in the 4K compartment. Therefore, you are recommended not to get an 8K TV just yet and wait it out. So, that technology can develop and you can have better, cheaper and more variety in the future.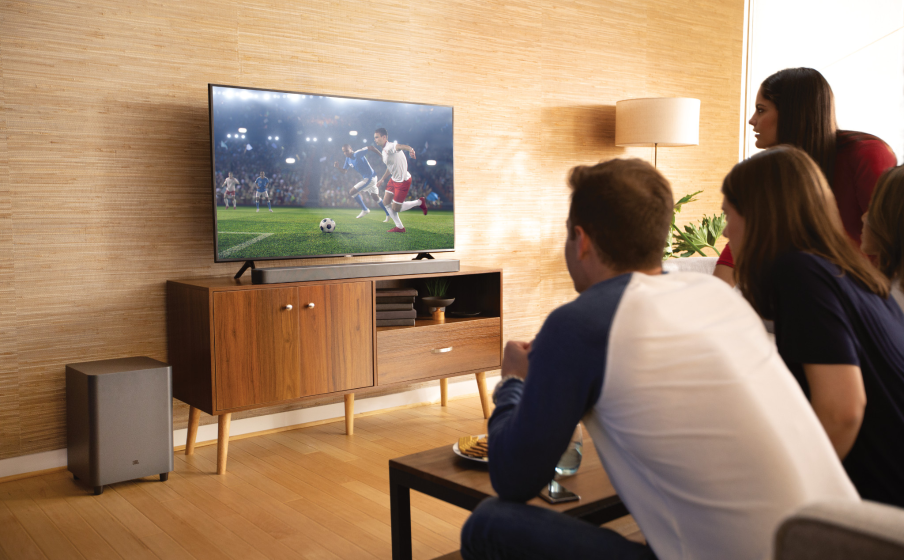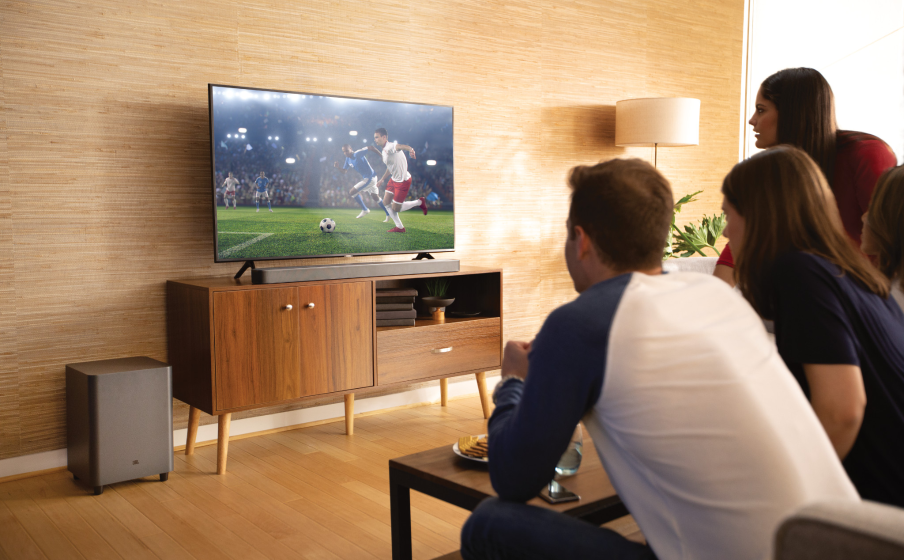 Television FAQs
What is the difference between OLED and QLED TVs?
Although they might sound the same both of these TVs are different. QLED stands for Quantum Light-Emitting Diode. Which means these TVs are close to LED TVs. The only difference being that it uses tiny nanoparticles which are known as the quantum. These particles are the reason why you get the brightness and colour that you do with the QLED. Even after this the Tv still uses LED lights hence the name QLED.
Whereas for OLED this stands for Organic Light-Emitting Diode. Even if this might sound the same but it isn't as these TV use LED but not as a backlight as QLED. But in a way that there is thin and tiny LED which forms each pixel in the TV. Which produces its own light as also gives off the colour all in one. So, for any darker scenes, the OLED simply doesn't turn on some of the LED light while the QLED dims the lights. This makes OLED TV much more flexible.
Can I project my phone or laptop to the TV?
Yes, you can easily project your laptop as well as phone onto your TV screen. This is done with the help of wires but why use wires when you can do it wirelessly. With the help of several mirroring apps and Google Chromecast, you can easily [project audios, videos and images from your laptop or phone onto the TV.
What is the difference between HD, 1080p and UHD?
HD, 1080p and UHD are all the resolutions of an image to be displayed. The number of pixels in an image define the resolution. Therefore higher the better. But it is better for you to stay informed about the technology available. HD also referred to as High Definition or uses 720 rows of pixels to reproduce the image you see. The 1080p often referred to as full HD. So, this formate uses twice more the number of pixels. This format is the standard format used in the media industry nowadays. And lastly, the UHD (Ultra High Definition) also known as 4K. Where it produces 4 times more the number of pixels in 1080p. Which is becoming much more popular among the industry.
What is HRD?
HDR or high-dynamic-range is a feature which gives the range of colour and also brightness highlights better than before. This is a common feature in most of the recent TVs. So with this, the TV allows you with more contrast and depth in the image. Therefore, HDR is a feature which gives you better image quality and is advisable to get a TV with this rather than not.
No More Confusion
Choosing and getting the best television for your UAE home can be a stressful task. With so many models available in the market confusion is surely what you feel. Therefore this guide on the best television in UAE. So, don't be confused and get on purchasing and having real-life TV experience. If you wish to have a complete cinematic experience you can check out how to set up a home cinema in Dubai here.