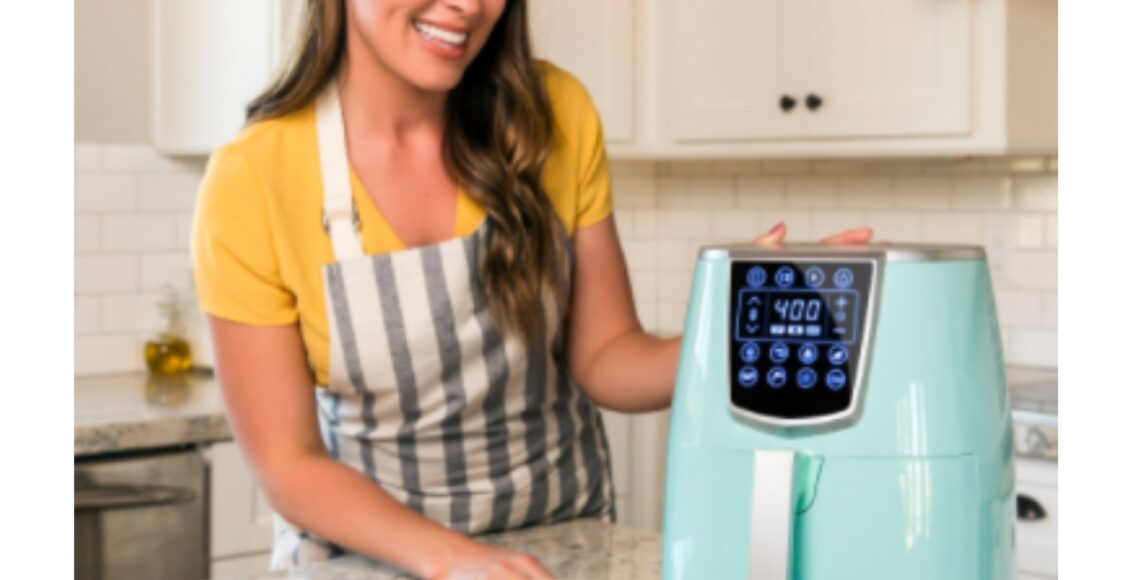 جدول المحتويات
Mornings won't seem boring anymore. You can make the most out of your air fryer and kickstart your day with these 8 quick breakfast recipes. Well, if you are using your air fryer to prepare only lunch and dinner and not any breakfast recipes because of the early morning rush. Then don't fret, we have your back. You can make these amazing breakfast recipe options without getting late to college or work. Plus, you won't have to eat the same thing every day for breakfast as there are 8 different recipes here. Henceforth, you're just going to jump out of your bed, all excited to pounce on some yummy items. All you need is an air fryer and the zeal to get started.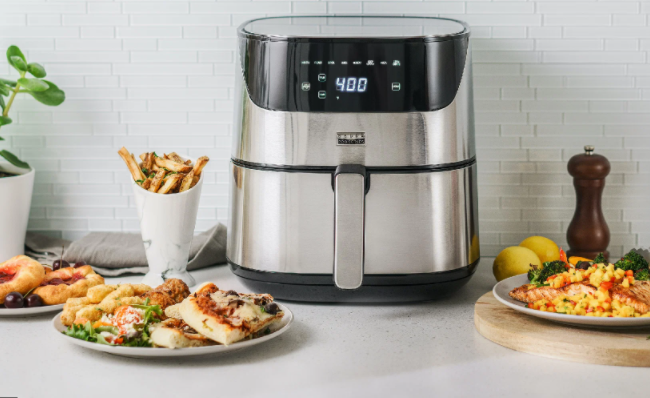 Also, if you are a working woman who gets stuck every morning thinking about what to prepare for breakfast cause you and your family are bored to have the same thing every day. Wait no more as we have penned down the ones for you that take no more than 25-30 minutes to prepare. So, your tummy is happy, you are full of energy and all set to start the day. These can be great options for a mid-day snack too.
Related: Best Air Fryer in UAE [2021]
1. Air Fryer Breakfast Potatoes
These air fryer breakfast potatoes are not only quick to prepare but also delicious and filling thus making this one of the recipes worth trying out. Breakfast potatoes served with a glass of fresh fruit juice is more than enough to kick start your morning. Additionally, it keeps you full for a minimum of 5-6 hours, so your whole family is energized at school, college, workplace etc. We don't think we need to mention how much kids love potatoes, hehe, thus, you don't have to struggle in getting this into the stomach cause they will eat it all by themselves.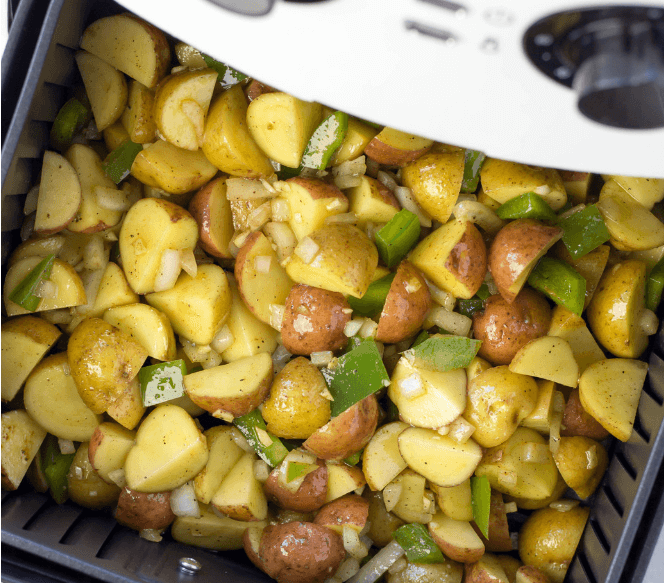 Ingredients: 1.5 pounds potatoes (diced), 1 green bell pepper (chopped), 1/4 onion (chopped), 2 garlic cloves (minced), 1/4 teaspoon pepper, 1 tablespoon olive oil, 1/2 teaspoon paprika, 1/2 teaspoon salt
Directions:
Firstly, wash the potatoes and bell peppers.
Next, dice the potatoes and soak them in water for about 30 minutes. After completion of 30 minutes, pat dry the diced potatoes.
After you do this, chop the bell pepper, and onions. Also, mince garlic.
Once you are done chopping all this, add all the ingredients into a bowl and start mixing them together.
Toss this into your air fryer. For 10 minutes, you need to cook this in an air fryer at 390-400 degrees. Shake the air fryer basket and then cook for another 10 minutes. Next, shake the basket again and cook for another 5 minutes. Thus, the total cook time is 25 minutes.
There you go, these air fryer breakfast potatoes are ready to serve.
2. Wake Up Air Fryer Avocado Boats
Avocado lovers here's something healthy and delicious for you. You can prepare these wake up air fryer avocado boats with your air fryer itself in the comfort of your own home. Wow, experience restaurant-style breakfast every morning. For those of you who are not fond of avocados, this recipe will definitely make you love avocados. Don't forget, avocados are incredibly nutritious and are loaded with fiber and potassium. Avocados also reduce cholesterol. So, what are you waiting for? Go and make this for breakfast 🙂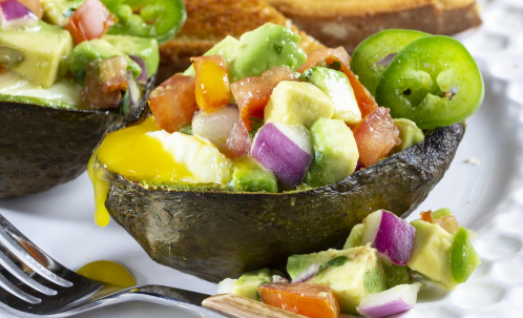 Ingredients: 2 plum tomatoes (seeded and diced), 2 tablespoons chopped fresh cilantro, 2 avocados (halved and pitted), 1/4 cup diced red onion, 1 tablespoon lime juice, 1/4 teaspoon black pepper, 1/2 teaspoon salt, 4 eggs (medium or large)
Directions:
With the help of a spoon, scoop the avocado pulp out of the skin (keep the shell intact).
Next, dice the avocado and place it in a medium bowl. Add tomato, cilantro, onion, jalapeno and season it with salt, lime juice and pepper.
Cover the avocado mixture and refrigerate it until it is ready to use.
Preheat the air fryer to 350 degrees Fahrenheit.
Ensure you place the avocado shells on a foil ring. This will prevent the avocado shells from rocking during the preparation.
To make these foil rings, simply roll two strips of aluminium foil (each should be 3-inch-wide). Roll these into rope shapes. Also, form each of these into a 3-inch circle.
Now, you need to place each avocado shell on a foil ring and then place it into the air fryer basket.
Next, break one egg into each avocado shell and then air fry each of these for 5-7 minutes. Or, until it is desirably done. Whether you want the yoke to be a little runny or not depends upon you.
Lastly, remove it from the air fryer basket. Top it with avocado and salsa and there you go, your dish is ready to be served.
3. Quick Air Fryer Breakfast Pockets
Breakfast made with ingredients such as cheese, eggs and chicken or meat sausages is a delight. We guarantee you that this air fryer recipe will be your new favourite breakfast option. Moreover, kids, as well as adults, will love these breakfast pockets as they are quick to munch and tasty. Right from cheese, eggs, bell peppers, sausage, potatoes to strawberry jam and cream cheese, you can fill it up or stuff it with anything of your choice. Check out this recipe.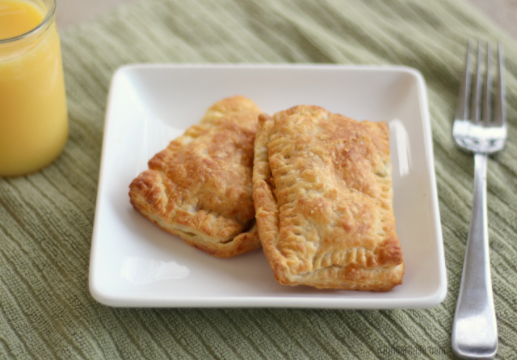 Ingredients: 5 eggs, one box of puff pastry sheets, 1/2 cup sausage crumbles (cooked), 1/2 cup cheddar cheese (shredded)
Directions:
First and foremost, you need to cook the eggs. Cook them as regular scrambled eggs. If you want, you can add meat to the egg mixture while cooking the eggs. This totally depends upon your preference.
Spread out the puff pastry sheets on a cutting board. With the help of a cookie cutter or a knife, cut out these puff pastry sheets into rectangles.
Ensure that all the rectangles are uniform so that they fit together properly.
Spoon meat, egg and cheese combos onto half of the pastry rectangles by keeping your preference in mind.
Next, place a puff pastry sheet that you have cut out into a rectangle on top of the mixture. Using a fork, press its edges together in order to seal.
If you want the pastry to be smooth and shiny then you need to spray it with spray oil. However, this is not mandatory and you can go ahead spraying only if you desire.
Place these quick air fryer breakfast pockets into the basket of the air fryer. Cook these pockets at 370 degrees for a duration of 10 minutes.
Be watchful and ensure you check every 2-3 minutes to see if its done or not. Once you feel that these quick air fryer breakfast pockets match your level of desire, these are ready to serve.
4. Air Fryer Breakfast Stuffed Peppers
These air fryer breakfast stuffed peppers are a perfect "low carb" start to the day. It comprises a tender bell pepper that is filled with eggs. This is a healthy breakfast alternative as eggs are a rich source of protein and bell peppers are a rich source of vitamins and antioxidants. Especially Vitamin C to boost your immunity during this pandemic. Plus, these air fryer doughnuts require only a few minutes to fry thus making it one of the quick rich in protein air fryer breakfast recipes.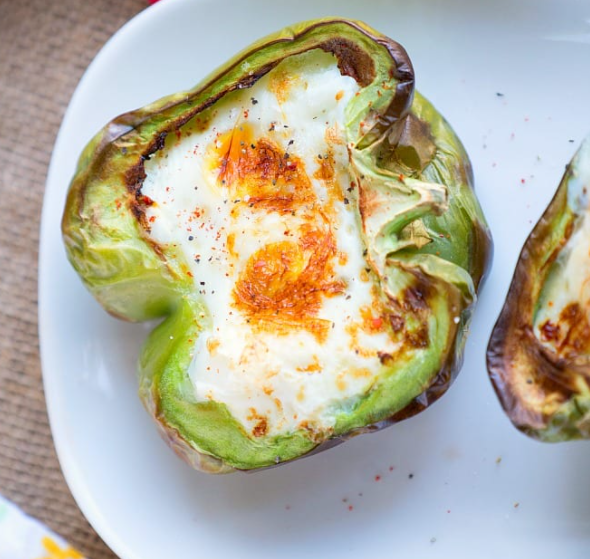 Ingredients: 4 eggs, 1 bell pepper made into half (remove the middle seeds), 1 tsp olive oil, 1 pinch sriracha flakes for a little spice (this is optional), 1 pinch salt and pepper
Directions:
Firstly, cut the bell peppers in half (lengthwise).
Next, remove the seeds as well as the middle portion of the bell peppers. This, in turn, will leave the edges intact (like bowls).
With your finger, rub a bit of olive oil only on the exposed edges (the area where these bell peppers were cut).
After you do this, crack 2 eggs into each bell pepper half. Season it with spices of your choice.
Set these bell pepper halves on a trivet directly inside your air fryer.
Close the lid on your air fryer.
Further, turn the machine on and press the air crispier button at 390 degrees. Press this button for 13 minutes. How much time to keep it for (whether 13 minutes or more), depends totally upon how you prefer eggs. In other words, how well done these eggs should be.
On the other hand, if you desire the bell pepper and the egg to be less brown on the outside. Then, add just one egg to your bell pepper and set the air fryer to 330 degrees for around 15 minutes. This will provide an over hard consistency.
5. Air Fryer Falafel
Who is screaming for falafels? We are sure, everybody is. Arabic food served without falafels is surely unexpected since it is the staple dish of the middle east. If you want something quick to prepare in your air fryer for breakfast then this is one of those recipes which is a must-try.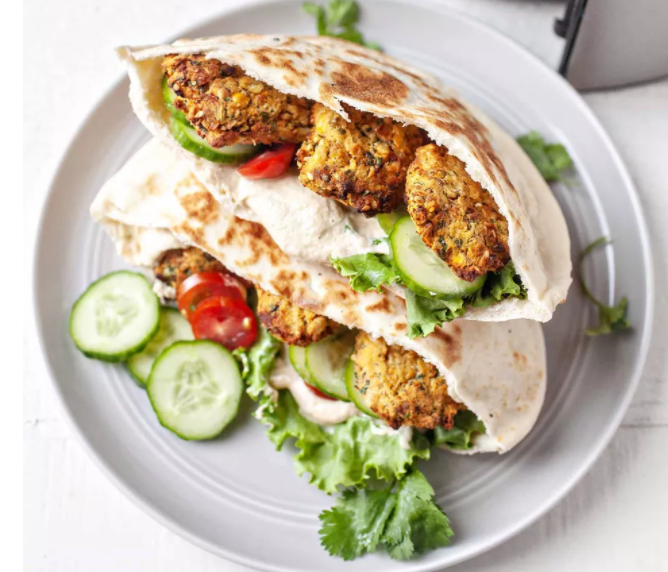 Ingredients for the Falafel: 1/4 cup fresh parsley, 2 cans chickpeas (15-ounce) – you should rinse and drain them, 1/4 cup cilantro, 1 large shallot (chopped), 2 cloves of garlic, 2 tablespoons sesame seeds, 3 tablespoons all-purpose flour, 1 teaspoon paprika, 2 teaspoons ground cumin, 1 teaspoon salt, 1/2 lemon (only juice), spray olive oil (for cooking), 1 teaspoon salt
Ingredients for the Tahini Sauce: 1/4 cup Greek yogurt, 1/2 cup tahini, 2 tablespoons olive oil, 1/2 lemon (only juice), 1/4 to 1/2 cup hot water
Items you Require for Serving: Fresh lettuce, 6 pita breads, 1/2 red onion (thinly sliced), 1 large tomato (thinly sliced), 1 cucumber (thinly sliced)
Directions:
1. Make the Tahini Sauce
Firstly, stir together tahini, yoghurt, lemon juice, and olive oil in a medium bowl. This mixture will be very thick at the start. With the help of some hot water, thin this mixture out until it is easily spreadable. Ensure you slowly add 1/4 to 1/2 cup of hot water to get this mixture to the right consistency.
2. Make the Falafel Mixture
Add chickpeas, cilantro, parsley, garlic, flour, shallot, sesame seeds, flour, cumin, lemon, paprika and salt in the bowl of the food processor. Pulse this until the mixture comes together in a rough paste. Note that it should not be completely smooth. Next, shape the falafel mixture into tablespoon-sized discs which is about 1-inch in diameter. Repeat this step until you use all the falafel mixture. By doing this, you should obtain 25 to 30 falafel discs.
3. Air Fry the Falafel
Simply spray some nonstick olive oil to the basket of your air fryer. Next, add as many falafel discs as you can into the basket. Ensure these don't touch each other when you add them. Spray these discs very lightly with olive oil. For 8 minutes, air fry the falafel at 350 degrees Fahrenheit. Flip these falafel discs and fry them for another 6 minutes on the second side i.e. the other side. Repeat this step until you have cooked all the falafel.
4. Serve these Falafels
You can serve these falafels in a warm pita. If you want, you can warm the pita first in the microwave for 15 seconds. Serve it with tahini yoghurt sauce as well as any other toppings that you desire. If the falafel is leftover, you can store it in the fridge for around 5-6 days without any hassle. You can also freeze the falafel for the purpose of storing it for several weeks. In other words, a longer duration. When you want to consume these falafels, all you need to do is reheat them in 350 degrees Fahrenheit oven for around 10-12 minutes until it is warmed through.
6. Cinnamon Sugar Air Fryer Doughnuts
Cinnamon sugar air fryer doughnuts is one of the scrumptious, quick and easy recipes and this is made from refrigerated biscuits. Simply roll them in butter, in a mouth-watering cinnamon sugar mixture thus making them breakfast ready. So, if you've got a sweet tooth and can't resist sweet and sugary foods, these air fryer doughnuts are a must for a quick breakfast, snack or treat.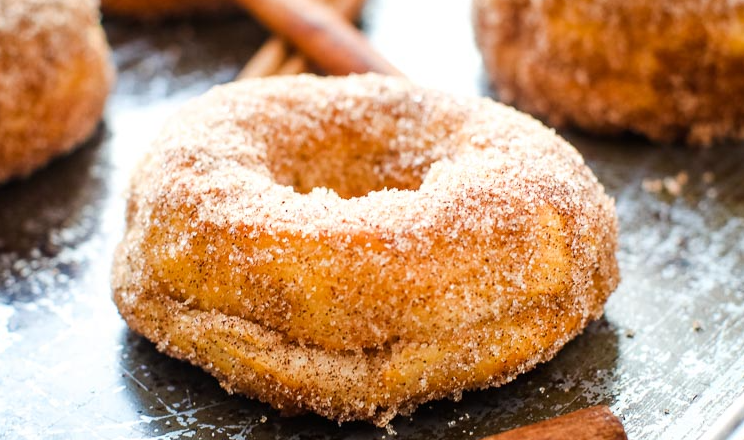 Ingredients: 1/2 c. granulated white sugar, 16 oz refrigerated flaky jumbo biscuits, 4 tbsp butter (melted), 2 tsp ground cinnamon, olive or coconut oil spray
Directions:
Firstly, combine the sugar and cinnamon in a shallow bowl and then set it aside.
Next, remove the biscuits from the can. Separate these biscuits and place them on a flat surface. Make use of a 1-inch round biscuit cutter to cut holes out of the center of each biscuit. If you don't have a biscuit cutter as required above then you use a bottle cap provided it is similar in size.
Also, lightly coat the air fryer basket with coconut oil or olive oil spray. Never use a non-stick spray as it can damage the coating on the air fryer basket.
Place 4 doughnuts in the air fryer basket (in a single layer). Ensure these doughnuts are not touching.
For 5 minutes, air fry it at 360 degrees Fahrenheit and or until it is lightly browned.
Lastly, remove the doughnuts from the air fryer, dip them in melted butter. Then, roll them in cinnamon sugar to coat. With this, your air fryer doughnuts are ready, hence serve immediately.
7. Breakfast Egg Rolls in an Air Fryer
You can customize these breakfast egg rolls with whatever add-ins you like. This is one of those healthier and quick breakfast recipes as you will be frying it in the air fryer unlike deep frying in oil. Breakfast egg rolls are filled with cheese, scrambled eggs, and other breakfast items or ingredients of your choice. Another benefit of preparing these egg rolls in an air fryer is that it will keep them a little bit lighter.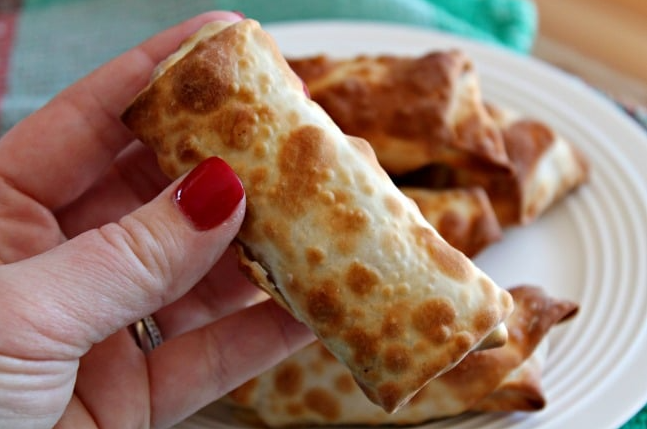 Ingredients: 2 eggs, salt, 2 T milk, pepper, 2 sausage patties or any other additional stir-ins, 1/2 C shredded cheddar cheese, 6 egg roll wrappers, water, 1 T olive oil
Directions:
Firstly, you can either cook the sausage or substitute it in a small skillet in accordance with the package.
Next, remove it from the pan and chop it into bite-sized pieces.
Whisk together eggs and milk. Add a pinch of salt as well as pepper to it and whisk it well.
Now, add a tsp of oil or a small pat of butter to the pan. Do this over low or medium heat.
Pour in the egg mixture and cook for a few minutes. Then, stir it occasionally to create scrambled eggs. Stir it in sausage and set it aside.
Further, place the egg roll wrapper on a work surface with points. Place it with points creating a diamond shape.
Then, place about 1 T of cheese on the bottom third of the wrapper and top it with the egg mixture.
Take a pastry brush, wet it with water and brush all the edges of the egg roll wrapper. This, in turn, will help it seal.
Fold the bottom point of the egg roll wrapper up and over the filling and try to get it as tight as you can.
After you do this, simply fold in the sides in such a way to create an envelope looking shape.
Wrap the top point around the entire wrapper. You need to place the seam side down and continue assembling the rest of the rolls.
For 5 minutes, preheat the air fryer to 400 degrees Fahrenheit.
Brush the egg rolls with oil. Alternatively, you can also make use of a misto to spray the oil.
Place them in the preheated basket and set the air fryer to 400 degrees Fahrenheit for 8 minutes.
Flip the egg rolls over after 5 minutes. Put these egg rolls back into the air fryer for another 3 minutes.
There you go! Your air fryer breakfast egg rolls are ready to serve. Enjoy.
8. Air Fryer French Toast Sticks
All you french toast lovers. With the help of your air fryer, you can take the french toast to the next level since this is one of the recipes that makes it more quick, scrumptious and crispier. Try your hands on this air fryer french toast sticks recipe today as it is so easy and quick to prepare.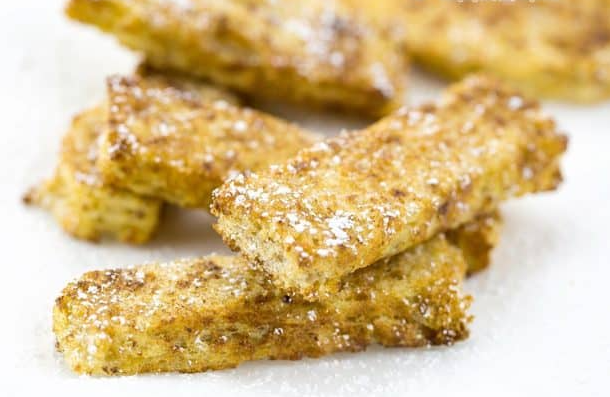 Ingredients: 2 tbsp butter or margarine (softened), 4 pieces bread (thickness of your preference), 1 pinch salt, 2 eggs (gently beat them), 1 pinch nutmeg, 1 pinch cinnamon, 1 tsp icing sugar/ maple syrup (for garnishing and serving)
Directions:
First and foremost, preheat the air fryer to 180 degrees Celsius.
Take a bowl, gently beat two eggs together, sprinkle a little salt. Also, add a few heavy shakes of cinnamon and a small pinch of nutmeg as well as ground cloves.
Next, come the bread slices. Apply butter on both sides of the bread slices after which you need to cut them into strips.
Coat each of these bread strips in the egg mixture and arrange it in the air fryer. Note that you need to prepare this in 2 batches.
Pause the air fryer after 2 minutes of cooking. Then, take out the pan and ensure you place the pan on a heat-safe surface. Also, you need to spray the bread with cooking spray.
When you're done coating the bread strips (generously), flip and spray the second side too.
Return the pan to the air fryer and cook for another 4 minutes. Ensure you check after a couple of minutes to make sure that the bread strips are not getting burnt and are cooking evenly.
When the bread turns golden brown and the egg is cooked, all you need to do is remove it from the air fryer and serve it immediately.
To garnish and serve, top with whip cream, sprinkle with icing sugar, drizzle with maple syrup or serve it with a small bowl of syrup for dipping.
Happy Tummy!
How did you find these 8 quick air fryer breakfast recipes? And how many recipes are you planning to try out? Hope you love these recipes as much as we do. Give it a try, you won't regret it. We have selected all the quick and healthy options for you to boost your day and energize you. If you want to upgrade your air fryer, but don't know which one to opt for, then head on to the best air fryer options in UAE. Also, you've got to check out the first look of the new release, the Black+Decker Digital XL air fryer. As well as the Nutricook Air Fryer 2 (AF2), an all-new release. In order to avoid confusion about the cooking time and temperature while trying out new recipes, take a look at this air fryer cooking chart.