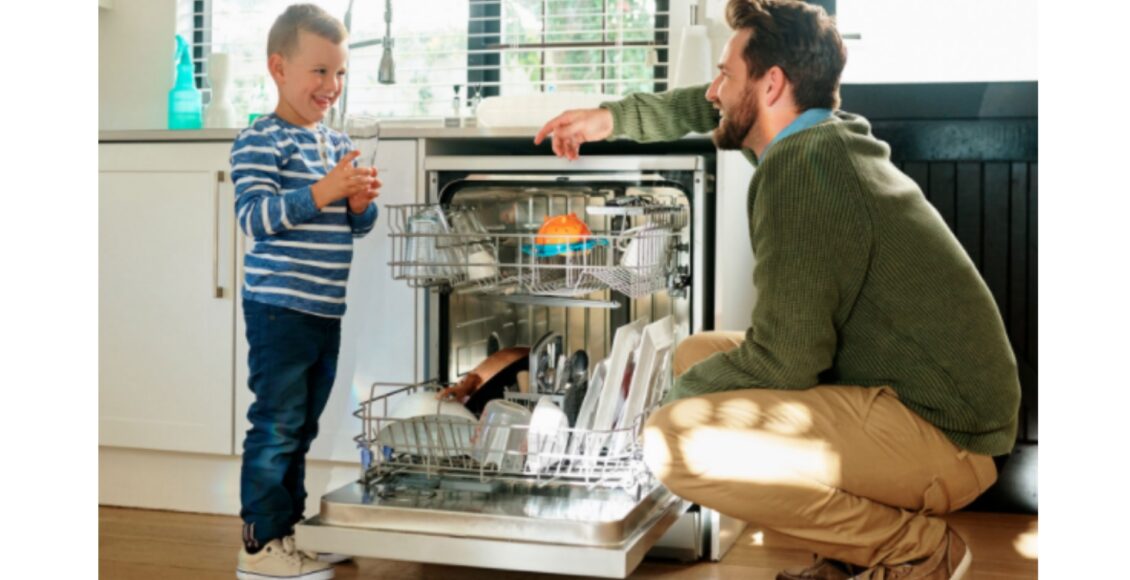 جدول المحتويات
Besides washing cutlery and dishes your dishwasher is capable of cleaning a lot more things. Here are 45 things that are 100% dishwasher safe and you will be well informed about all the tools, accessories and equipment that you never thought would be possible to clean in a dishwasher. That too, these things won't cause damage to the dishwasher and neither the things will get damaged after going through a wash in there. Hence, you can say goodbye to handwashing these items and rely on your dishwasher to wash/clean them. All you need is a little detergent and your dishwasher will do the rest by running a wash cycle. We bet, you will breathe a sigh of relief after going through all these tools, accessories and equipment that we have specified.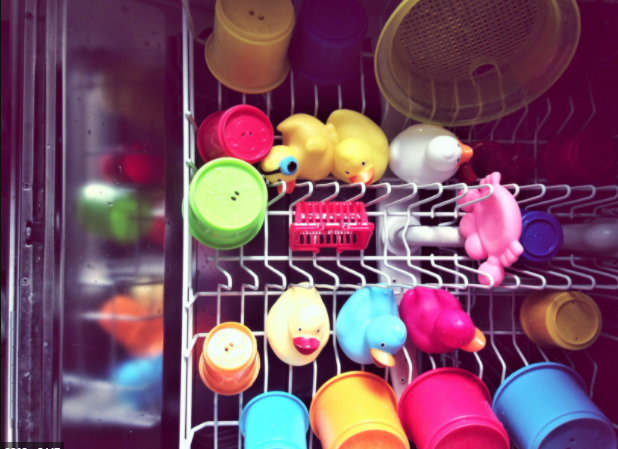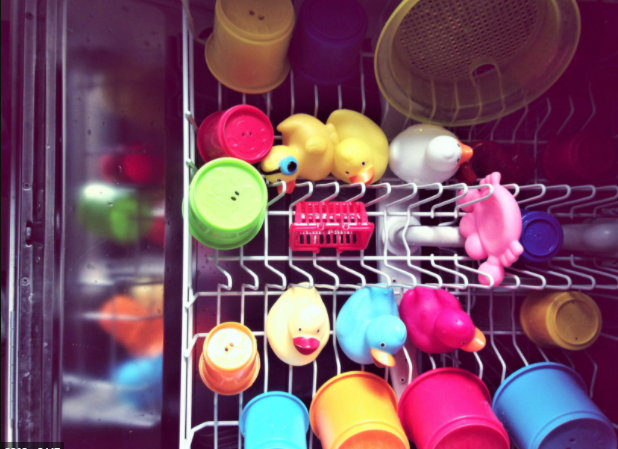 These things have been tried and tested in the dishwasher which is why we have stated them to be 100% dishwasher safe. Also, we have included a list that will help you quickly navigate to the things that are of keen interest to you. This quick list makes it easier and faster to check out all the things under each category thus helping you save time. For example, if you click on home decor, you will know which home decor items are safe and so on with the other categories. You can thank us later, hehe.
100% Dishwasher Safe Tools & Accessories – Quick List
Related: Best Dishwasher in UAE [2021]
1) Kitchen Tools
1. Kitchen Sponges and Brushes
When it comes to washing and cleaning of your kitchen sponges and brushes, have no fear since these things are 100% dishwasher safe. Hence, whenever you wash a big load of dishes, place your scrubbing brushes in the utensil holder and kitchen sponges in the top rack.
2. Microwave Turntable
Yes, you read that right. Remember this the next time you clean your microwave. Without a second thought, you can place the turntable plate of your microwave in the dishwasher for hassle-free cleaning.
3. Exhaust Fan Filters and Covers
Well, most of the exhaust fans meant for your kitchen have a washable filter nowadays. For those of you who are not aware, these filters help in catching the grease in the air. And when it is time to clean them, your dishwasher is capable of doing this as it can thoroughly degrease these filters with ease. Besides the filter, your dishwasher can also wash the removable covers, if any.
4. Silicone Oven Trivets and Mitts
After a certain usage, the silicone oven trivets and mitts get filled/deposited with bacteria and food residue which is quite natural due to their exposure to sticky foods and grease. Silicone oven trivets and mitts are 100% dishwasher safe, flexible, durable, non-slip, high-quality, and heat resistant. Hence, you can place them on the top rack of your dishwasher to remove the food residue and bacteria. Everything will wash off and be clean and then you can let them dry.
5. Cabinet and Drawer Hardware
Another set of things that are 100% dishwasher safe are metal and ceramic knobs and handles. In case these are dirty and sticky, simply remove them from the cabinets and place them in a mesh bag on the top rack of your dishwasher. These will come out clean. Avoid putting appliance controls and hand-painted knobs in the dishwasher since the paint may come off.
2) Outdoor Accessories and Outside Tools
1. BBQ Grill Grates and Racks
Instead of hand washing your BBQ grill grates and racks, simply pop them in the dishwasher. This will not only save you time but will also be hassle-free.
2. Garden Tools
Aall of your garden tools can get through a trip in your dishwasher. Some of these include hand trowels, gloves, loppers, pruning shears, garden forks, spades and more. The dishwasher will aid in removing all the pesticides, fungus, and sticky residue making all your garden tools spotless clean and hygienic than ever before. Ensure you skip garden tools with wooden handles.
3. Rubber Boots
Yes, of course, even your unlined rubber boots can take a trip through your dishwasher. But, before you load these shoes in your dishwasher, ensure you rinse off all the excessive dirt outside and then place them on the bottom rack of your dishwasher.
4. Flower Pots
There is a reason why washing flower pots is essential. You will definitely want to know why. As a matter of fact, the majority of plant diseases (both bacterial and fungal) are spread through dirty flower pots. Some of the common plant diseases include black spot, powdery mildew, bacterial canker or blight, rust, shot hole, black knot, chlorosis, damping-off of the seedlings, leaf spot, birds-eye spot and more.
5. Flip Flops and Shower Shoes
You can load into your dishwasher all those beautiful flip flops and shower shoes that you use. Simply place them on the top rack. In case you have shoes with fabric cording such as Tevas then make sure that the detergent you use in your dishwasher doesn't contain bleach. Also, leave out all those shoes you have that are trimmed with leather.
3) Home Decor
1. Desk Accessories
Put all your paper organizers, pencil cups, and small trash cans in your dishwasher without any fear of damage. A regular cycle in your dishwasher is what they need for a thorough cleaning.
2. Vases
What greater joy than safely loading all your decorative pottery pieces and vases into your dishwasher? They come out nice and clean. Avoid putting anything that is trimmed with silver or gold gilt since there is a higher risk of colour loss or chipping. Also, don't put any delicate figurines in your dishwasher for the same reason. You can utilize the top rack for everything except for the heaviest pieces.
3. Outlet Covers and Switch Plates
Outlet covers and switch plates are some of those things that are always exposed, used and touched more. Plus, they have a lot of dirty, stained or soiled fingerprints. You can load the plastic ones directly on the top rack of your dishwasher. Note that you are not supposed to add any painted brass covers or metal. Keep aside all the screws in a safe place so that you won't have to search for them later.
4. Oil Lamps/Candles/Light Fixtures
Your dishwasher has the capability to beautifully and clearly shine up the shades and the glass globes from oil lamps, candles and light fixtures.
5. HVAC Vent Grates
Your dishwasher can easily wash off and remove all the sticky grime and dust from the aluminium and steel HVAC vent grates. However, you can't load painted vent grates into the dishwasher so you will have to wash those. All the unpainted ones are 100% dishwasher safe.
4) Grooming Tools
1. Facial Scrub Brushes
In the utensil holder of your dishwasher, simply place the brush attachment of your electronic facial tool. Do this in order to thoroughly clean it and kill all the bacteria.
2. Hairbrushes and Combs
Plastic combs and hairbrushes are some of the other things for which you can rely on your dishwasher to clean them efficiently. Simply place them in the utensil basket. Avoid hairbrushes and combs that include natural bristles and wooden handles.
3. Manicure and Pedicure Tools and Accessories
Once you are done with your manicure or pedicure session, it is mandatory and safer to sterilize all the equipment, tools and accessories that you had used. This will avoid any infections. Your dishwasher will take care of this, hence you can directly place the manicure and pedicure tools, equipment and accessories in your dishwasher. The heat of the dishwasher along with the detergent will kill all the bacteria and fungus thus leaving your tools clean, hygienic and ready to use.
5) Bathroom Accessories
Unfortunately, some or most of the bacteria, mold and soil lingers in the bathroom after you and your family members use it and not just once but after every use. In order to ensure that the types of bacteria are controlled, you need to pay extra attention to the following items and accessories.
1. Sponges, Shower Poofs, and Brushes
It is mandatory to eliminate all the bacteria, mold spores and body soil from your bathroom accessories. Hence, you need to put your sponges, shower poofs and brushes in your dishwasher. You don't need to handwash them since your dishwasher is enough to tackle these accessories. These things are 100% dishwasher safe and a weekly cleaning (1-2 times a week) in the dishwasher is necessary.
2. Toothbrush Holders and Soap Dishes
Again, we don't need to say much about toothbrush holders and soap dishes since you know how much or how many times you use your soap and toothbrush in a day. This is similar to allowing dust to deposit on your laptop that you use everyday. You are smart enough to wipe down your laptop with a soft cloth to remove the dust and dirt. Not only your laptop but the desk as well because the surrounding area matters too and needs to be kept clean.
Similarly, the soap that you use for your body and the toothbrush you use to brush your teeth need to be stored in a clean and hygienic environment. The toothbrush holders, soap cases and dishes may look clean and sparkling, but you don't realize the number of bacteria and mold that are present on them. Hence, place your toothbrush holders and soap dishes in your dishwasher for a thorough cleaning weekly (once or twice a week).
Also, consider keeping disposable disinfecting wipes handy for an easy regular cleaning. You can utilize these to wipe down your bathroom sinks daily. Don't forget about the light switches since it is used most of the time.
3. Drawer Organizers
Now suppose you come across any of your cosmetics or makeup products and you happen to check the expiration date. And, you notice that one or more of these products have expired, then you need to empty the drawer organizer and run them through the dishwasher to eliminate all the bacteria and makeup. As a matter of fact, old and expired makeup products and cosmetics including lipsticks, eye shadows, blush, eye liners, kajal, mascara and more become the breeding ground not only for bacteria but also for toxins. Not only do these bacteria and toxins spoil your makeup but affect your skin too.
4. Rubber Tub Mats
Some or most of you must be utilizing a rubber mat in the bath tub to save from falling or slipping. If you are one of those users, then it is a good and safe measure. However, not letting the rubber tub mat dry after every bath session is bad as this will encourage the growth of mold. Note that after every use you need to hang the rubber tub mat to let it dry completely. Don't allow the dampness to remain. Also, run it through your dishwasher for a complete wash cycle once or twice a week.
5. Exhaust Fan Covers
Lastly, don't forget to wash the exhaust fan covers every 4-6 months. This will help remove oily residues and dust from the covers. You won't have to hand wash them. Simply place them in your dishwasher to save you time and effort. You will be surprised at how they come out nice and clean looking as good as new.
6) Car Accessories and Tools
1. House/Car Keys
So, if you drive regularly or often, daily or just alternate days, your car keys are sure to get grimy/stained. The same implies to your house key as you carry it everyday with you wherever you go and use it to open the door of your house when you're home. Believe it or not, but your car key and house key are filled with your fingerprints, dirt from surroundings, exposure to various sources and a lot more. Simply place them in the dishwasher and run them through a cycle. But, before placing them in the dishwasher, remove openers, electronic keys and sharp objects (if any) from the key ring. There you go.
2. Rubber Floor Mats
The rubber floor mat/s that you have placed in your car contains more dirt, dust, bacteria, and fungi than you think. Every time you sit in the car, you come from different places. Even a hospital or clinic may be. Or, a beach, stadium or playground or simply a store where thousands of people visit daily. You don't want to start getting all those allergies, infections and so on. Neither do you want your family members, friends and loved ones who sit in your car to go through the same, isn't it? Hence, the best thing you can do is place these rubber floor mats on the bottom or top racks of the dishwasher. But, before you place them in the dishwasher, shake off all the excess oil.
3. Tools Used in your Car
When your car breaks down or when you experience some other problem, you have to depend on the tools which you have in your car to get it fixed at least till you don't get a mechanic or if the service centre is closed. But, have you ever thought how grimy, dirty and greasy these tools get? In order to keep these tools clean and help them in functioning the appropriate way, running them through the dishwasher is of utmost importance. This is because the detergent in your dishwasher performs an excellent job of cutting through the grime and freeing them of grease and all the dirt. Making them clean as ever.
However, you can't place tools that operate on battery or electricity in your dishwasher. Also, you can't put tools that have wooden handles in your dishwasher. The rest of the tools are 100% dishwasher safe so you can place them in the utensil holder of your dishwasher.
4. Cup Holders
If you have removable cup holders in your car then place them on the top rack of your dishwasher at least once or twice a week for a thorough cleaning. This will help to get rid of sticky spills with ease.
5. Hubcaps
Since a hubcap covers the hub of your car's wheel, you know how much dirt, dust, soil and grime will accumulate on it. Don't fret, your dishwasher is your best friend when it comes to cleaning hubcaps. You will be surprised at seeing the hubcaps sparkle after it goes through a hot water cycle in your dishwasher.
7) Kids Toys
1. Plastic Toys and Building Blocks
You might have noticed your kids putting their toys in their mouth while playing. Or, they may refuse to wash their hands before eating anything. We understand that you might be worried about them falling sick or facing any infections or skin issues. Well, here's something you can do to help cater to your kids health. First and foremost, don't stop your kids from playing with these toys and building blocks. This is because your dishwasher has the ability to clean all these toys, right from the small pieces to the large pieces.
You can easily place all these plastic toys, building blocks, small figures and game pieces in your dishwasher. Ensure you put all these toys in a box or a mesh bag and then place them on the top rack of the dishwasher. The water needs to be warm. Experience hassle-free cleaning and allow them to air dry before giving them back to your kids. If your kids have been ill for a while or fall sick quite often, then consider adding a little disinfectant in order to get rid of all the germs.
2. Bath Toys
Likewise, your dishwasher is capable of washing the bath toys as well just like the plastic toys and building blocks. Clean all the bath toys at least once or twice a month. Place these bath toys safely on the top rack of your dishwasher for an easy cleaning.
3. Teething Rings and Pacifiers
Make use of a covered section of the utensil holder or simply use a mesh box to clean the teething rings and pacifiers thoroughly.
8) Sports Equipment
If you or anyone you know is passionate about sports or is a professional sportsperson then here are some of the things comprising tools, accessories and equipment that are 100% dishwasher safe. You won't have to handwash these items if you have a dishwasher.
1. Mouth Guards
You don't have to handwash your mouth guards because your dishwasher is here to your rescue. Simply place them in a mesh bag or utensil holder to place them in a dishwasher.
2. Yard Toys
Hard plastic yard toys such as shuttlecocks, sand buckets and dump trucks will be free from all sorts of bacteria once you dishwash them. Not only will they sparkle and be clean, but they will also look as good as new.
3. Shin Guards and Protective Pads
In order to eliminate all the odour and bacteria, place your shin guards and protective pads in your dishwasher and run a cycle.
4. Baseball Caps
If you wear a baseball cap while playing a sport or when you are commuting to work, it will definitely need some weekly or monthly upkeep. Instead of handwashing your baseball caps, you can load them in the dishwasher. Give a try! Firstly, purchase a form to help in holding the cap in shape. Ensure that cardboard is not used to stiffen the brim. Also, the detergent that you use in your dishwasher to clean the baseballs caps does not contain bleach. NEVER EVER place any vintage cap in the dishwasher.
5. Golf Balls
Similarly, you can load the golf balls in your dishwasher for an easy cleaning ride. A clean ball is always better in any sport. Simply place these golf balls in a box or mesh bag for a hassle-free cleaning experience.
9) Pet Accessories
Keeping a check on the health of your pets is as important as following and practising hygiene. We know how much you love your pets, no matter how many dogs you have or if you are a cat mom/dad. Here's how you can make use of your dishwasher to cater to all the items they use on a daily basis and provide cleanliness.
1. Collars & Leashes
Load your dishwasher with synthetic fiber and woven collars and leashes. Place them on the top rack of your dishwasher for an efficient and easy cleaning. So you're pets will be delighted seeing their collars and leashes clean and hygienic. NEVER place leather collars and leashes in your dishwasher.
2. Pet Toys
Rubber toys and hard plastic toys will look as good as new and clean as ever after loading them in the dishwasher. Moreover, they will be eliminated of all the bacteria.
3. Food Bowls
Wash all the plastic, ceramic and metal bowls regularly in the dishwasher. This is a safe and hygienic practice to keep infections at bay.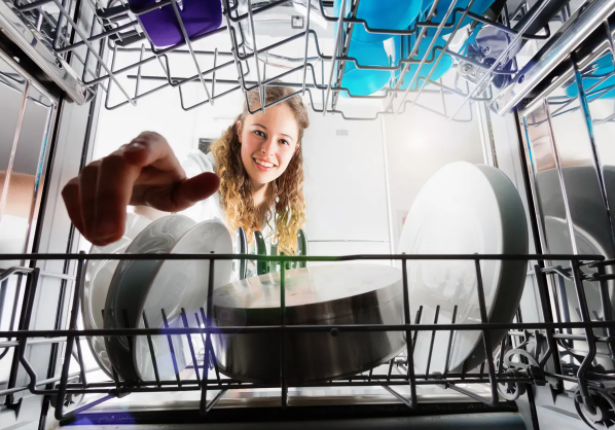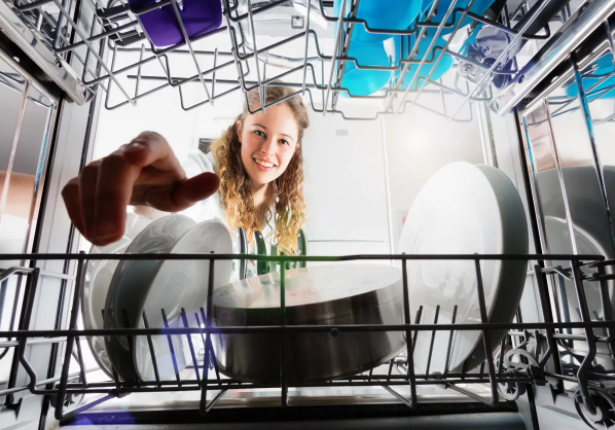 Breathe a Sigh of Relief!
Phewwwww! What a sigh of relief right after knowing that these 45 things are 100% dishwasher safe. You can rely on your dishwasher the next time these tools, accessories and equipment need a wash. Save your hands from the hassle and effort of cleaning and handwashing these items. Say a big thank you to your dishwasher. Note that you need to restrict yourself to dishwashing only these things that are mentioned in this article. Lastly, if you are intending to upgrade your dishwasher, then here we have some of the best dishwasher options in UAE for you.