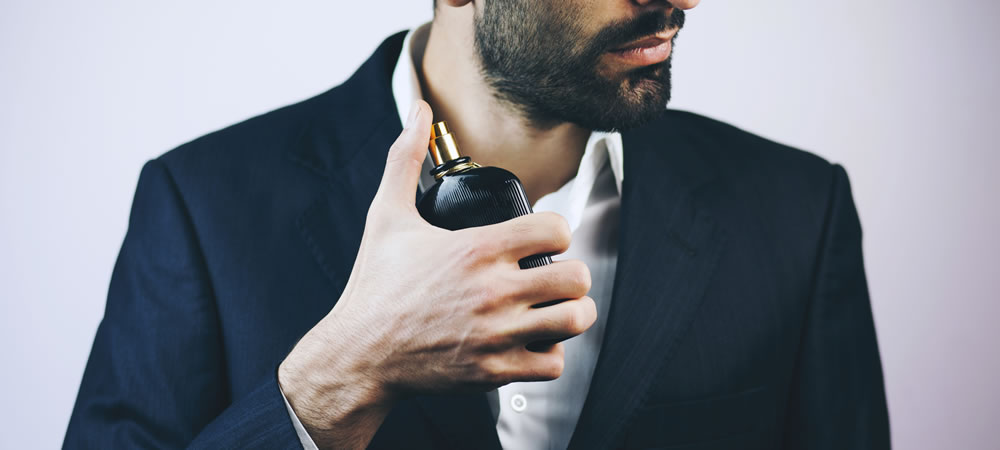 جدول المحتويات
Right from fresh and clean to warm and woody, the best perfumes for men in UAE possess the power to express your personality and attract attention. All you gentlemen residing in UAE, your wait is finally over as you can discover and shop from a wide range of recommended or best perfumes for men that I have penned down here. Being well dressed and wearing stylish and branded clothes all the time is not sufficient to make that lasting impression, especially during these hot summer days in UAE where you tend to perspire more and quickly.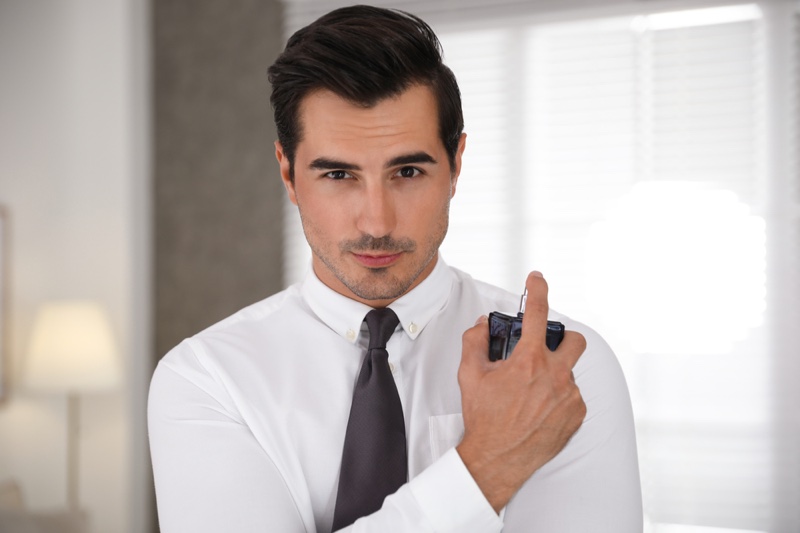 Generally, men shower, wear clean and well-ironed clothes, maintain a well-groomed beard and a chiselled body. But, they forget the most important thing i.e splashing on the right perfume/cologne that will make them the complete man. Be it any occasion, business meets, events, family get-togethers, dates with your life partner, or a movie out with friends. That being said, the best perfumes for men in UAE will help you go a long way. Not only in your personal life but also in your professional life.
The best perfumes for men available in UAE enhance your mood, boost your confidence and make you attractive. Thus, you will notice that more and more people want to be around you once you start using one. Without further ado, let's dive into the best perfumes for men UAE. But first, take a deep breath. Done? Cool! Now, scroll down through this in-depth guide to see the best perfumes in store for you.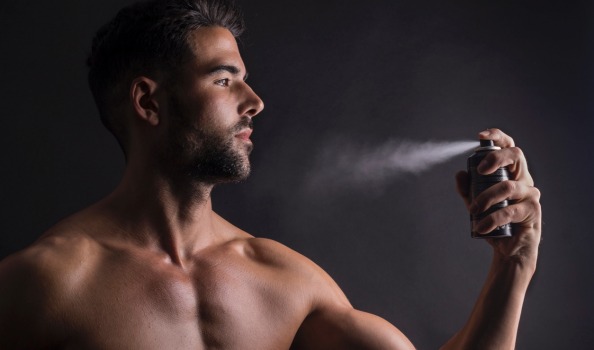 Curated List of Right Fragrances
For Office
Key Features: Should last a long work day, Subtle notes for office environment
For Evening Out
Key Features: Bold fragrance notes to impress
For Date Night
Key Features: Musk releases pheromones for the seductive touch
Jump to Detailed Reviews
Difference between Aftershave, Eau de Toilette, Eau de Parfum and Cologne?
Often, some people tend to get confused with or interchangeably use aftershave, eau de toilette, and cologne. Hence, I shall state the differences between these 3 terms before proceeding to the best perfumes for men UAE. This section will give you a clear understanding of each of these terms. Basically, it has got everything to do with the strength.
Aftershave
Firstly, an aftershave contains less perfume oil i.e around 1% – 3% only making it the weakest. Therefore, the scent of aftershaves isn't as long-lasting as Eau de Toilettes. In addition, many aftershaves contain cooling and soothing ingredients such as Aloe Vera. Aloe Vera has various health benefits and mainly helps soothe the skin after a shave. Aftershaves also contain alcohol that helps close the skin pores opened during your shave as hot water opens the pores.
Coming to the most important point about aftershaves. They last for only about 2-3 hours. Thus, if you want the fragrance to last whole morning, afternoon or evening, then it isn't that effective.
Eau de Toilette (EDT)
Now that you know what exactly an aftershave is, let's move to Eau de Toilette (EDT). Eau de Toilette contains typically around 4% to 8% of perfume oil which is more as compared to an aftershave. However, if you have sensitive skin then avoid using an EDT on the face after you shave. This is because EDT's contain too much oil, so your face will probably turn all red and blotchy. This holds true only if your skin is sensitive, else no issues. Also, keep in mind not to use too much of it on the face as it will get all oily.
Ensure you apply the EDT on the pulse points i.e chest, neck or wrist. The veins are near the skin's surface in these areas and you can feel a pulse. Thus, it lasts longer compared to aftershave due to the high perfume content. Generally, an EDT lasts for around 6 to 8 hours after application. Hence, it's an ideal option if you want the fragrance to last whole morning, afternoon or evening. Since an EDT contains more perfume than the aftershave, you'll find them more expensive.
As a matter of fact, a common misconception is that an EDT is weaker than an aftershave. This is because of the "Eau" part in the name that makes people think it's watered down aftershave. But the fact is that aftershave is weaker than an EDT. If you're still confused about whether to purchase an EDT or aftershave, then I would say it totally depends on your requirements. If you desire/prefer a lasting fragrance then you should opt for an EDT. You may also put on some Aftershave after shaving and then spray on a little EDT. So, it's all up to you what you prefer after going through the best perfumes for men in UAE.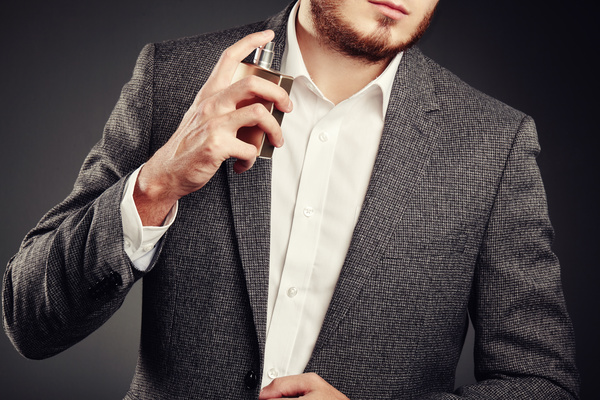 Eau de Parfum (EDP) and Parfum (Perfume)
Well, the other 2 main fragrance strength categories are Eau de Parfum (EDP) and Parfum (Perfume). Eau de Parfum (EDP) is the next one up from an Eau de Toilette (EDT). They prove useful for men who don't seem to find their fragrance to last or would just like a stronger strength. For example, if they want something stronger that lasts for a day or two since an EDT lasts for 6 to 8 hours. Since an EDP contains 8% to 15% of the perfume oil, it can pretty much last all day.
On the other hand, Parfum (Perfume) is quite rare in men's fragrance. Further, it contains 15% to 30% Perfume Oil and the rest is alcohol. You'll only require a very little amount at the pulse points. Moreover, it lasts for days and is overpriced.
Cologne
Cologne also referred to as Eau de Cologne (EDC) contains 2% to 5% of oil and is a happy medium between aftershave and EDT. Therefore, an EDC is a lighter and not such a longer-lasting fragrance.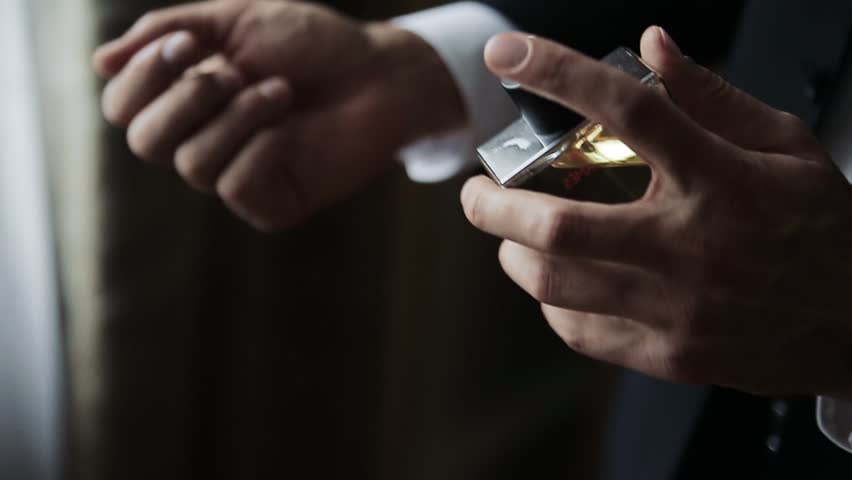 Choosing the Best Fragrances for Men
Aren't sure of which fragrance you should opt for or what exactly you like? In other words, are you unable to put your preferences into words? Well, I have put forth this section to help you choose the best fragrance for yourself as per your preference. Ensure you read this before proceeding to the best perfumes for men UAE. Fragrance families are a good start point. Scents fall into/categorized into fresh, floral, fruity, oriental, woody, citrus, or spicy. Most of the men rely on woody notes to portray a more masculine fragrance. On the other hand, some prefer a bit more sweet or ones with fruity tinge.
Keep in mind that even the most high-end fragrances can make you suffer due to poor application if not used correctly. An example of this would be wearing excess cologne. Usually, 1 spritz on dry skin will do for a polite sillage. This indicates how much the fragrance stays in the air. In order to help project the scent, it is best applied to the warmest parts of the body. So, you can pick one of these spots (neck, chest, lower jaw, forearm, wrist, or inner elbow) for application.
If you apply it to your wrists, then ensure that you don't rub them together. This is because it can break the molecular bonds in the perfume and kill the note. I'm sure nobody wants this to happen. With all this information, you're now well informed and set for the most important part of this article. Begin scrolling for the best perfumes for men UAE.
1) Tom Ford Noir
Type: Eau de Parfum
Tom Ford Noir is one of the most recommended and best perfumes for men in UAE and belongs to the spicy scent family.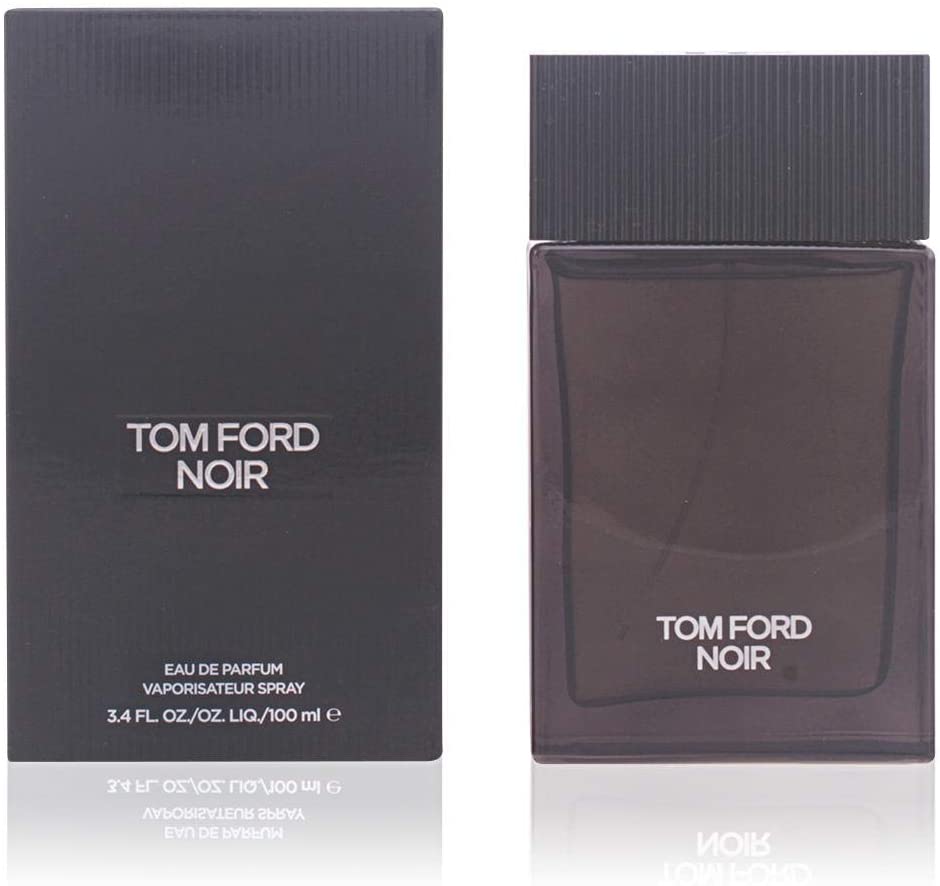 Oriental Fragrance: Tom Ford Noir contains an oriental sensual fragrance that is long-lasting and indeed teems with masculine sensuality. It is oriental yet distinctive.
Tom Ford Creations: In addition, its fragrance composes the finest ingredients and iconic accords. Moreover, this is the case with all Tom Ford Creations.
Fragrance Structure: The fragrance structure evokes the perfect and refined outer appearance of a stylish urban gentleman. On the other hand, it's that private side only a few know. This contrast is what makes him fascinating.
Top Notes: The top notes are of Italian bergamot, verbena, caraway, pink pepper and violet flower.
Base Notes: The base notes are of amber, vetiver, opoponax, civet, warm vanilla, nutmeg, and Indonesian patchouli.
Fragrance Family: It belongs to an Aromatic Spicy fragrance family.
Price: Tom Ford Noir Eau de Parfum is available approximately for AED 310.
2) Mont Blanc Emblem
Type: Eau de Toilette
In the year 2014, this EDT was launched by the design house of Mont Blanc. It is an aromatic spicy fragrance with a blend of clary sage, grapefruit, violet leaf, cardamom, woody notes and tonka bean.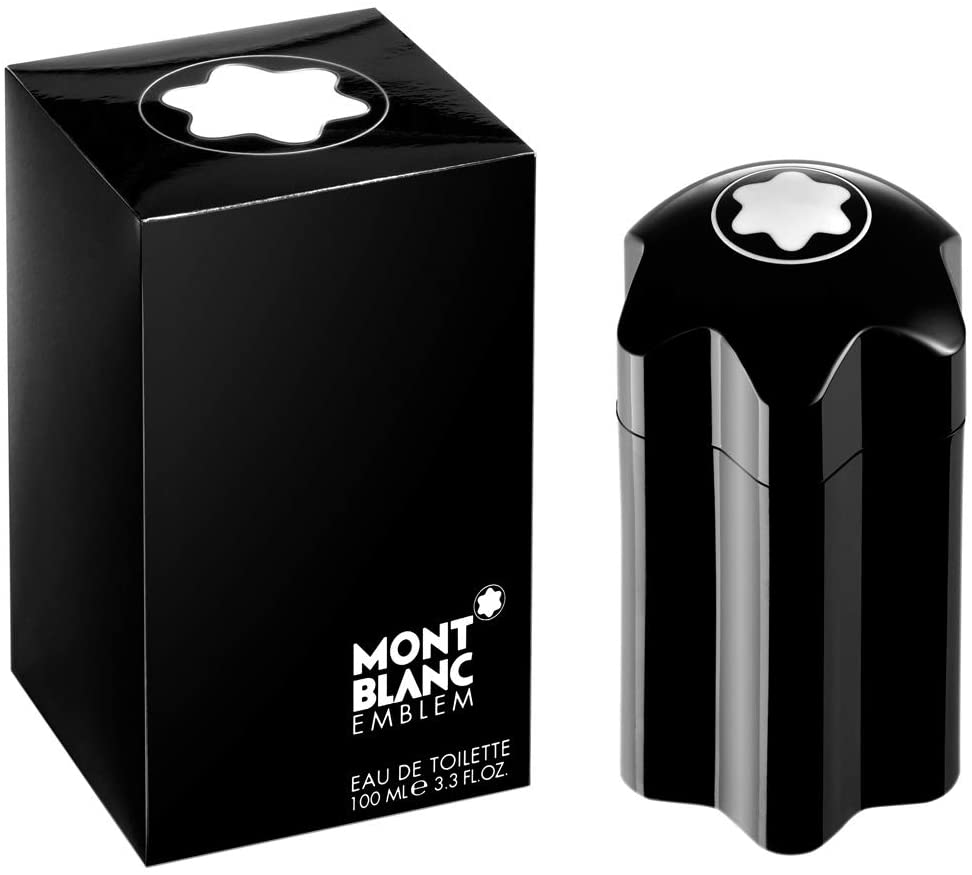 Top Notes: Mont Blanc Emblem exudes an intense and deep aroma. This EDT opens with a dash of clary sage and cardamom. Moreover, these are blended with the tangy aroma of grapefruit thus providing a fascinating contrast.
Middle Notes: From the top notes, this perfume leads you to the middle notes (the heart of this fragrance. This blends the intoxicating and sweet smell of fresh, frozen and green violet leaves as well as sweet cinnamon. Hence, every time you use this perfume, be it for a formal or casual occasion, it leaves a lasting impression on your friends, colleagues and relatives.
Base Notes: This EDT has a base of intense woods as well as tonka bean that will please your senses since they exude a soft fragrance. Additionally, in an instant, it will uplift your senses.
Long-Lasting: It lasts for almost 8 hours, so you don't have to spritz again.
Price: Mont Blanc Emblem Eau de Toilette is available for a price of around AED 150.
3) Roberto Cavalli Uomo
Type: Eau de Toilette
In the year 2016, Uomo was introduced by Roberto Cavalli and it is recommended for a man possessing a strong personality since the fragrance is a combination of confident and seductive with floral and aromatic accords.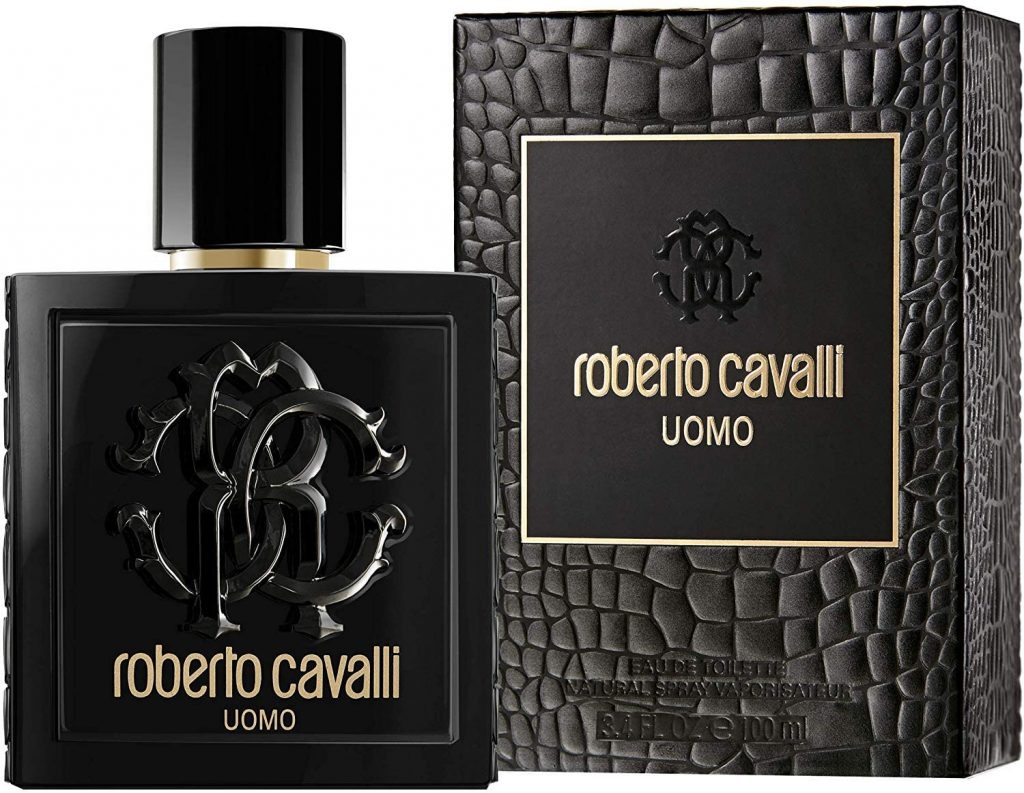 Radiates a Form of Charisma: Roberto Cavalli Uomo is confident, bold and strong without any arrogance. It is also naturally seductive. Additionally, it radiates a unique form of charisma which in turn creates a long-lasting impression in the minds and the hearts of those who were around you.
Sophisticated yet Casual: This EDT is made in such a way that it provides style as well as elegance. That too, it does this in a natural or intuitive way, which is why it blends sophistication and casualness.
Bottle Design: The bottle/flask is made of dark and heavy glass carved/embellished with the fashion house's famous monogram. Additionally, the square shape portrays confidence and masculinity.
Striking Manifesto: This bottle represents a striking manifesto of style as well as intent. With a rock and roll edge, it also involves a combination of Cavalli's sense of theatricality and glamour.
Price: You can get yourself the Roberto Cavalli Uomo for a price of around AED 100.
4) Penhaligon's Juniper Sling
Type: Eau de Toilette
Juniper Sling by Penhaligon's pays tribute to the forbidden delights and indulgence of London in the roaring 1920s.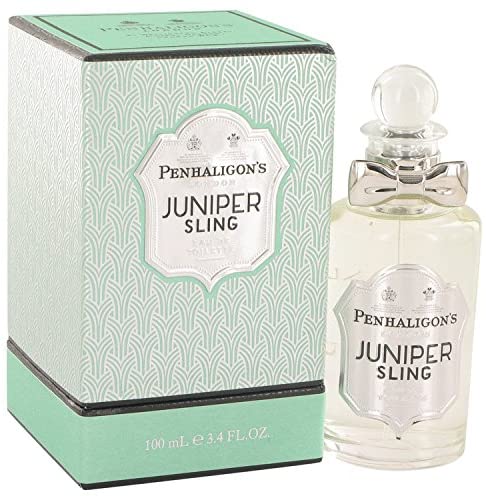 Fragrance: The most iconic and atmospheric spirits – dry gin inspires this fragrance. And master perfumer Mr. Olivier Cresp created this. Moreover, it's so original that you'll always get compliments for this. Thus, making it one of the best perfumes for men UAE.
Contents: This perfume is made with Gin berry Juniper and the freshness is mixed with measures of Angelica and Brandy. Moreover, it develops into a heart of Cardamom, Black Pepper, Leather and Morris by exuding the spicy yet sweet notes.
Base: Penhaligon's Juniper Sling has a warming base of Black Cherry, Brown Sugar, and Amber. Additionally, this lively scent stays with you on all your active adventures.
Reasons to Buy: It has a complex scent, is great for gin fans and is fun. Moreover, it features a crisp fragrance for men who walk the line between naughty and nice.
Best For: It's best for 20s glamour and works all year round. However, it's the best choice for Christmas parties and weddings.
Speciality: It's the perfect choice from a busy day at the office to a quiet night on the town. Or an evening behind closed doors.
Price: Penhaligon's Juniper Sling Eau de Toilette is available approximately for AED 500.
5) Jo Malone London Wood Sage and Sea Salt
Type: Cologne
By using this Jo Malone London Wood Sage and Sea Salt Cologne, escape every day along the windswept shore. It's great for use during the summer.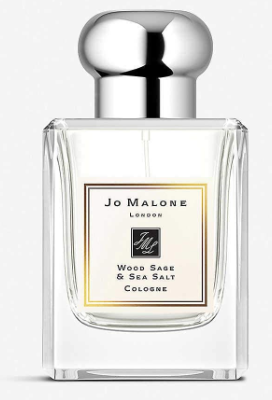 Speciality: It gives you the feeling of waves breaking white. And the air that's fresh with sea salt and spray.
Mineral Scent: Along with the mineral scent of the rugged cliffs, it mingles with the woody earthiness of sage. Moreover, it's lively, spirited and totally joyful making it the best perfumes for men in UAE this summer.
Tasting Notes: The textural quality of the Ambrette seeds wraps the fragrance with an aura of sophistication.

The sea salt's crunchy nature brings a sense of freshness as well as texture.
Being woody with earthy, the aromatic tones of sage bring a natural depth.

Freedom and Natural Spirit: This fragrance is different as sea air is mixed with the salty and mineral texture of sand and stones. Moreover, it has a natural and fresh sophistication, like the scent of driftwood.
6) Dior Sauvage – Long Lasting Perfume
Type: Eau de Toilette
This Sauvage Cologne is by Christian Dior and is the 2015 reincarnation of Sauvage. Moreover, it's the fresh and spicy, spiritual successor to the Company's fragrance that originally launched in 1966. The fragrance drew inspiration from vast landscapes and wilderness and its name is French for wild.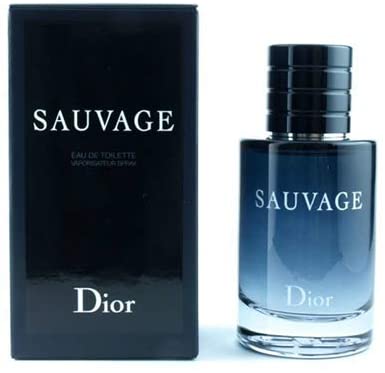 Radically Fresh Composition: Here is a radically fresh composition from Christian Dior. Moreover, it has a powerful name that speaks for itself.

Additionally, it's raw and noble all at once which is exactly the way Francois Demachy, Dior Perfume Creator, wanted it to be.

Natural Ingredients: The natural ingredients are selected which special care and prevail in excessive doses.
Radiance: Above all, the radiant top notes burst with the juicy freshness of Reggio di Calabria Bergamot.
Powerful Woody Trail: Ambroxan is derived from precious ambergris, and unleashes a powerful woody trail.
Long Lasting: Known to last a long hectic day easily.
Overview: Sauvage is an act of creation that's inspired by wide-open spaces. Additionally, it feels like an ozone blue sky that's sprawled above a rocky landscape. And it is white-hot beneath the desert sun.
Additional Benefits of Dior Sauvage
Top Note Scents: The scent begins with top notes of pepper and Calabrian bergamot.
Middle Notes: Followed by a menagerie of heart notes such as patchouli, geranium, vetiver, lavender, pink pepper, Sichuan pepper, and elemi.
Base Notes: Moreover, it's warm and woody base consists of cedar, labdanum, and ambroxan. Also, these gentle and mild woody notes have a calming effect on you.

These unique notes create a refreshing aroma which in turn cheer you up. In addition, they also awaken the senses of the people around you.
You can also feel the pleasure of contentment with the relaxing base notes Sauvage by Christian Dior.

Enchanting Fragrance: If you want to feel fresh and enthusiastic for a prolonged time, then you should opt for this enchanting fragrance. Additionally, these irresistible notes don't let you go unnoticed thus belonging to the best perfumes for men UAE.
Price: Dior Sauvage Eau de Toilette is available approximately for AED 320.
7) Paco Rabanne 1 Million
Type: Eau de Toilette
I'm sure every man desires to look like a million dollars, and now thanks to the fragrance of this 1 million EDT by Paco Rabanne. Also, the smell of affluence and style is available for everyone.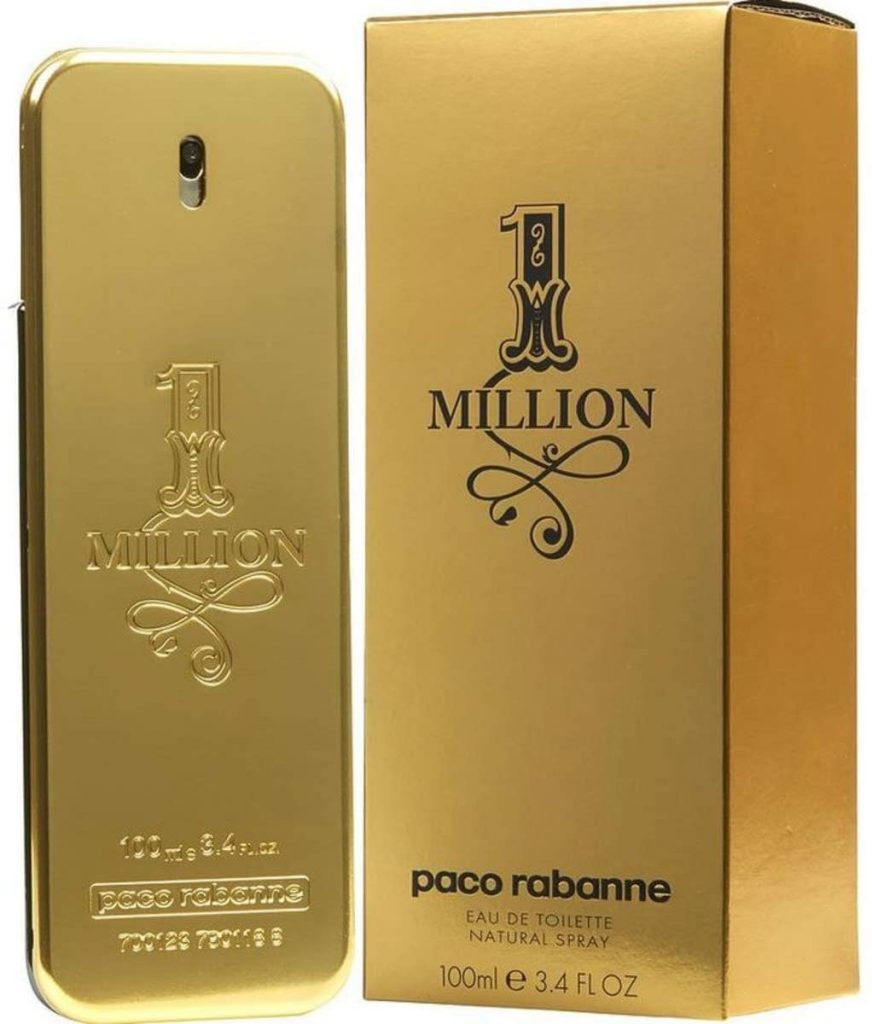 Top Notes: It begins with a spicy fragrance. Thanks to the ingredients which include black pepper, black mandarin, and cardamom. Moreover, it is powered by the saffron that offers it with a heart-stealing sweet aroma.
Middle Notes: When it comes to the middle notes. This scent settles down perfectly with the flowery fragrance of the rose. In addition, you get a sweet fragrance with neroli.

The cinnamon also offers intense and enticing aroma. With just 1 spray, it's ready to steal the hearts.

Base Notes: Thanks to the Orris root, this men's perfume offers a floral fragrance. The patchouli has a strong and intoxicating scent that's set to grab the attention of the people around.

Additionally, the warm and creamy sandalwood aroma also keeps you refreshed.

Overview: This perfume leaves a flamboyant aroma (fragrance trail) and a scent that knocks you head over heels. Moreover, it literally captivates. As well as woody notes of plum, cedar, hazelnut. The pure sensation is in a unique bottle.
Price: Paco Rabanne 1 Million Eau de Toilette is available for around AED 190.
8) Bleu de Chanel by Chanel
Type: Eau de Parfum
From the design house of Chanel you can wear this all year round. Wear this fragrance and stay fresh all day long. Moreover, it's a fresh and citrusy spicy fragrance that's developed for ambitious men.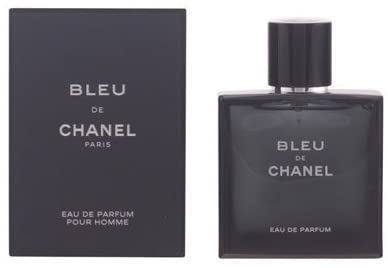 Comforting Sweetness: Jasmine in combination with labdanum offers sweet and alluring records to Bleu de Chanel. Additionally, the woody notes in combination with incense and amber render a warm and cosy sensation to this perfume.
Spicy Touch: All thanks to the presence of ginger, pink pepper, and nutmeg since they add their spicy facets to this fragrance.
Refreshing and Cooling Effect: The fresh attributes of this perfume comes from the citric and highly refreshing facets of grapefruit and lemon. Moreover, the presence of mint gives this perfume a cooling effect.
Outdoor Summer Adventures: Featuring a botanical and invigorating scent that has a touch of everything. That's a mix of spicy, citrus, and woody accords for a delectable aroma that evokes fantasies of outdoor summer adventures.
Speciality: This perfume is the most intense from the Bleu de Chanel fragrances range. Moreover, it's powerful and refined and also reveals the essence of determination.
Additional Features of Bleu de Chanel
Aldehydes and Coriander: They bring an organic and natural aroma that help you smell good and stay fresh the whole day. In addition, coriander offers a spicy and woody resinous flavour.
Pink Pepper and Mint: It offers an enticing rosy aroma, while mint adds a touch of freshness.
Price: Bleu de Chanel Eau de Parfum is available approximately for AED 610.
9) Creed Aventus – Long Lasting Perfume for Men
Type: Eau de Parfum
This scent has grown and become the best selling fragrance in the history of the brand. It was introduced in the year 2010 and is crafted by the deft hand of Sixth Generation Master Perfumer Olivier Creed that too in collaboration with his son Erwin.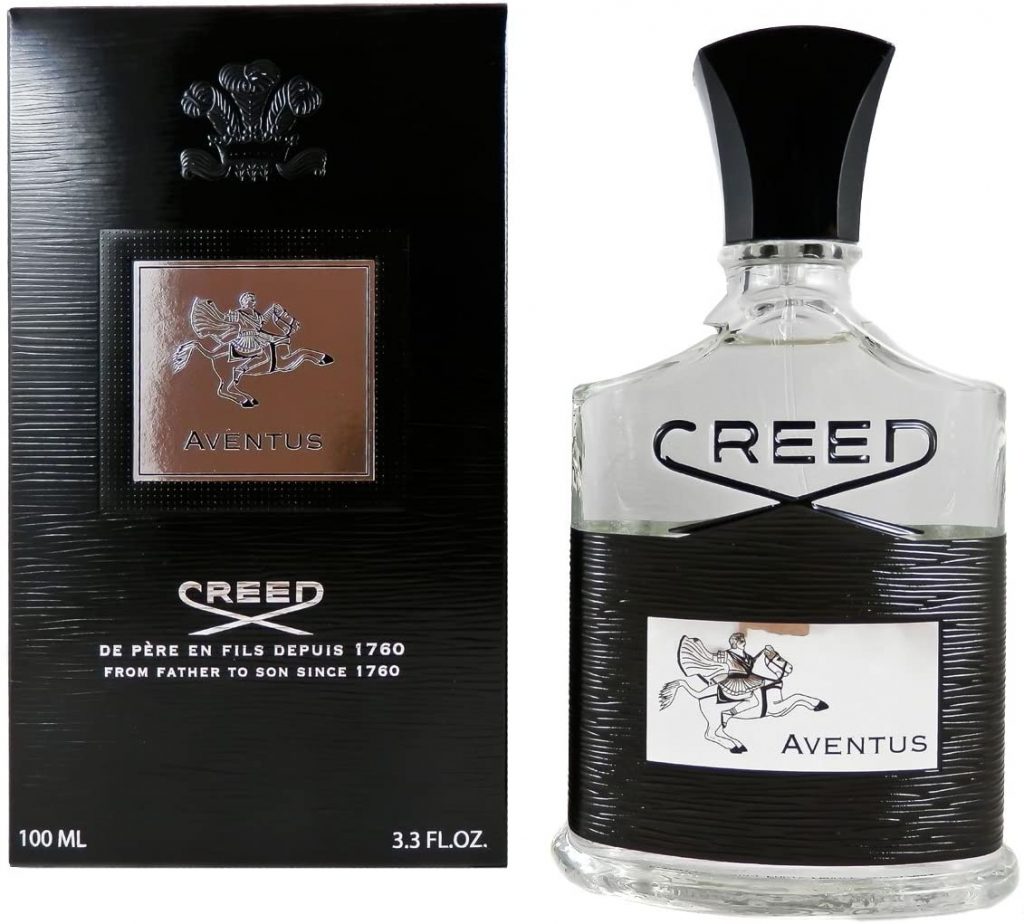 History: The dramatic life of a historic emperor celebrating power, strength, and success inspired the exceptional Aventus. It was launched in the year 2010, to celebrate Creed's 250th Anniversary.
Top Notes: It opens with tantalizing top notes of black currant, and Italian bergamot, blended with Calville Blanc apples and pineapple. Wow! Now you know why this is included in the list of best perfumes for men in UAE.
Middle Notes: Patchouli, rose, dry birch, and Moroccan Jasmine make up the middle notes.
Base Notes: The base notes consist of musk, vanilla, oak moss, and ambergris.
Reasons to Buy: The scent is rich, fruity, luxurious, and has a classy bottle. Moreover, it's a sensual, audacious, and contemporary scent.
Speciality: It's a luxury scent for individuals who saviour things in life. Notes of roses, Jasmine blossom, and patchouli compliment a woody and heady centre. While a rich base of oak moss, ambergris, and a touch of Vanilla provides a final flourish.
Price: Creed Aventus Eau de Parfum is available for around AED 1,065.
10) Boss by Hugo Boss
Type: Eau de Toilette
Hugo Boss or Hugo Boss Man evokes the classic values of the successful Hugo Boss Man. If you like Hugo Boss Tailoring then you'll love this scent.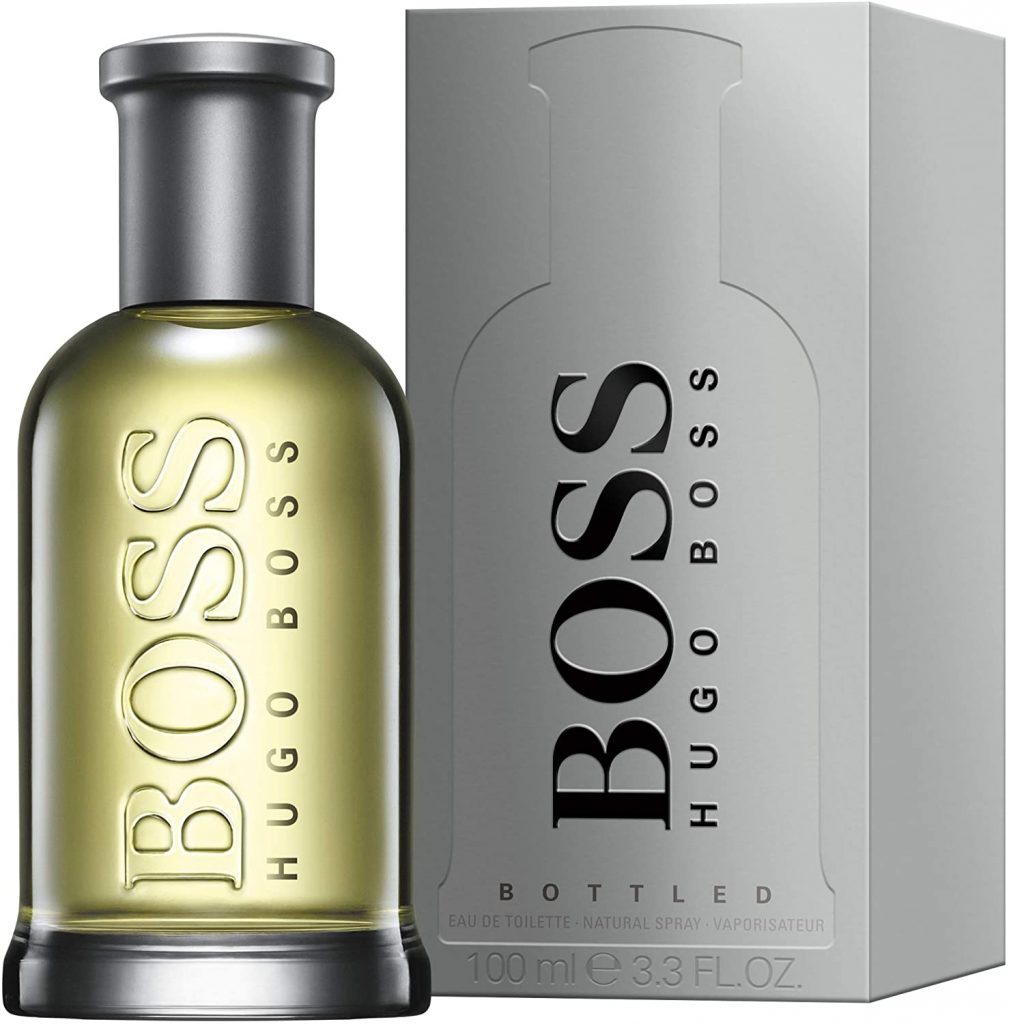 Top Notes: With notes of plum, oakmoss, apple, bergamot, lemon and other citrus fruits. This perfume, makes you feel unique and fresh.
Middle Notes: This Hugo Bottled fragrance contains warmer and sweeter notes of Mahogany, Geranium, Cinnamon, Cloves and Carnation. Hence, it balances its intense scent with sweetness.
Base Notes: At the smouldering base, lie the dry spicy scents of sandalwood, precious cedarwood, vetiver. As well as olivewood, amber and musk.

This, in turn, creates an intense, manly appeal that will leave everyone around you wildly enchanted.
Moreover, it creates a distinctly masculine dry down.

Reasons to Buy: Firstly, it has a simple bottle and is yet classy. The clean lines of the bottle are masculine and stylish. Secondly, its scent is fresh and fruity.
Speciality: Hour by hour, the scent unfolds and takes on a different quality.
Price: Boss by Hugo Boss Eau de Toilette is available at a price of around AED 110.
11) Tom Ford Private Blend Patchouli Absolu
Type: Eau de Parfum
This iconic blended Patchouli blends with leather and rosemary to conjure hypnotic depth.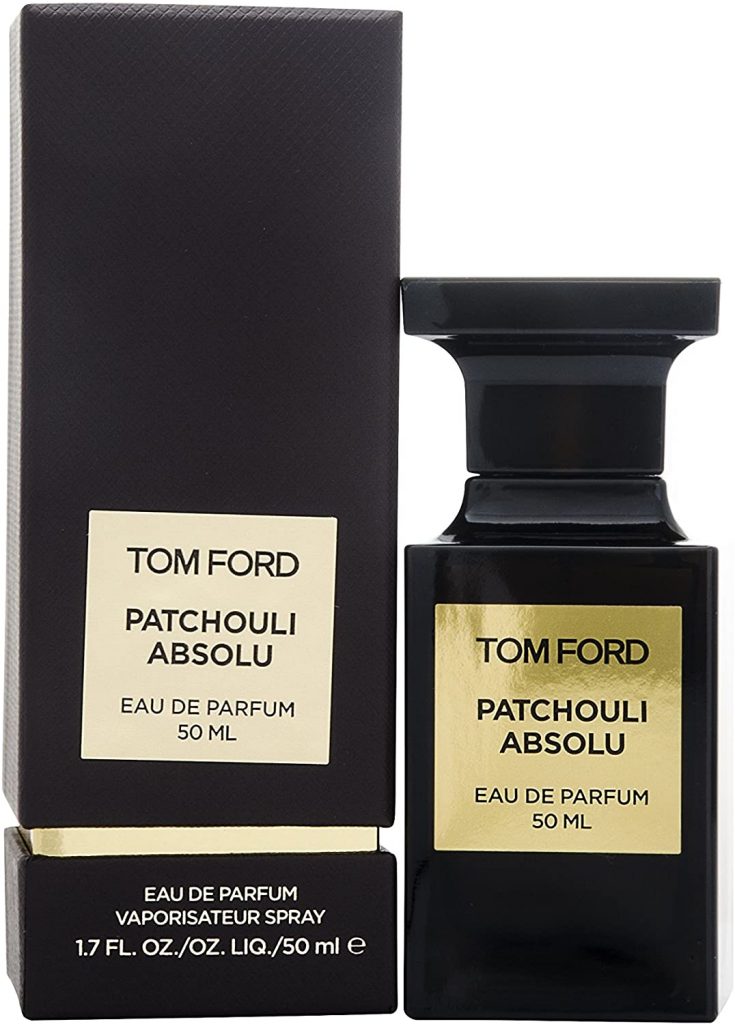 Best For: It's best for use and suitable for winter wear or fall.
Fragrance: Firstly, the fragrance is woody and earthy. Secondly, it's rich, fresh, deep, earthy, refined and charismatic. And it also contains a note of Patchouli.
Speciality: This Eau de Parfum doesn't just dry down into something that's annoyingly sweet. This is because it dries down into an elegant, soft, creamy, and dark Patchouli that's lovely and full of class.

Moreover, it features hypnotic depth with facets of dark mystery.

Key Notes: The keynotes it includes are Clearwood, Leather, Cypriol, Rosemary, Patchouli Oil and Coeur.
Price: Tom Ford Private Blend Patchouli Absolu Eau de Parfum is available approximately for AED 1,130.
12) Diesel Only The Brave Tattoo
Type: Eau de Toilette
In the year 2012, this perfume for men was launched by the design house of Diesel. Thus, making an impression on people since then.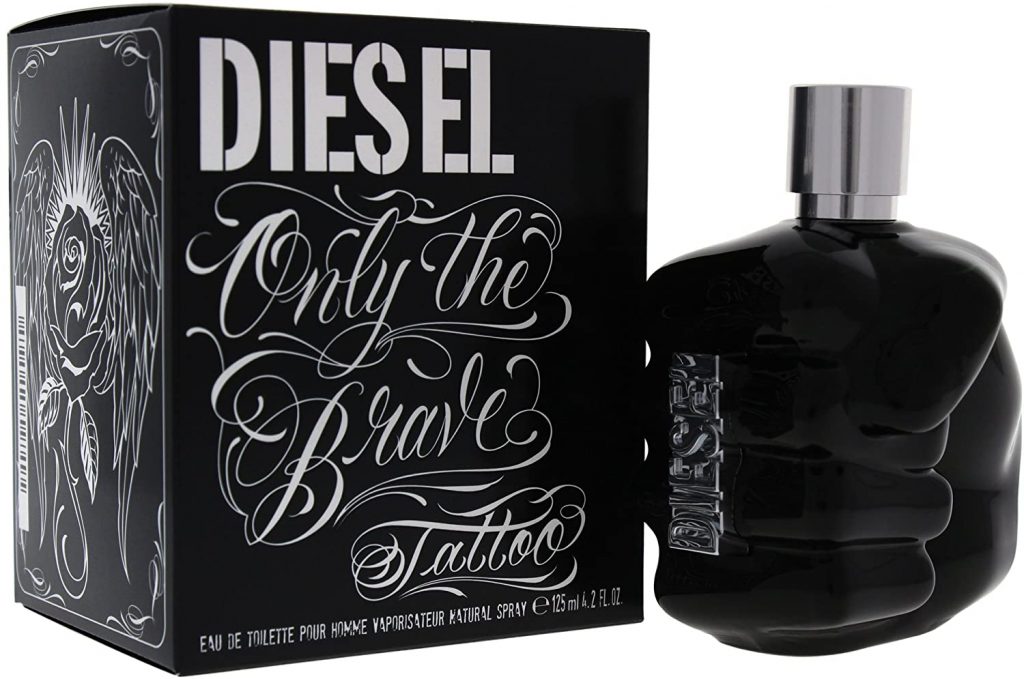 Fragrance: Its fragrance is woody and spicy and has a blend of mandarin orange, red apple, sage, patchouli, benzoin, and tobacco.
Best For: It contains a strong, fruity and long-lasting scent and is best for daily use. Thus making it a real standout scent and an ideal gift for young guys.
Speciality: Available for a great price and is worth purchasing due to its strikingly fruity scent.
Notes: The base constitutes a distinctive patchouli and tobacco base. This adds a dark and dangerous note to an otherwise uncomplicated fragrance.
Reasons to Buy: If you want to make that lasting impression on people then you should purchase this. Since it's interesting and contains a noticeable fragrance. Moreover, there's no need to reapply it as it lasts for prolonged periods.
Bold Fragrance: Offering you a bold fragrance that promises pure fruit on the nose. It comes in straight away with a hit of zesty sweet apple as well as mandarin. That too before mellowing to a sage and also bourbon pepper middle.
Price: Diesel Only The Brave Tattoo Eau de Toilette is available approximately for AED 230.
13) Jean Paul Gaultier Le Men – Long Lasting Perfume
Type: Eau de Toilette
Best in class and known for its freshness, welcome this classic scent from Jean Paul Gaultier Le Men. It was first introduced in the year 1995.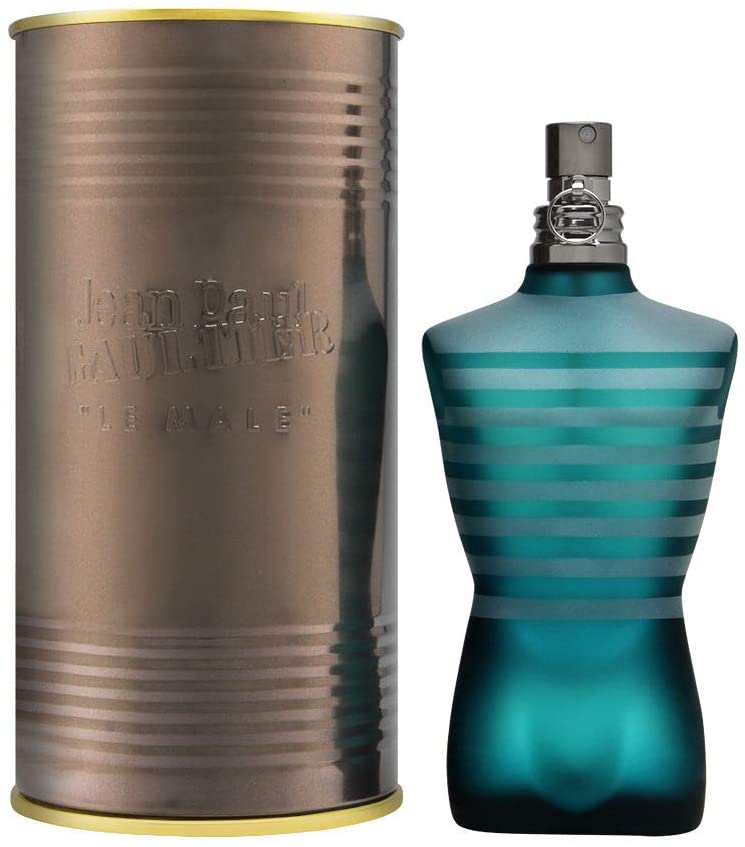 Top Notes: This perfume's top layer blends the notes of lavender, bergamot, artemisia, mint and cardamom. You'll find it really difficult or in other words hard pushed to find any faults with this EDT.
Perfect Start: Get a perfect start with this perfume with the bitter and sour citrusy notes of bergamot. Along with this is the sweet and slightly spicy notes of lavender and cardamom, masculine cinnamon, and cumin.
Keeps your Senses Refreshed: The combination of artemisia + mint in this note gives off a herbal, strong aroma. This, in turn, contributes to keeping your senses refreshed.
Middle Notes: Jean Paul Le Male's heart notes contain a combination/mixture of caraway, cinnamon, and orange blossom.
Reasons to Buy: It contains floral, sweetish, and fresh notes of orange blossom. All this in combination with the hot and sensuous scent of caraway and cinnamon spread warmth in the air.

The other major reasons or benefits of purchasing it include its long lasting, strong scent and distinctive bottle.
Additional Features of Jean Paul Gaultier Le Men
Striking/Distinctive Bottle: Another main feature to compliment the amazing fragrance is its distinctive/striking bottle. This makes it stand out on a bathroom counter or dressing table.
Base Notes: It closes off with the notes of amber, tonka beans, sandalwood, cedar and vanilla.
Sandalwood & Tonka Beans: The soft and sturdy notes of sandalwood + spicy resinous and woody notes of cedar give off a distinct aroma. Thus providing you with a laid back feeling as well as making the environment fit for meditation.

The bittersweet notes of tonka beans provide warmth and coziness while the combination of amber and vanilla gives a warm and cozy feeling.

Price: Jean Paul Gaultier Le Men Eau de Toilette is available approximately for AED 235.
14) Issey Miyake L'Eau D'Issey Pour Homme
Type: Eau de Toilette
An elegant and fresh timely fragrance with an extreme masculine signature.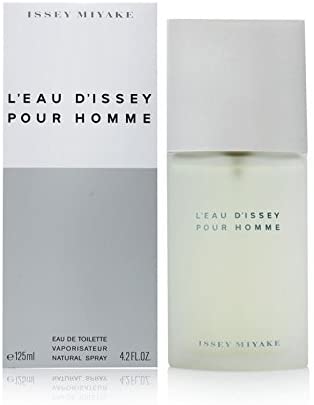 Reasons to Buy: It evokes a sense of serenity and timelessness in this ever busy and materialistic world in UAE. Additionally, it belongs to the woody and oriental scent family.
Speciality: By using rare and unusual ingredients, Issey Miyake is known for creating perfumes. Moreover, its masculine signature scent makes it worth every penny.
Classic for any Occasion: Due to its vibrant, fresh, and elegantly timeless scent, it's worth using for any occasion.
Notes: Firstly, it begins with top notes of yuzu, cypress, mandarin, bergamot, clary sage, tarragon and coriander. This, in turn, introduces a burst of freshness.

Followed by heart (middle) notes of blue water lily, nutmeg, saffron, cinnamon, and geranium that are rich and sharp.
As well as base notes of tobacco, amber, musk, cypriol, Indian sandalwood and vetiver.
Additional Features of Issey Miyake L'Eau D'Issey Pour Homme
Bottle Design: The bottle's design is in line with the mood board from which the fragrance composition is inspired from.

Additionally, the bottle is sleek and is presented in a subtle and effective way.
Furthermore, the bottle features the colours light grey and asphalt that represent the tangle coexistence of nature and concrete.

Price: Issey Miyake L'Eau D'Issey Pour Homme Eau de Toilette is available for around AED 120.
15) Narciso Rodriguez Bleu Noir
Type: Eau de Toilette
In this modern and elegant fragrance, woods and spice and all great things come together.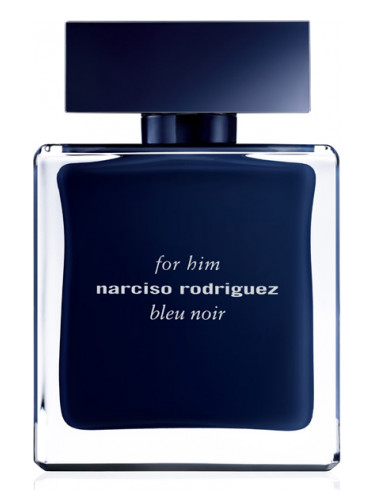 Reasons to Buy: It is classy and woody and belongs to the woody scent family. Also, its warming spices and woody notes make it smell great and look great.
Masculine Vibe: This scent is elegantly modern as its vessel and promises fresh, spicy notes of nutmeg. As well as cardamom in the combination of deep, sensual woods, for a superbly sexy masculine vibe.
Interior: Featuring a picture of refinement with its opaque deep blue interior promising something magical.
Best For: Great for daily use without being overpowering. With its unique and personal fragrance, define your personality with this exclusive men's perfume.
Fragrance: The fragrance is clean and sharp with depth and sensuality. Also, the fougere and musky character add to this.
Price: Narciso Rodriguez Bleu Noir Eau de Toilette is available approximately for AED 125.
16) Acqua Di Parma Blu Mediterraneo Mandorlo Di Sicilia
Type: Eau de Toilette
Through this almond blossom scent, whisk yourself away to Sicily, for a touch of 'la dolce vita'. It is launched by the design house of Acqua Di Parma.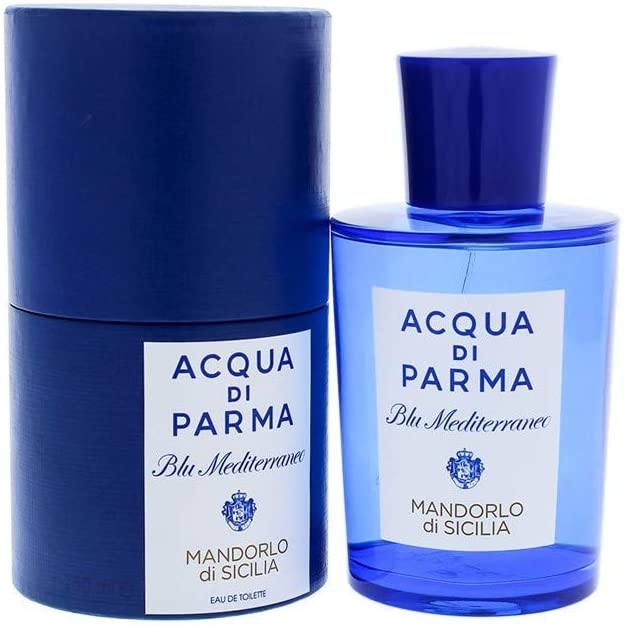 Reasons to Buy: It has a lovely and light fresh scent. Thus, making it perfect this summer in UAE. As a matter of fact, Acqua Di Parma has perfected a new set of classics with their Blu Meditteraneo range.
Oriental Floral Fragrance: This contains a blend of bergamot, star anise, Mediterranean almond. As well as orange and ylang-ylang notes.
Holiday Feeling: Reminiscent of a sun-drenched stroll through the almond groves of Sicily. This fresh green, citrus-laden scent is the thing to evoke that holiday feeling.
Staying Power: We really recommend its surprising amount of staying power for a Eau de Toilette. This makes it equally as fresh and a true holiday scent.
Price: Acqua Di Parma Blu Mediterraneo Mandorlo Di Sicilia Eau de Toilette is available for around AED 430.
17) Creed Original Vetiver
Type: Eau de Parfum
Here's a bright and fresh addition to any guy's scent wardrobe. And it's launched by the design house of Creed.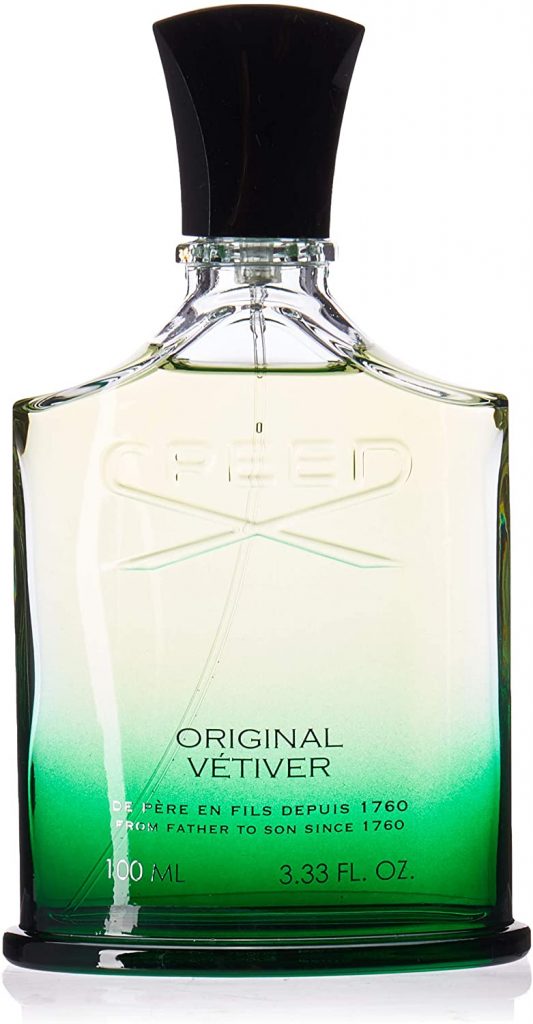 Best For: It's a luxurious treat that belongs to the Citrus scent family. Since, its an Eau de Parfum, the scent will last a day or two. So, simply splash this once and stay cool and fresh the entire day.
Reasons to Buy: With a great and perfect balance of top, middle and base notes, this Eau de Parfum ensures best results. So, if you need something that's longlasting, for a day or two then pick this up.
Speciality: If you're a man with discerning taste and deep pockets, then this fresh and citrusy scent is for you. Moreover, Creed fragrances are a design classic.
Masculine Hit: All thanks to the masculine hit of vetiver at its heart. The zesty bergamot, smooth sandalwood, bitter orange. As well as herbaceous coriander keeps the fine fragrance contemporary.
Out of the Shower Feeling: Creed Original Vetiver's freshness evokes that 'just out of the shower feeling'.
Price: Creed Original Vetiver Eau de Parfum is available approximately for AED 610.
18) Calvin Klein CK One
Type: Eau de Toilette
Calvin Klein CK One – Cool, clean and refreshing. Although it was launched in the year 1994, it is still disruptive modern.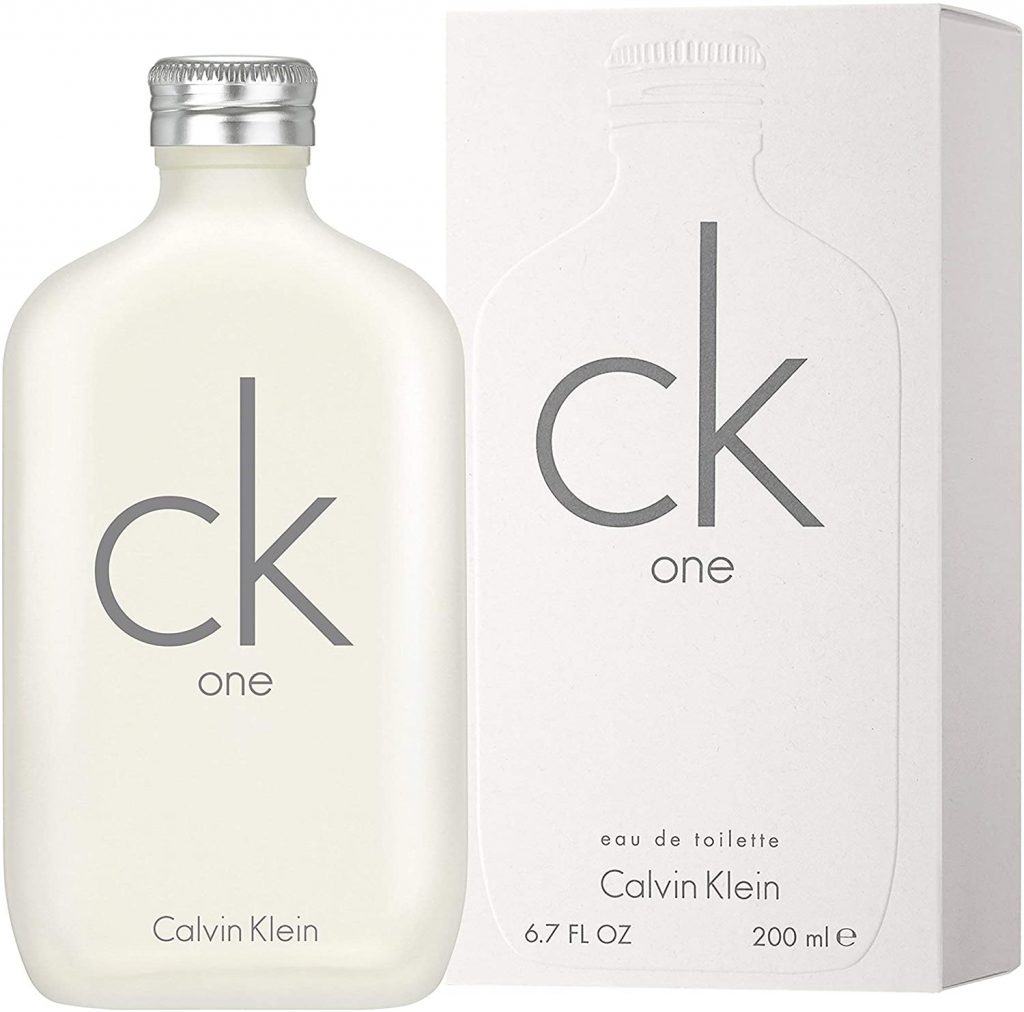 Fragrance Notes: Its fragrance begins with bright notes of mandarin orange, bergamot, lemon, and papaya. A young unisex scent belonging to the floral scent family.
Aromatic Harmony: Through the aromatic harmony of rose, nutmeg, violet, lily-of-the-valley, and jasmine, the heart comes to life.
Drydown: A sensual combination of musk and amber make up the drydown.
Reasons to Buy: Firstly, the fragrance is youthful and free-spirited that inspires you to be yourself. Secondly, it still smells young and features a minimalist bottle. Thirdly, it is incredibly easy to wear. All these reasons make it one of the best perfumes for men in UAE.
Refreshing Notes: In addition to bringing together the refreshing notes of papaya, green tea, and bergamot. It is also balanced with soft accents of violet, cardamom, nutmeg and rose.
Combination: Along with being a little bit musky and floral, it's a lot citrusy as well as refreshing.
Price: Calvin Klein CK One Eau de Toilette is available for an estimated price of AED 100.
19) Molecule 01 by Escentric Molecules
Type: Eau de Toilette
An incredible, skin-like natural scent that's made for both men as well as women.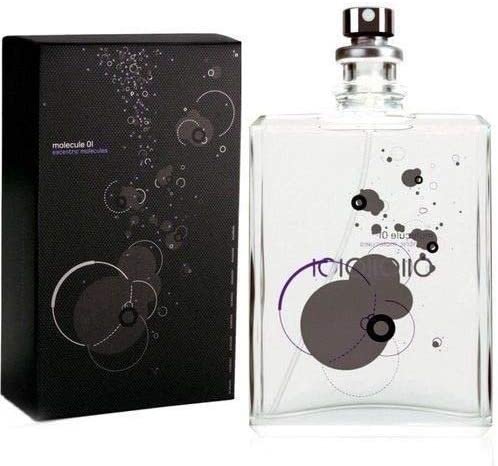 Best For: This EDT is for anybody and everybody who's interested in the science of scent. Also, if you want people and strangers to approach you then this one is a must.
Fragrances: With the help of rejuvenating and elegant fragrances, you can start your day on a wild crazy note with this Molecule 01.
Unique Body Chemistry: Most of the modern perfumes use this titular molecule to recreate scents. However, here's an almost woody and undetectable velvety scent. This adapts to each wearer's unique body chemistry.
Iso E Super: This scent also features a single note of Iso E Super. Iso E Super is a synthetic molecule note with abstract facets.
Molecule Magic: Not only is it best described as woody, smooth and ambery. But, it also offers your skin a velvety, wonderful touch and fuzzy sensation. Hence, wrapping you in a sensational aroma.
Glass Flask: Available in an attractively designed and transparent glass flask.
Price: Molecule 01 by Escentric Molecules Eau de Toilette is available approximately for AED 480.
20) Clinique Happy Perfume for Men
Type: Cologne Spray/Eau de Toilette
Indeed, the Clinique Happy perfume for men is classic for several reasons which is why it is one of the best perfumes for men in UAE. Launched in the year 1999, it's a zesty mood booster that's bright with citrus.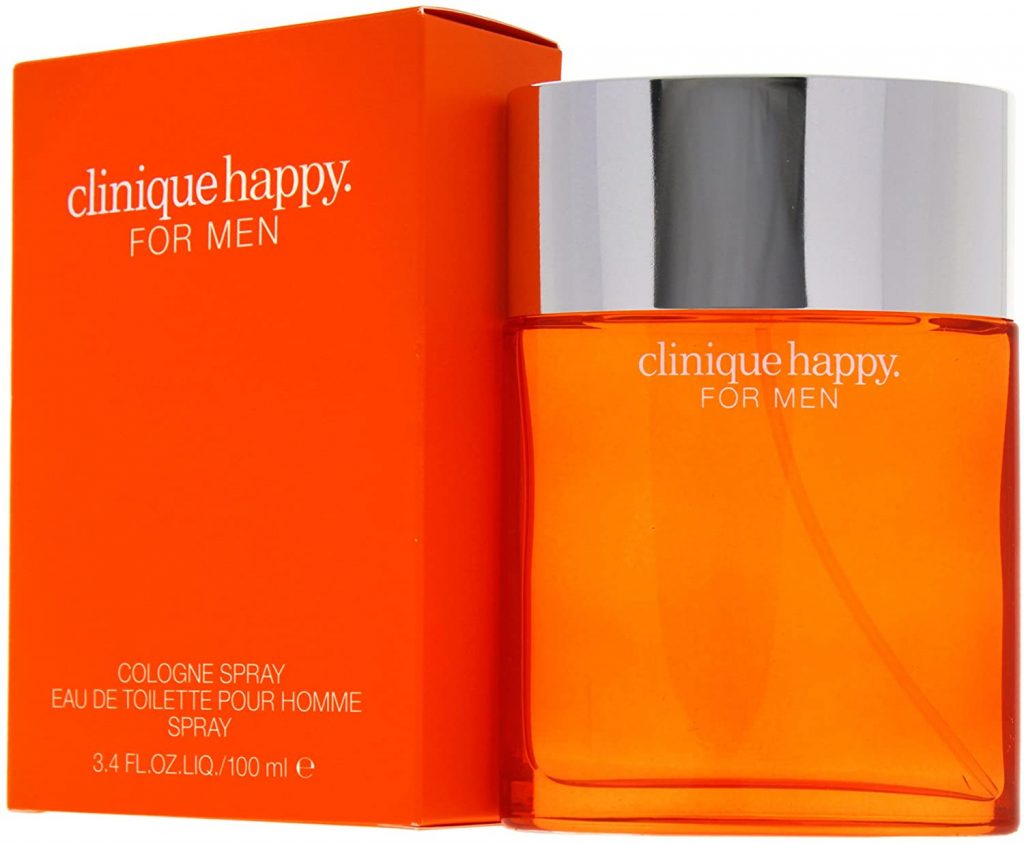 Top Notes: Lime, mandarin orange, green notes, lemon, and sea notes constitute the top notes of this Clinique Happy. Additionally, the exotic sea notes generate a fresh aroma which in turn refresh your mind and senses.

Besides this, the sharp and juicy notes of lemon, mandarin orange and lime amalgamate perfectly with lively and fresh green notes. This, in turn, makes your presence felt and bound to draw attention.

Middle Notes: In the heart of this Happy by Clinique, Jasmine fuses with the lily of the valley. In addition, the lemony fresh scent of rose makes you intensely romantic. While the extremely refreshing aroma of freesia captivates your senses throughout the day.
Base Notes: The base notes comprise cypress, guaiac wood, musk, and cedar. Since the guaiac wood features a masculine and exotic scent, it gives you a feeling of confidence.

Further, the comforting, rich, and soft aroma of cypress and musk help in keeping your mind calm.

Price: Clinique Happy Perfume for Men Cologne Spray/Eau de Toilette is available approximately for AED 100.
Procedure Involved in Manufacturing Perfume
Collecting ingredients, extracting oils, blending, aging and quality control are the steps involved in making perfume. As a matter of fact, you require a lot of time, work and patience to produce perfume. In fact, here is something interesting. Many well-known perfume brands still incorporate a lot of perfume manufacturing methods that were used in ancient times. For instance, expression is a process that is still used in producing perfumes. However, with some finetuning. Obviously, the professionals and scientists give their best to finetune and perfect the mixtures and techniques. We are sure you are more curious now to know the entire process. So, all you men residing in UAE, scroll through to know how the best perfumes are manufactured for you.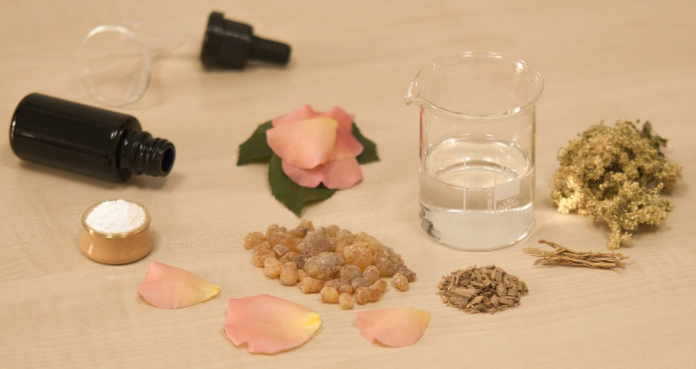 Ingredients Used to Make a Fragrance
In the perfume industry, people refer to a fragrance as a complex mixture of raw materials. These raw materials are extracts from either natural sources or synthetic raw materials. There are many perfumes that are made by extracting scented soil from natural ingredients. Generally, these natural ingredients include fruits, plants, woods and sometimes animal secretions. Resources such as alcohol can also be used during the manufacturing process. On the other hand, fragrances that don't produce essential oils or those that don't occur in nature utilize synthetic materials or chemicals to get emulated. Most of the popular and not so easily available fragrances are made from synthetic chemicals and materials. 
Some of the common natural ingredients include myrrh, rose petals, oakmoss, jasmine, frankincense (olibanum), vanilla, sandalwood, citron.
Some of the common synthetic ingredients include Calone, Aliphatic aldehydes, Musk, Ambergris, Iso e Super, Hedione, Lily of the Valley, and Indole.
Methods of Extraction
In order to create a perfume or cologne, you need to extract the oils from natural ingredients. Well, there are several ways in which extraction of essential oils can be performed. You can obtain the oils through solvent extraction, expression, steam distillation, maceration or enfleurage (a procedure to squeeze out the oils). Below lie several tried-and-true extraction methods (ancient as well as modern). Read all these methods to know how the best perfumes for men and women are made in UAE.
1. Solvent Extraction
Firstly, solvent extraction is a method that is performed by putting plants into big and rotating drums. After putting them into these drums, the next step involves covering the plants with benzene or petroleum ether. After a period of time, the parts of the plant dissolve in the solvent (no matter which one is used). This, in turn, leaves a waxy substance containing the oils. Then, this substance is placed in ethyl alcohol. The oil dissolves in the ethyl alcohol. Later, it needs to be burnt off. Thereby, leaving a highly concentrated perfume oil.
2. Expression
Expression is a process that is quite simple. Additionally, it is one of the oldest forms of extraction. Often, expression is involved to extract citrus oils. It is utilized to press the plant till all of the oils get extracted (either mechanically or manually).
3. Steam Distillation
The natural materials are placed in a still when it comes to steam distillation. Till the time these natural materials are extracted, they sit in the still. Then, the resulting substance passes through tubes. It is then cooled and liquefied. Besides steaming, oils can also get extracted from plant materials, all you need to do is boil them in water.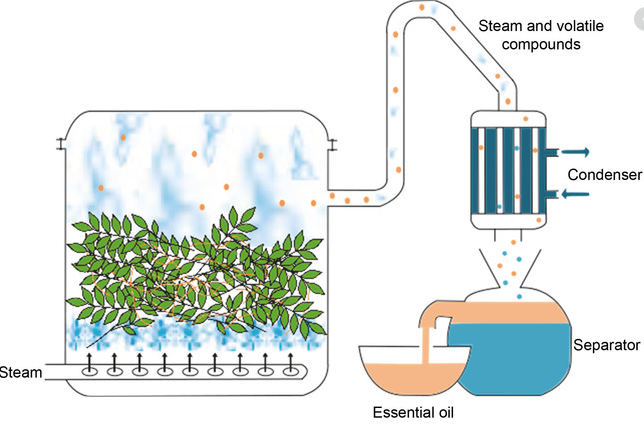 4. Enfleurage
The process of enfleurage involves coating large glass sheets with grease. And any other plant material or flowers are spread across them. After this, the glass sheets are placed in tiers between the wooden frames. Later, the flowers are moved by hand and replaced. This occurs until the grease is able to absorb the fragrance.
5. Maceration
The maceration method is a little similar to enfleurage. However, instead of using grease, the maceration process involves the usage of warmed up fats to soak up the fragrance. Then, you have to dissolve these fats in alcohol in order to obtain the essential oils successfully.
Blend the Ingredients
After the extraction and collection of essential oils, begins the process of scent creation. Once the selection of ingredients is complete, the process of blending needs to begin. In other words, all these ingredients need to be blended together. The blending of oils is based on a formula set by a master of professional in the perfume industry after careful creation. Many formulas (similar ones) were created several years ago. These often include hundreds of various ingredients. As mentioned earlier that some of the perfume ingredients come from plants while some come from animal products. For instance, musk comes from male deer, castor comes from beavers, and ambergris comes from the sperm whale.
Often, animal substances are used as fixatives which, in turn, enable the perfume to evaporate slowly and also emit odors longer. Other fixatives include resins, synthetic chemicals, mosses, or coal tar. Alcohol is used for diluting the ingredients in perfumes. Sometimes water is also used for the same purpose. The ratio of alcohol to scent is what determines the strength and worth of the perfume. The more the usage of essential oil, the stronger is the perfume. These perfumes are highly-priced too.
Aging
In order to ensure the proper and complete creation of the scent, the aging process is a must. Once the blending process is complete, the scent needs to be aged for months and sometimes even for years. This process is especially followed in the case of high quality and pure perfumes. Aging process enables the different notes or scents to blend together fully and to ensure that nothing is left incomplete. The top notes, heart notes and base notes have their own purpose which is why the blending of all these notes is of utmost importance.
Quality Control
Last but not least comes quality control. It is a crucial aspect of the perfume manufacturing process. Once aging is complete, the quality control process comes into play to ensure that the perfume doesn't contain any undesirable or harmful products. These include banned products too. Hence, quality control assures the protection of the general public as well as the reputation of the brand. Most often, natural ingredients are difficult to harvest. Certain perfumes also use natural animal oils which can be tiresome to collect. On the other hand, synthetic materials and chemicals have provided the perfume industry with more options to create scents more easily. Therefore, these perfumes require less quality control compared to the perfumes using natural ingredients.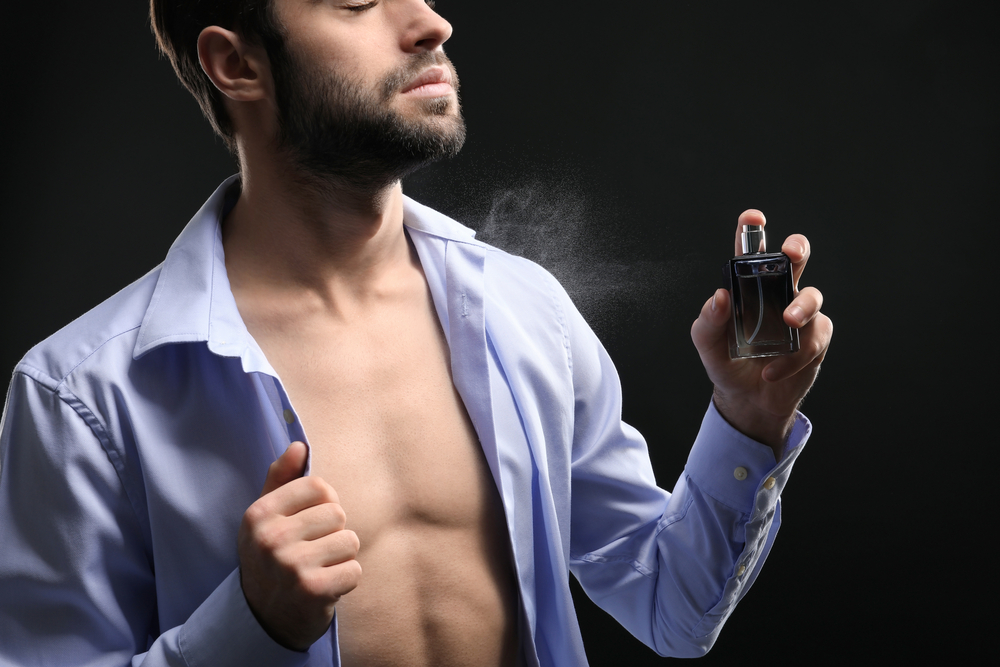 Choose Wisely and Feel Confident & Loved
Phewww! You've finally made it till the end of the best perfumes for men UAE. Much respect to you. I appreciate your patience. Well, I hope you're able to make your decision now without any hassle. I understand, finding a suitable scent can be difficult. However, your decision should be based upon your requirements, your fragrance preferences (including how long you want the scent to last) and your budget. By investing countless hours on research, I have made your task easier by mentioning the top notes, middle notes and base notes for each of these perfumes. Not to forget, the necessary features too. To make it even easier for you, here is a step by step perfume guide for men. Also, you may read an article that explains the perfume pyramid, fragrance volatility, and its life cycle.
So, chill, take a deep breath and make your purchase. Bringing home the best perfumes for men UAE is only a click away. Crack that interview, excel in that business meeting, be the centre of attraction at any party or event, impress your clients and even that woman you've been trying on for several months or years. If you want to gift a top-notch perfume to that special woman in your life, then here are the best brands of women's perfumes. She is sure to get impressed. Also, consider checking out the best grooming gadgets for men in UAE.