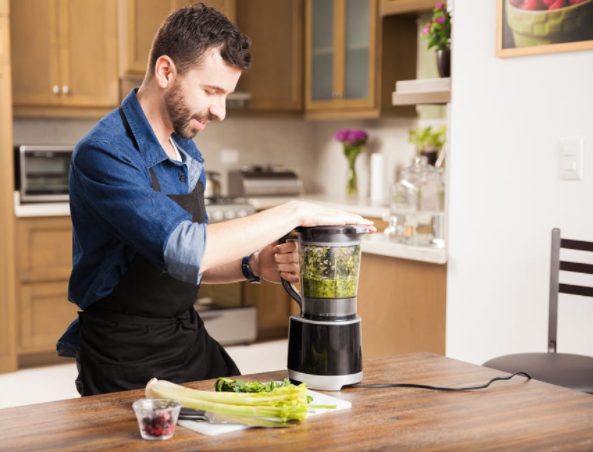 جدول المحتويات
Discover 10 innovative ways that guarantee quicker, easier and better cooking with your food processor. If you are in search of easy-breezy hacks, smart kitchen techniques and the latest revolutionary recipes, then look no further. We have taken the time to provide it all here for your benefit through these innovative ways. When you can make all these things by yourself at home then why head to the store every time for ready-made products. Make the most out of your food processor as it works as an ice cream maker, as a whole set of knives, stand mixer, meat grinder, food mill and a lot more.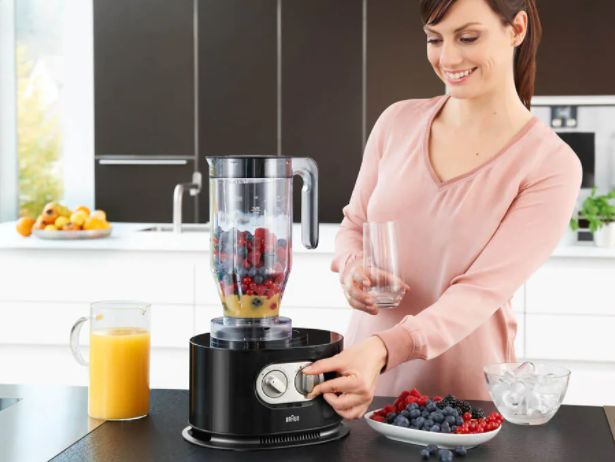 Related: Best Food Processor in UAE [2021]
1. Make Bread Crumbs on Your Own
Of course, you can purchase bread crumbs from the store and we don't deny the fact that it is a convenient option. However, sometimes it is difficult to go to the store or it so happens that the stock is not available there. With the ongoing pandemic, going out of the house gets riskier. Hence, in order to save yourself from getting infected and also to save time. Consider making your own bread crumbs with the help of your food processor at home, this is one of the most innovative ways. Hence, you have got to try your hands on it. Moreover, making your own bread crumbs comes with its benefits.
The first benefit is that you can control the size of the crumb. The size totally depends upon your preference so you can select the size. Secondly, you can make use of any kind of bread that you want. Thirdly, this process is simple. All you need to do is tear the bread into pieces and pulse it in the food processor. Continue pulsing until it is ground to the desired texture.
2. Quick Brown Sugar Substitute
Before crystallization, brown sugar is mostly made by adding molasses to sugarcane syrup or to granulated white sugar. You can make a substitute quickly with the help of your food processor thus making it one of those exciting and innovative ways. Simply take one cup of granulated sugar and one tablespoon of molasses and pulse it together in the food processor. Note that you will obtain light brown sugar if you do this. In case, you want dark brown sugar, add 2 tablespoons of molasses instead of 1 tablespoon. There you go, your brown sugar substitute is ready.
3. Crush Ice
Crushed ice is instantly refreshing and hence it is always in demand in UAE especially in summers. Most beverages are enjoyed chilled. You probably never thought that your food processor is capable of crushing ice. Not just capable, but your food processor is a perfect appliance for crushing ice. Above all, a food processor can also help you make Jellab – a classic Arabic drink. All you need to do is pulse up to 2 cups of ice cubes until these are finely ground i.e. 8 to 10 pulses. Or you may do it as per your requirements. And you're ready to start making your cocktail. If you dislike cocktails then you can add this crushed ice to a glass of fresh fruit juice, lemonade, smoothie or even a glass of plain water to beat the summer heat.
4. Grind Nut Flours
Generally, people process nuts in various ways. From nut butter to nut flour, the difference between consistency depends on the duration of processing the nuts. In other words, it depends on how long you process them. As a matter of fact, the longer you process the nuts, the more oil they release. Thus, taking them closer and closer to nut butter. Here's how you can make nut flour in your food processor. Simply pulse 2 cups of cashews, whole almonds, peanuts, hazelnuts or pistachios. Pulse it until it is finely ground i.e. 16 to 20 pulses. By doing this you will obtain 2 and a half cups of nut flour that makes it absolutely perfect for paleo and gluten-free baking.
5. Knead Pizza Dough in Less than 2 Minutes
Yes, you can surely knead pizza dough by hand, but don't forget that it takes 8-10 minutes to do so. And if you need to create enough gluten in a wet mixture, then it takes longer, kneading by hand can go up to 20 minutes too. Also, if you desire bread that has perfect chewy crusts and the loaves to be airy and bubbly, then you need to build up gluten. Hence, consider putting your food processor to work as it is the easiest and fastest way to knead almost any dough. Since the food processor is one such kitchen appliance that excels in kneading, it will save you time as well as effort and prevent muscle cramps in your hands.
You might be curious to know how the food processor kneads so well. All thanks to the blade of the food processor, the rapid action of the blade can make the dough elastic in a matter of few minutes. This appliance also ensures that the wet and dry ingredients are evenly assimilated. This aids in avoiding unmixed pockets of flour. Experience the most effortless doughs that you have ever made. What next? Head straight to your food processor and start pulsing flour, yeast and sugar together i.e. about 5 pulses. Next, add ice water and process it for around 10 minutes.
To be on the safer side, process it till there is no dry flour remaining. Allow the dough to rest for 10 minutes. The next step is proofing. Simply allow the dough to proof in the refrigerator for at least 24 hours and a maximum of up to 3 days.
Is the Dough Kneaded Properly?
Here is how to know if the dough is kneaded properly in the food processor or not. If the dough turns out to have a smooth and almost shiny appearance, that means the dough is kneaded properly. Secondly, if you pull the dough, it should stretch easily and also spring back into place quickly. Take a look at the following pictures for a better understanding of how under-kneaded dough, properly kneaded dough and over-kneaded dough looks like once you take it out from the food processor.

The dull plastic dough blades will mess up stuff as the dough tends to get stuck to the sides of the bowl which is out of reach of these plastic blades. Or, they tend to drag the dough. To make the properly kneaded fully elastic dough, change the dough blades of your food processor to the regular metal ones. These are much better for forming and kneading the dough effectively and quickly. Next, make use of ONLY chilled water or iced liquids while making dough in your food processor. Here's why. The food processor's forceful action creates friction which, in turn, pumps a lot of heat into the dough. This effect not only kills yeast but also hampers both rise and flavour. In order to prevent this effect, you need to utilize chilled water or iced liquids only.
Always add the liquid ingredients to the dry ingredients while the food processor is running. This ensures that the liquid and dry ingredients get mixed together evenly and quickly. If you don't do this while the processor is running, i.e. if you add the liquid ingredients to the dry ingredients and later turn on the food processor. Then the liquid can overflow the bowl and create a mess. Lastly, never over-knead the flour. Especially if the dough is enriched with butter as the heat from the food processor tends to soften the butter excessively. This impacts the texture of the bread.
6. Grind Meat to Perfection in your Food Processor
The fat content, texture and cut of store-ground meat tend to vary widely. Out of all the innovative ways, here is a special one for all the meat lovers so in order to get the perfect grind, make your food processor your best friend. Yes, that's because when you grind meat in the food processor by yourself, the variable control is in your hands. This means that you can also obtain the perfect grind for poultry, beef, fish, and seafood. Moreover, a food processor also helps with slicing meat thinly. This power-packed appliance does this tricky task without a super-sharp chef's knife, commercial meat slicer, and an extremely steady hand.
Hence, a food processor opens up possibilities for a variety of recipes and all kinds of dishes. You don't have to hand over any of your kitchen tasks to the professionals if you own a food processor. Now let us see how the perfect grind looks like. Well, most often, store-ground beef is over-processed to a pulp. Therefore, it gets cooked heavily and densely regardless of the amount of care you take. Processing home-ground meat is sufficient to achieve the perfect grind. It cooks more tender. However, the exact size of the grind will depend upon the type of meat and also the type of dish. See the images below to know how underprocessed, perfectly ground and overprocessed meat looks like.

Firstly, freezing the meat partially before processing ensures that the meat is chopped well but is not pulverized. When you are making shrimp burgers and turkey burgers, take the main ingredient of the dish and grind a portion of it into a paste. Utilize this paste to bind the rest of the dish which has been ground to a chunkier texture. Consider combining more than one cut of meat to bring about or put together the appropriate mix of flavour and fat for each recipe. While slicing meat in your food processor, ensure you exert a good amount of pressure. This pressure works excellently to push the meat into the feed tube and also helps you achieve even and clean cuts.
Next, add some baking soda to your home-ground meat to keep it tender and especially moist during the cooking procedure. Also, the soda raises the pH of the meat making it more complex for the bonding of proteins. Lastly, you can utilize less panade while grinding your own meat since it is already much tender in comparison to store-ground options. For those of you not familiar with a panade, it is a bread and milk mixture which is perfect for adding tenderness to ground meat dishes.
7. Cook Veggies More Easily
You won't have to stress so much on developing your knife skills if you have a food processor in hand. There is a lot to prove that this appliance can dice, chop, shred and slice making it perfect in the ingredient preparation stage of any recipe. There are various types of vegetables and each needs to be cooked in a different manner. Fortunately, the best food processor enables you to live without your grater, knives and mandoline. You will see for yourself how your food processor gives you more uniform results while helping you save time energy, time and sanity. Check out these few tricks and hacks that are real innovatve ways to help you prepare vegetables and other ingredients smoothly in your food processor.
Slicing Disk and Shredding Disk
Pay extra attention to the orientation of the ingredient in the feed tube. This is due to the fact that the manner in which you add the ingredients into the food processor affects the slices. Additionally, you should opt for tightly packed greens because slicing works best with firm ingredients. Also, consider rolling green veggies such as kale to create a tightly packed bundle for purpose of slicing. Some of the food processors come with adjustable blades which is beneficial as you can change the thickness of the slices. You may also purchase larger or smaller slicing disks depending upon your requirements.
The shredding disk can shred several types of ingredients in fact all kinds into small and even pieces. You can shred pounds of potatoes, carrots and other firm ingredients in a matter of few seconds only. For a hassle-free cleaning, consider spraying the disk, feed tube and workbowl with a light coating of vegetable oil spray. Do this before you start putting the ingredients to prevent them from impacting the work and flow of the shredding disk.
Select the Right Feed Tube
Most of the food processors have a large and a small feed tube. Selecting the right feed tube size will be of great help to your ingredients to pack them tightly. You will obtain consistent and cleaner results if these ingredients don't have room to move around. Onions, whole potatoes and big pieces of any vegetable such as wedges of cabbage benefit from the larger tube. On the other hand, zucchini, narrower carrots and celery benefit from the smaller tube.
Underprocess if You Are in Doubt
When you underdo something, you are not in trouble as you can always add more to achieve your results. However, if you overdo something, you can't take a step back or rewind. For instance, while adding salt or sugar, you always add less of it if you are not sure. Then you taste the dish and if you feel that there is less salt/sugar, you can add more for the perfect taste while cooking. So, this doesn't affect your dish and saves it from going into the bin. Now what if you add extra salt or sugar, you can't take it out from the dish. It is gone waste. So, you will need to prepare the dish all over again.
Remember that you can always pulse the ingredients again in order to chop them more finely. But, you can't undo it. Hence, while grinding, chopping, or mincing any ingredients in your food processor, consider using the pulse function instead of the processing function. Also, pulsing offers more control than processing the food. Apart from this, pulse function chops the food more evenly since the ingredients are redistributed with every pulse. Thereby, offering you more control over the final texture.
Exert Steady Pressure and Trim the Ingredients
Exert steady pressure while pushing food through the feed tube into the blades. Note that you may need to trim some or all of the ingredients depending upon their size before pushing them into the feed tube. However, if you're slicing different ingredients of various types that will be combined ultimately then you can place all these ingredients together into the feed tube.
8. Make Ice Cream
Today onwards make use of your food processor to prepare scrumptious ice cream. You don't need an ice cream maker if you have a food processor. If you are lactose intolerant and want to stay gluten-free then you can try out this ice cream recipe as it won't require dairy, fatty products or a ton of ingredients. All you need to do is slice up a banana, then freeze it. Put these banana slices into your food processor and add whatever you want. You may add whichever ingredients are safe for you to consume.
Consider adding another fruit and some nuts. If you can have dark chocolate, then you may add it too. Else, any normal milk chocolate if you are not lactose intolerant. Once all the banana slices along with the ingredients that you have added turn into a paste, simply place it into the freezer for around 30-45 minutes. There you go, your home-made ice cream is ready. Let's proceed to the remaining two innovative ways.
9. Curry Paste
Create your own home-made curry paste right away. It will turn out so good that henceforth you will never opt for store-bought curry related stuff. As a matter of fact, a food processor works best for both, dry as well as wet ingredients. Moreover, a food processor also enables you to control the texture of the ingredients according to your preference while blending them all together. Hence, keep blending the ingredients till it becomes thick and forms a pasty texture. Once you achieve this texture, add it to the curry pot. And the best part is that you can prepare more quantity of curry paste and also store it for later use.
10. Make Hummus
Want to make hummus? You can count on your food processor like 123….. since it is one of the best appliances for whipping together dips and sauces such as hummus. In less than 10 minutes you can whip up scrumptious hummus in your food processor. Generally, hummus is a mixture of chickpeas/garbanzo as well as other natural ingredients such as garlic, lemon, and spices. You can also add some more spices if you wish to.
Count on Your Food Processor Today and Everyday
No regrets! The best food processor helps transform cooking into a passion, and not a household chore anymore. Mornings will seem exciting as you make your way towards your kitchen. You want to explore more and more recipes and innovative ways, thanks to the food processor for helping you do so. Grab your food processor and explore all these 10 innovative ways today. We hope you enjoyed reading through these innovative ways. If you're looking to upgrade your food processor then check out the latest and best food processors.